A Queen Forgotten: 'Clara Butt' Tulip
"With a name like 'Clara Butt', you can't just be beautiful — you have to be tough," says Scott Kunst, founder of Old House Gardens, "and this endangered, landmark tulip is both."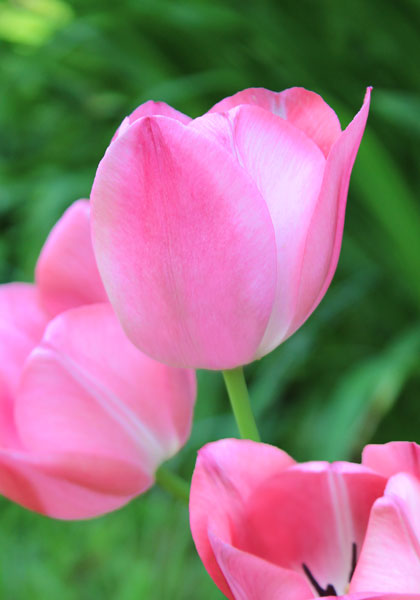 Tall, elegant, and a lovely shell pink, 'Clara' reigned as the most popular tulip in early twentieth-century perennial borders — and the first "modern" tulip. Today, however, it's highly endangered. You won't find it in the Netherlands, where almost all of the world's tulips are grown. Yet it does survive, grown in small quantities on one last family farm in the Pacific Northwest. [Sadly this is no longer true. See last paragraph to learn more.] To encourage home gardeners to help preserve this rare, 112-year-old beauty, Old House Gardens has named it their 2001 "Heirloom Bulb of the Year."
Old House Gardens searches the world for antique bulbs that have disappeared from mainstream sources. Many they find right here in America, "which makes us a bit weird," Kunst says. "Virtually every other bulb-seller in the country gets 99% of their bulbs from Dutch sources. But by working with American farmers we're able to offer varieties you can't get anywhere else. As a bonus, they're often better adapted to tough American growing conditions, too." Bulbs come to Old House Gardens from small farmers in Texas, California, Michigan, Oregon, Washington, Illinois, Maine, Missouri, Pennsylvania, Oklahoma, and Florida. "These growers are the micro-brewers of the bulb world," Kunst says. "And without them many of the greatest bulbs of all time would already be extinct" — including 'Clara Butt'.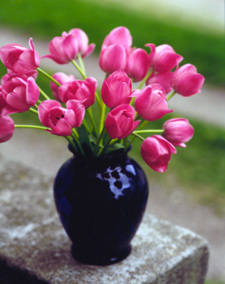 Fresh-picked bouquet of
'Clara' on our kitchen porch
'Clara' was the first of the Darwins (not to be confused with the twentieth century Darwin Hybrids), an important class developed in the late 1800s from much older, out-of-fashion tulips that had been preserved by Dutch enthusiasts. While the most popular Victorian tulips had been short and bright, perfect for carpet-bedding, the emerging turn-of-the-century vogue for perennial borders called for taller, later, pastel tulips — and 'Clara' fit the bill stunningly.
Introduced in 1889, 'Clara' was named for a seventeen-year-old British contralto with a glorious voice who was eventually named a Dame of the British Empire. Like her namesake tulip, Clara was beautiful and tall, a regal six foot two! Her memory lives on in photos and recordings — and one amazing tulip.
"But to save it, we need your help," Kunst says. "The only way to preserve these living treasures is to grow them, and that's something any gardener can do. Plant a half-dozen 'Clara Butt' tulips this fall and you'll not only enrich your garden and touch the past, you'll help save a truly irreplaceable inheritance."
[Although the one last farmer growing this landmark tulip gave it up in 2007, we sent 100 of his last bulbs to friends in the Netherlands. They multipled them for us, and in 2011 we were thrilled to have a small supply of bulbs to share with our customers once again.]