Acclaimed Potter and Our Dahlias in Martha Stewart Living
One of our most enthusiastic customers is potter Frances Palmer of Connecticut whose hand-made tableware and vases are regularly featured in national magazines such as House Beautiful, Vogue, and Martha Stewart Living.

It's not her pottery, though, that's featured in the May 2014 issue of MSL but her beautiful vegetable garden — which, we're proud to say, includes several of our dahlias.

You can view the entire article at Frances's website. If you look closely there at the sprawling photo of her garden you'll see 'Wisconsin Red' (on page 3) and 'Old Gold' and 'Madame Stappers' (page 4), and there's also a photo on page 6 of 'Bishop of Llandaff' and 'Nellie Broomhead' tucked into a couple of Frances's small vases.

Best of all, though, is this full-page shot on the right with our purple-and-white 'Deuil du Roi Albert' and coral-and-white 'Princesse de Suede' in a fresh-from-the-garden bouquet.
---
Distinctive Vases for Our Heirloom Dahlias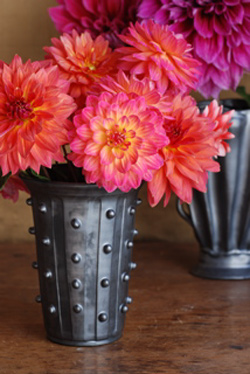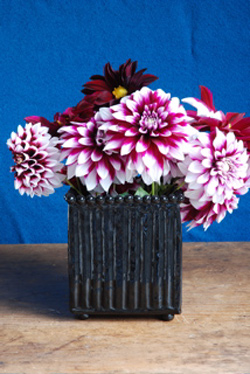 February 2008: Our good customer Frances Palmer lives in an 1854 house in Weston, Connecticut, where she creates fabulous vases and tableware ornamented with — to quote this month's issue of Martha Stewart Living — "distinctively off-kilter fluting and beading inspired by ancient Greek and Roman vessels."
Not surprisingly, Frances also loves our heirloom dahlias. She sent us these photos of some in her garden and pots and added "I have so many of your dahlias. They store beautifully every year and multiply. Thank you for such incredible flowers."
To see more, visit Frances's website.