Rediscovering Cherokee Daffodils in Oaklahoma

by Russell Studebaker, Tulsa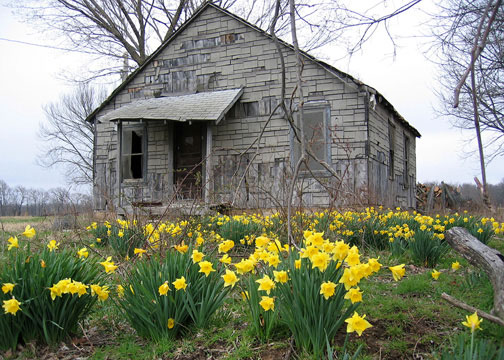 Lent lily, N. pseudonarcissus, in Mayes County
One March day several years ago while exploring a late-1800s Cherokee court house in the rural northeastern corner of Oklahoma, I happened upon an old cemetery dating back to the days when Oklahoma was known as Indian Territory. Near one of the tombstones etched with lichens and mosses were some short clumps of a rather small-flowered, yellow trumpet daffodil. As I was driving back home, I saw multitudes of the same daffodil in pastures, grassy fields, and around old, abandoned, and new home sites.
I was curious about these, since there were so many and they were all the same. So I sent pictures to Scott Kunst at Old House Gardens and he reported back to me that they were Narcissus pseudonarcissus, commonly known as Lent lily and Common Yellow. Their cultivation, he said, can be traced back to 1200 AD in England.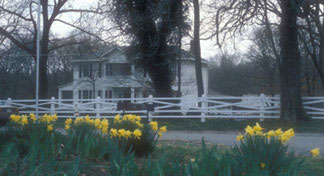 Murrell Home, circa 1845, Park Hill
Returning another year, I was shown several old stands of daffodils at the historic Murrell Home in Park Hill and in the Ross and other old cemeteries nearby. Park Hill and Tahlequah were the center of the Cherokee Nation when the Cherokees were moved in the 1800s from their ancestral homes in the Southeast to what is now Oklahoma.
What intrigued me is that the counties that the Cherokees settled in are rich with the old daffodils, more than in any other part of our state. My theory is that the earlier Cherokees who moved to Indian Territory may have brought some of these plants with them even before the "Trail of Tears," the forced march from their original lands in l838-1839.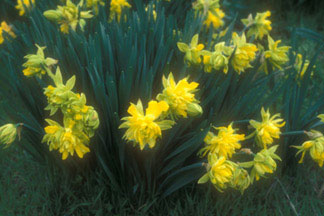 Van Sion in vacant lot near Murrell Home
Russell's Daffodil Tour
On March 13 this year, I led a tour from Tulsa to see these heirloom daffodils, and over 30 people braved the 7:45 AM start time, 38° cold, and a long drive to join me. We first stopped at the old Saline District Cherokee courthouse, circa 1844, near Rose, Oklahoma, about an hour east of Tulsa. It is the only one remaining of the ten original Cherokee court houses. All along the roadsides and in pastures were swaths of Lent lilies in peak bloom.
From there we traveled an hour to Tahlequah, and after lunch our first stop was a vacant lot that had a large naturalized patch of 'Butter and Eggs'. Unfortunately, their foliage had been cut too soon the previous year so the bloom was not abundant. A short distance down the same road there were large drifts of 'Van Sion' in peak condition, and mingled with them were a few clumps of N. jonquilla and 'Campernelle'. Then we traveled about a mile to the Ross Cemetery where Chief John Ross and many of his family were laid to rest. Ross was the principal chief at the time of the Trail of Tears. Inside the walled and iron picket-fenced Ross plots were a few clumps of N. jonquilla, N. pseudonarcissus, and Lycoris squamigera, the surprise lily.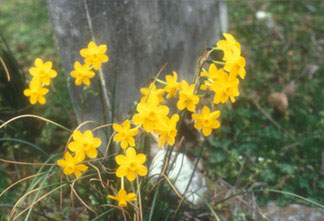 N. jonquilla in Ross Cemetery
Our last stop was at the Murrell Home, circa 1845, in Park Hill. Owned by the Oklahoma Historical Society, it is the only surviving antebellum home in Oklahoma. Near it we found a few Crocus tommasinianus which had recently finished flowering and what appeared to be the Southern grape hyacinth, Muscari neglectum. Also present were a few 'Butter and Eggs', and again, N. pseudonarcissus. We drove home weary but satisfied.
"Waiting for Your Discovery"
These tough old bulbs are ones that have multiplied and endured over the many years without any gardener's care, waiting for anyone to admire their beauty. The Narcissus do have some advantage as they are toxic to animals, and in those cemeteries in northeastern Oklahoma the first mowing does not occur until shortly before Memorial Day. So those bulbs have time to make their reserves for the following year's flowers.
We sometimes seem to forget that there are heirloom and relic plants that have survived in old landscapes, even when the signs of man have long vanished. Heirloom plants are waiting for your discovery, sometimes even in our neighborhoods, if just by chance, as I happened to find these on that spring day in March.
| | |
| --- | --- |
| Ross Cemetery near Tahliquah, Oklahoma | Lent lilies thriving around an old grave |