Back to Basics with 'Atom' Glads
Our Spring 2006 Bulb of the Year has many fans, including Andy Cabe, director of the botanical garden at Riverbanks Zoo and Garden. Thanks to Andy and The State newspaper for permission to reprint this paean to 'Atom' and other garden "forefathers."
Maybe It's Time We Got Back to the Basics of Gardening

by Andy Cabe, The State, Columbia, SC, March 1, 2009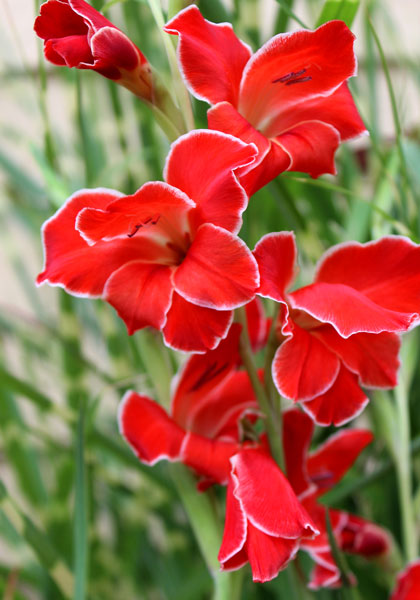 fiery little 'Atom'
While driving in to work one recent morning, the old Waylon Jennings and Willie Nelson song, "Luckenbach, Texas" popped into my head. There is a line that goes, "Maybe it's time we got back to the basics of love." Well, it dawned on me that this line may apply to gardening as well; sometimes we need to get back to those basic plants that we've loved for years. Gladiolus is one of those plants.
There are hundreds, if not thousands, of different varieties of gladiolus on the market and many of them would make fabulous additions to your garden. One of my favorite varieties of late has to be Gladiolus Atom, which was introduced in 1946. In the spring, sword-like foliage emerges from the ground. By mid-summer, flower stalks begin to appear and each stalk is covered with amazing, fiery red blooms outlined with a hint of pure white. . . .
Atom is shorter than many other varieties, topping out at only 3 feet tall. Because of its short stature, Atom may not need staking like many of its taller peers. Full sun, well drained soil and adequate water in the heat of the summer are all these babies need to thrive in your garden.
Gladiolus Atom is easy to integrate into the landscape. Because of the relatively short stature, Atom can be placed toward the front or middle of borders. I find that they are most effective in masses of 10 bulbs or more (this will allow you to cut several stems to take into the house and still leave plenty of blooms to liven up the garden). To extend the bloom period, try planting gladioli in two week intervals for a month or two. The ones planted later, will bloom later in the season, after the earlier ones have finished blooming.
Dividing existing clumps is the easiest way of propagating gladioli, but if you don't have any to start with, mail order bulb nurseries carry many different varieties. Atom should be available through several different sources. One great mail order source for Gladiolus Atom and other bulbs is Old House Gardens (www.oldhousegardens.com).
New plants are always fun and interesting, but we should never forget the forefathers. Sometimes, it's good to get back to the basics.
Andy Cabe is the botanical garden director at Riverbanks Zoo and Garden in Columbia, SC.