To read more by topic or date, see our Newsletter Archives page.
---
"When after some long and continual drought it beginneth to rain, for then being wet and drenched therewith, the earth will send up a vapor and exhalation . . . so heavenly and divine as no perfume . . . is comparable to it."
– Pliny the Elder, 23-79 AD, Natural History, translated by Philemon Holland, 1601
Expert Choices for Fall Planting
Restoring Southern Gardens Conference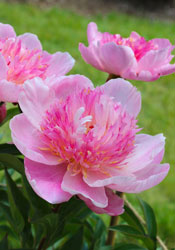 Although our print catalog won't be ready until later this summer, ALL of our fall-planted bulbs are now available online, including six more peonies since our last newsletter.
Three of them we've never offered before:
'Prairie Afire' –graceful and different (pictured here),
'Brand's Magnificent' – vivid red with purple tints, and
'Miss America' – winner of two APS Gold Medals.
'Shawnee Chief' – with beautiful bronze foliage in spring and fall.
And two others are back by popular demand:
'Duchesse de Nemours' – since 1851, painted by Monet, and
'Edulis Superba' – richly fragrant, a favorite since 1824.
All ten of them are now for sale at our website – along with our Peony Paradise sampler – and since you can add to your order any time before Sept. 1, why not order a couple of your favorites right now?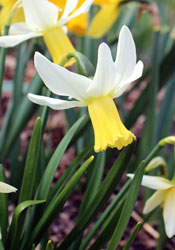 Can't decide what to plant this fall? Here's some expert advice offered by top British garden designers in the October 2016 issue of Gardens Illustrated.
JINNY BLOM says, "'If you do nothing else, buy bulbs. Don't try to be clever, just pile them in and let them sort themselves out." Her top recommendations include:
Galanthus nivalis – "Spring wouldn't be spring without snowdrops."
Crocus tommasinianus – "I'm always charmed by the starry flowers of this sweet little crocus which flowers so eagerly. . . . Plant great drifts of them. . . . They die away to nothing so cause no fuss at all."
Tulipa sylvestris – "I found a patch of these exquisite, scented tulips growing in a damp meadow. . . . They are beautiful, with an elfin grace."
'Thalia' daffodil – "I've lost count of how many of these sweet, pure-white narcissus I've planted. It is simply the best and most beautiful in my book, and very reliable."
ANNIE GUILFOYLE says, "Plant bulbs in larger quantities than you think you'll want. That way you will not be disappointed." She especially favors:
Crocus angustifolius, Cloth of Gold – "This little Ukrainian crocus has rich, golden petals. . . . Beautifully sophisticated, it forms a carpet of color when you need it most."
Hyacinthoides non-scripta – "For me, English bluebells are the bulbs that really herald in the spring. . . . Perfect for naturalizing in those tricky, shady corners under deciduous trees."
ALISON JENKINS says, "It's easy to overlook bulbs, but they add . . . some magic at a dreary time of year." She recommends just one heirloom, but it's superb:
'Jenny' daffodil (pictured here) – "The graceful form and soft tones of this daffodil work well when naturalized. . . . It has creamy-white, swept-back petals with a pale-yellow trumpet."
And DECLAN BUCKLEY says, "Bulbs are invaluable for injecting early season color. The key is to think big and plant in generous quantities.' His top choices include:
Narcissus poeticus var. recurvus – "Despite its delicate appearance, this deliciously fragrant, late-flowering, wild species . . . is tough and sturdy."
'Gravetye Giant' snowflake – "Fragrant, snow-white, bell-shaped flower, tipped with green. I have planted it among ferns on the edge of a woodland garden and in borders with 'Thalia'."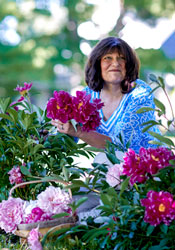 Heirloom peonies are rich in beauty, fragrance, and memories – but have you ever tried drinking them?
Now you can, thanks to Three Meadows Spirits, a New York-state micro-distillery. Headquartered in an 18th-century farmhouse, Three Meadows is part of the booming American craft spirits industry. Its unique Peony Vodka is subtly flavored with a blend of nine natural ingredients including "tincture of peony" derived from the roots of an antique row of peonies growing at the farm of founder Leslie Farhangi.
Although herbalists in Europe and China have used peony root for centuries to treat a variety of ills, Three Meadows claims only that its vodka is versatile and delicious.
Learn more in this recent article or visit the Three Meadows website where a big, beautiful peony bud on their homepage opens to full bloom in less than 30 seconds. And if you'd like to try a glass of Peony Vodka yourself – maybe as you sit in the garden on a warm summer evening – you can order it online here. To peonies!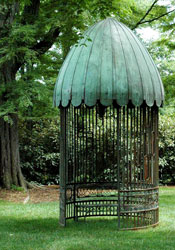 Garden antiques are increasingly popular – and I'm not just talking about "shabby chic" garage sale finds.
No one knows this better than Barbara Israel, the country's leading source for high-end garden antiques. With customers ranging from Yoko Ono to the Smithsonian Institution, Israel currently offers such choice items as a terra-cotta Art Moderne greyhound for $3500, a Victorian fern-patterned cast-iron bench for $8500, and – at the top of my wish list – a 15-foot-tall copper-roofed garden pavilion for $55,000.
Israel has been selling garden antiques for over 30 years from her home in Westchester County, NY. There, as Therese Ciesinski writes in the winter 2017 issue of Garden Design, her lush gardens are filled with "a frozen menagerie of more than 200 maidens, warriors, animals, fountains and birdbaths, urns and obelisks, gates, finials, and follies. They are a reminder that strolling one's garden to contemplate nature, history, and art is still a worthwhile pastime."
Israel has written two fascinating and highly regarded books: the ground-breaking Antique Garden Ornament: Two Centuries of American Taste (1999) and the very helpful Guide to Buying Antique Garden Ornament (2012).
Her quarterly newsletter "Focal Points" is also excellent, with articles on "different types of garden ornament, specific makers, design suggestions, conservation," and remarkable gardens, or for something lighter you can follow her on Facebook.
To browse her current inventory – which is much more than what's pictured at her website – go to decaso.com/shop/xn5iii. Even if you can only dream of spending thousands of dollars on garden antiques, I think you'll find it richly rewarding.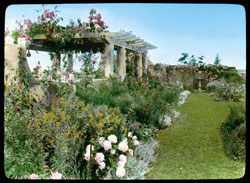 "Gardening in a Golden Age" is the theme of this year's Conference on Restoring Southern Landscapes and Gardens scheduled for Sept. 21-23 at garden-rich and always fascinating Old Salem.
Focusing on the early 20th century, the conference kicks off with the hand-colored magic lantern slides of photographer Frances Benjamin Johnston in "Picturing the American Garden, 1900-1930." Other lectures and tours will explore Ellen Biddle Shipman's work in Winston-Salem, African-American landscape architect David Williston, garden writing and art in the early 1900s, and more.
The conference will be rich in the camaraderie of kindred spirits, too – and I'm speaking from experience. To learn more or register, visit oldsalem.org/events/event/landscapeconference/.
June's articles included OHG's new home in the country, regal lilies in the wilds of China, Guardians of the Iris Galaxy, and more. You can read all of our back-issues at oldhousegardens.com/NewsletterArchives – and we're adding the best articles from the past to our blog!
Please help us "Save the Bulbs!" by forwarding our newsletter to a kindred spirit, garden, museum, or group. Or if a friend sent you this issue, SUBSCRIBE here!
Simply credit www.oldhousegardens.com.