To read more by topic or date, see our Newsletter Archives page.
---
"My green thumb came only as a result of the mistakes I made while learning to see things from the plants' point of view."
– H. Fred Dale, Toronto Star garden writer and author of Fred Dale's Garden Book, 1972
Guardian Gardens: Rescuing Iris
Midwestern Garden History Symposium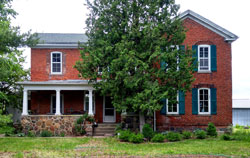 The last two days of May here were filled with excitement and dust as we packed up and moved to our new home at a historic farmstead just three miles away.
After 24 years of working out of Scott and Jane's old house and barn near downtown Ann Arbor, OHG is now headquartered in this even older house at the Washtenaw Food Hub. Located just north of town, the Hub supports small farmers by distributing their crops to local grocery stores, restaurants, and institutions as well as providing workspace for slow-food businesses such as Locavorious and The Brinery.
Although most people don't eat our bulbs, the Hub's owners – whose nearby Tantre Farm is one of the state's oldest certified organic farms – see our mission as a good fit for theirs, and we're excited to be a part of the Hub community. Maybe best of all, moving to the Hub will allow us to consolidate our five Ann Arbor micro-farms into one location right outside our office door.
While Vanessa and the crew were settling in at the new place, Scott celebrated his first day of retirement by not shaving, eating pancakes for breakfast, buying a couple of new plants, and – since he's only 80% retired – working on this newsletter. Life is good!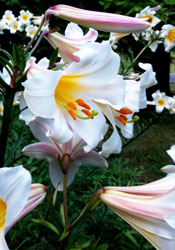 Regal lilies will be blooming here soon, and every year when their fragrance fills the air I'm reminded of this description written by E.H. "Chinese" Wilson, the great plant explorer who first brought them to America.
Of the 2000 plants Wilson collected in his eight trips to Asia, the regal lily was his favorite – although an avalanche broke his leg while he was collecting it and he walked the rest of his life with what he called his "lily limp." In his 1917 book, Aristocrats of the Garden, he writes:
"Journey in thought with me for a moment or two, westward . . . to Shanghai, gateway of far Cathay; onward and westward up the mighty Yangtsze River for 1800 miles, then northward up its tributary the Min some 250 miles to the confines of mysterious Tibet; to that little-known hinterland which separates China proper from the hierarchy of Lhassa; to a wild and mountainous country . . . where mighty empires meet.
"There in narrow, semi-arid valleys, down which torrents thunder, and encompassed by mountains composed of mud-shales and granites whose peaks are clothed with snow eternal, the regal lily has her home. In summer the heat is terrific, in winter the cold is intense, and at all seasons these valleys are subject to sudden and violent wind-storms against which neither man nor beast can make headway.
"There in June, by the wayside, in rock-crevice by the torrent's edge and high up on the mountainside and precipice, this lily in full bloom greets the weary wayfarer. Not in twos and threes but in hundreds, in thousands, aye, in tens of thousands. Its slender stems . . . , flexible and tense as steel, overtop the coarse grasses and scrub and are crowned with . . . large funnel-shaped flowers, each more or less wine-colored without, pure white and lustrous on the face, clear canary-yellow within the tube and each stamen filament tipped with a golden anther.
"The air in the cool of the morning and in the evening is laden with delicious perfume exhaled from every blossom. For a brief season this lily transforms a lonely, semi-desert region into a veritable fairyland."
Thanks to Wilson, you can enjoy a bit of this distant fairyland in your own backyard. Simply order now for fall delivery!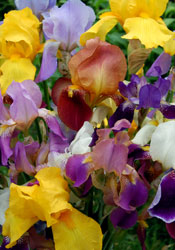 Last year the Historic Iris Preservation Society (HIPS) launched an exciting grassroots effort to save the world's rarest iris – and they're hoping you'll help.
The Guardian Gardens network is a far-flung group of iris enthusiasts who've agreed to grow and share varieties that are most at risk of extinction. The goal is to have five different gardeners growing each of these rare iris so that even if one or two lose theirs it won't be lost forever.
You don't have to be an expert to help, says Doug Paschall, the program's coordinator. If you have experience growing iris and a sunny spot that's big enough for four or five rhizomes of a few varieties, he'd love to hear from you.
"We have irises waiting to be adopted," Doug adds, and mid-summer is the ideal time for planting them. To learn more, check out the Guardian Gardens FAQ at the HIPS website.
And here's a thought: wouldn't it be great if other plant societies sponsored preservation efforts like this? In fact, if you feel inspired to launch a Guardian Gardens project for daffodils or dahlias or daylilies or glads or peonies – all of which have active national societies devoted to them – please let us know and we'll help spread the word about it here. Working together, we can not only "Save the Iris" but "Save the Other Flowers, Too!"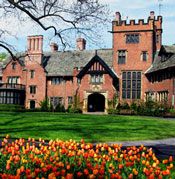 Our good customer Marta McDowell, author of All the President's Gardens, will be the keynote speaker at the third annual Midwestern Garden History and Design Preservation Symposium on June 20-21 in Akron.
After two years at Hale Farm and Village, the symposium is moving this year to the Akron Art Museum with its spectacular, gravity-defying 2007 addition. Lectures such as "Garden History Resources at the Smithsonian," "Everyday Documentation," and "Restoring Mrs. Harding's Rose Garden," will be complemented by tours of local historic landscapes including the incomparable Stan Hywet estate with its Warren Manning birch allée and perennial garden by Ellen Biddle Shipman.
For more information or to register, contact Kathie Vandervere at kvandevere@icloud.com.
May's articles included a big step forward for OHG, newly updated bible for old yards, 100,000 iris at New Jersey's Presby Iris Garden, easier dahlia growing in buried pots, and meet Alan Shipp, master of hyacinths.
You can read all of our back-issues at oldhousegardens.com/NewsletterArchives – and we're adding the best articles from the past to our blog!
Please add newsletter@oldhousegardens.com to your email address book or safe/approved list today.
We hope you enjoy our monthly Gazette, but if not UNSUBSCRIBE here and we'll drop you from our list immediately.
Please help us "Save the Bulbs!" by forwarding our newsletter to a kindred spirit, garden, museum, or group. Or if a friend sent you this issue, SUBSCRIBE here!
Simply credit www.oldhousegardens.com.