To read more by topic or date, see our Newsletter Archives page.
---
"I never had any other desire so strong, and so like to covetousness, as that one which I have had always, that I might be master at last of a small house and a large garden."
– Abraham Cowley, 1618-1667, English poet
History in Bloom: 100,000 Iris in NJ
Updated Bible for Historic Home Landscapes
Growing and Storing Dahlias "In the Dry"
Meet Alan Shipp, Hyacinth Master
The best time to start your order for fall planting is right now.
Only one variety is sold out. You can add to your order any time before September 1. And if you wait you may forget what was missing in your spring garden and what you liked so much that you just have to order more of them.
See everything that's new for fall (with more coming), our rarest bulbs (89 that often sell out first), or simply explore our deer-proof daffodils, luxurious lilies, early, mid-season, and late tulips, long-lived peonies, fragrant hyacinths, bee-friendly crocus, and diverse treasures (many of which will naturalize eagerly for you).
Simplify your life, enrich your garden, and put yourself at the head of the line for fall by ordering NOW!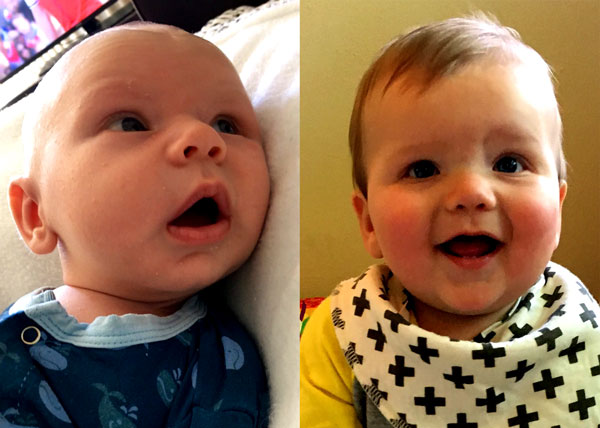 A new day is dawning at Old House Gardens!
By the time we send our next newsletter, OHG will have a new owner – the incredible Vanessa Elms, our current VP for Bulbs – and a new home.
Although we can't announce our new location yet, OHG isn't moving far – just outside of town a bit where we can consolidate our five micro-farms and grow even more old bulbs for you.
I say "we" because I'll be sticking around one day a week to help out, mostly by writing our newsletter/blog, hunting for more great bulbs to offer, and serving as OHG's expert emeritus and ambassador for heirlooms.
As for my endless hours of free time, I don't know what I'm going to do – and I like that. At first I plan to just take it easy, sleep more, garden more, and spend more time with my wife Jane, our dog Toby, and these two little angels, 8-month-old Benjamin John and one-month-old Nolan James.
To all of you who sent me happy retirement wishes this past year, thank you! You warmed my heart, and made this big step easier. I'm proud of what we've accomplished together over the past 24 years, and I can't wait to see what the future holds for Old House Gardens.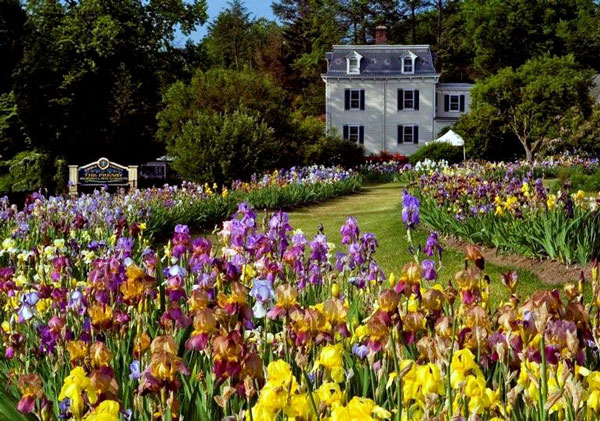 One of the world's greatest collections of historic iris is celebrating its 90th anniversary this month, and you're invited to the party!
Established in Montclair, New Jersey, in 1927, the Presby Memorial Iris Garden today includes nearly 14,000 iris plants of 1500 varieties. Every year from mid-May through the first week in June, over 100,000 flowers bloom there in a dazzling display that's come to be called "the rainbow on the hill."
To celebrate the big anniversary, on weekend afternoons in May volunteers will be serving cookies and lemonade on the porch of the Garden's historic Walther House. Iris dug from Presby's vast collection will also be for sale on weekends starting this Friday from 10:00-3:00.
If you visit, please share a photo or two on our Facebook page – and even though admission is free, we hope you'll donate generously to support the important work Presby is doing to preserve great old iris for all of us.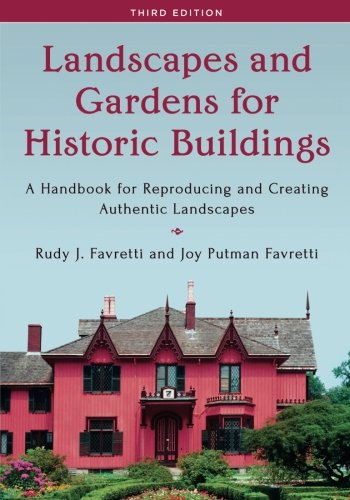 Like most people, I never thought about plants and gardens having a history – until almost 40 years ago when I bought my first old house and walked out into the tiny yard eager to make it my own.
There behind the overgrown privet hedge, I discovered a few barely surviving plants, including a white, single-flowered peony. Suddenly I realized it wasn't just my yard. Someone else had loved it before me. But who, and when? Was the peony ten years old, or 50, or 100? And what about the hedge?
Looking for answers proved frustrating at first. This was back in the dark ages – before Google. But finally I discovered this book by Rudy and Joy Favretti – or rather the original, 1978 edition of it – and I was no longer wandering in the wilderness.
I've been using and recommending it ever since, and as I say on the back cover of this updated and expanded third edition, "Bravo! A new edition of this indispensable work has been long overdue. It's the original guide to researching and restoring American home landscapes, by the dean of American landscape preservation. For decades, savvy home-owners and museum sites have turned to it for guidance – and now, with its many updates and additions, it's better than ever."
Although the core of it is unchanged, Rudy and Joy have added illustrations and updated information throughout. Best of all are the additional examples from their long careers, including a page on the archaeological excavation that revealed the long-vanished, mid-1600s garden at Bacon's Castle in Virginia.
If there's an old yard you care about, Landscapes and Gardens for Historic Buildings is the book for you. It may not change your life the way it did mine, but it will certainly help you see any yard – and the wider landscape all around us – with new eyes.
If you haven't planted all of your dahlias yet, here's a super-simple way to grow and store them from our good customer Jenn Hovland of Fleur de Louise Flower Studio in Stillwater, Minnesota.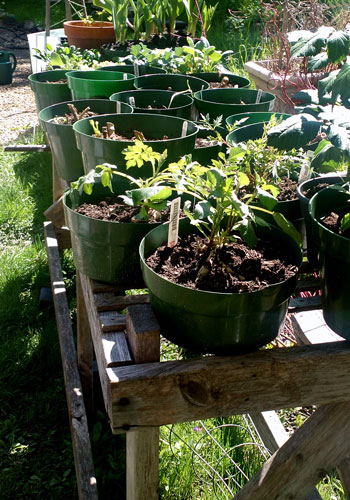 "For several years now I have stored my dahlia tubers 'in the dry' as they do in England," Jenn wrote on her spring order. "I start by planting a new tuber in a 1 or 2 gallon plastic pot. I lay it flat near the top of the pot, cover it with just an inch of soil, water it once, and then leave it alone until sprouts emerge.
"When the weather warms up, I plant it outside, pot and all, pounding a stake into the ground next to it. I always use black or green pots so that even the parts that aren't buried or hidden by other plants are pretty much invisible.
"At the end of the season when frost blackens the foliage, I wait a few days, lift the entire pot, cut back the dead foliage, let it dry on my porch for a couple of days, and then put it in the basement and forget about it. In March or April when I notice new growth, I move it upstairs to a sunny window and it's ready for the new season.
"By using this method, I've lost very few tubers to rot or drying out. Although it takes a little extra space to store the pots, it has worked very well for me."
Wanting to know more, I emailed Jenn and she cheerfully answered all of my questions.
One-gallon pots seemed small to me, so I was surprised to learn that she sometimes uses even smaller ones. Pot size doesn't seem to matter much because, although the tuber-cluster remains confined within the pot, its feeder roots grow through the holes in the bottom. When the pot gets crowded after a couple of years, Jenn divides the cluster and starts all over again.
During the winter she keeps the pots as dark as possible because light encourages sprouting. In March she starts checking for new growth, and when the first sprouts appear – this year in mid-April – she adds an inch of compost to all pots, waters them once, and moves them to a sunny window.
"Then in May," she told me, "I take the plants outside to harden them off for a couple of weeks, bringing them in at night until they adjust to outdoor living. By mid-May they'll be staying outside overnight, except when frost is predicted. I finally plant them in the garden around Memorial Day. By then they are quite large plants – which means they'll bloom earlier."
That sounds good to me, and I'm planning to give Jenn's method a try. If you do, too, please let us know your results so we can learn from you as well!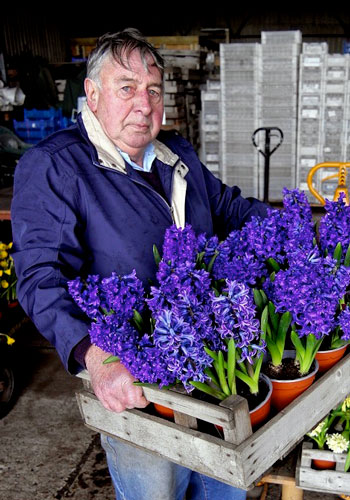 With a collection of 243 hyacinth varieties dating back as far as the 1700s, our good friend Alan Shipp is an inspiring example of what one person can do to save our incredibly rich garden heritage.
Although we've been the sole US source for Alan's hyacinths for many years, and we're proud to call him a friend, we learned a lot we never knew about him in an engaging post at the British blog Spitalfields Life. Alan is a great story-teller with a jolly sense of humor, and the blog's author captures him well.
Alan talks about how his family farm got its start when his grandfather won a pony in a raffle, how he learned how to propagate hyacinths from a slug, and how the "extinct" 1767 double white-with-red-eyes 'Gloria Mundi' was rediscovered in a tiny village in Romania. You can read it all, and enjoy photos of Alan's hyacinth fields in bloom, at spitalfieldslife.com/2017/03/26/alan-shipp-hyacinth-grower/.
(To meet USDA import requirements, Alan has to grow our hyacinths in a special field. As soon as we learn what he'll have available for us this fall, we'll announce it here in our newsletter.)
April's articles included The American Gardener honors us, MaryJanesFarm showcases our dahlias, "Misspellings Can Be Fun: Turboroses," love letters to two great dahlias, and what the heck are "house-pot lilies"?
You can read all of our back-issues at oldhousegardens.com/NewsletterArchives – and we're adding the best articles to our blog!
Please add newsletter@oldhousegardens.com to your email address book or safe/approved list today.
We hope you enjoy our monthly Gazette, but if not UNSUBSCRIBE here and we'll drop you from our list immediately.
Please help us "Save the Bulbs!" by forwarding our newsletter to a kindred spirit, garden, museum, or group. Or if a friend sent you this issue, SUBSCRIBE here!
Simply credit www.oldhousegardens.com.