To read more by topic or date, see our Newsletter Archives page.
---
"She turned to the sunlight / And shook her yellow head / And whispered to her neighbor: / 'Winter is dead.'"
– from "Daffodowndilly" by A.A. Milne, 1882-1956, English author of Winnie the Pooh books
Customer Raves: 2 Great Dahlias
MaryJanesFarm Romances Our Dahlias
Rediscovering House-Pot Lilies
Misspellings Can Be Fun: Turboroses
It's not TOO late, but just a quarter of our spring-shipped treasures are still available – so even if you wait until June to plant them, NOW is the time to order.
Like saving money? See our Bulbs on Sale page for 16 frugal jewels now at savings of 10-25%.
Can't decide? Try our easy samplers including Dreamy Dahlias, Glorious Glads, and Intro to Heirlooms – now with even more value, $38 worth of great bulbs for just $30!
Or check out our What's Left page for a complete list of all of our 8 dahlias, 9 glads, 4 lilies, 4 daylilies, 2 tuberoses, 1 great crocosmia that are still looking for a good home.
It's too late to mail us your order, but Amelia and Mary are eager to help at 734-995-1486, and our easy website is always open.
How can you resist? Order your own box-load of summer excitement now!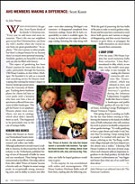 From Christmas tree ornaments to one of my favorite childhood books, Julia Polentes tells the OHG story in the March-April issue of the American Horticultural Society's American Gardener. As an avid reader ever since I joined the Society in 1989, it's a special pleasure to be profiled in "AHS Members Making a Difference."
Julia starts with me comparing heirloom bulbs to the ornaments on our family Christmas tree which are "pretty to other people, but there's a deeper beauty for us" because they have "so much more personal meaning." She talks about my "epiphany" when I realized that historic plants can be found all around us if you know what you're looking for, and my efforts since 1993 to preserve "the best bulbs of the past in order to enrich gardens today."
Now that I'm retiring, Julia notes that I'm appreciating more than ever "the far-flung, world-wide village of people who have helped turn this dream into a reality." As in Stone Soup, one of my favorite books as a kid, what we've accomplished together is "way bigger and better than what any of us could have done alone."
For more, you can check out the entire article at our website. (April 2017)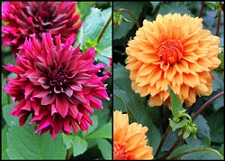 Here are a couple of rave reviews for two of our most popular dahlias:
"'Prince Noir' was absolutely brilliant," our good customer Connie Casey of Old Chatham, NY, wrote us a while back. "Many, many huge wine-red flowers from late July till the end of October. It (he?) was next to our outdoor shower, set off spectacularly by two vines in back – hops and a red and orange honeysuckle. Whenever we were invited to dinner I brought a bouquet of mahogany sunflowers, red snapdragons, maroon sneezeweed, pink cosmos, and 'Prince Noir'."
"'Old Gold' is absolutely, stunningly glorious!" our good customer Sejean Sohn of Bethlehem, PA, wrote. "It really does appear to flicker with light. I'm growing over 70 different dahlias this year from several specialty sources, but OHG's 'Old Gold', 'Prince Noir', and 'Jane Cowl' are truly exceptional."
Order them now and you may soon find yourself raving about them, too! (April 2017)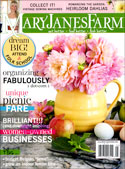 The pink, over-stuffed blossoms of our 'Rosemary Webb' dahlia fill an old yellow pitcher on the cover of the April-May 2017 issue of MaryJanesFarm under a heading that reads "Romancing the Garden: Heirloom Dahlias."
Inside, MaryJane writes, "I bought my tubers from Old House Gardens. A new generation of sustainable farmers, they cultivate heirloom bulbs on five 'micro farms' on vacant lots and other scraps of land within a few blocks of downtown Ann Arbor. Mine were, if I must say so myself, stunning!"
Idaho farmer MaryJane Butters launched her "organic-focused lifestyle magazine" is 2001. With a circulation of 135,000, it's sold today at stores all across the country including Whole Foods, Barnes & Noble, and Walmart.
MaryJane showcases our daffodils on page 5 of the May-June issue, too, with photos from our catalog of eleven heirlooms she planted at her farm last fall. Stay tuned for a follow-up article on them sometime later this year – and subscribe or learn more at www.maryjanesfarm.org/. (April 2017)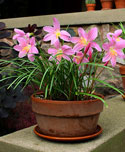 We recently learned an old name for pink rain lilies.
Our good friend and Tulsa garden writer Russell Studebaker wrote that he'd seen a pot of them in full bloom at a garden club meeting. "The owner told me she 'never knew their actual name.' She had gotten them long ago from her family in Missouri. They called them 'house pot lilies' because they were always grown in an old pot that no longer served for cooking – probably enamelware, agateware, or graniteware that had developed a hole. Can't you just imagine how nice those little pink flowers would look blooming in a blue enamelware pot?"
Rain lilies bloom when rain drenches their roots, so it makes sense that they'd thrive metal pots – although ours bloom just fine in regular terra cotta, as you can see here.
Summer is coming, so why not order a few to try yourself in any kind of pot you want?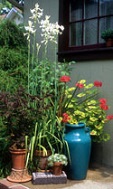 If you're not sure how to spell tuberose, you're in good company. Misspellings – or alternative spellings? – have been common for hundreds of years.
In 1664, for example, the great John Evelyn in his Kalendarium Hortense spelled it tuber-rose – which makes a certain sense because it grows from a tuber (actually a rhizome, but whatever) and smells as good as a rose.
Many of the misspellings entered into our website's search-box are mundane ones such as tube rose, tuberosas, tuberrosa, tuperose, toberose, and tuberus.
Others are more entertaining, though, such as tubarose (with really big flowers?), tiberose (a Roman form?), tubrose (best in containers?), tuberoe (less expensive than tubecaviar?), and my favorite, turborose, which perfectly expresses the flower's high-powered fragrance.
However you spell it, you can still order a few right now and enjoy its fabulous fragrance this summer – but don't delay, because they're going faste, phast, fast!
Late March's articles included 'Atom' and other heirlooms in "100 Great Plants for an English Country Garden," heirloom daffodils in Garden Design, Black Tulip ale, HistoricPavement,com, the upcoming Mount Vernon garden symposium, and more. You can read all of our back-issues at oldhousegardens.com/NewsletterArchives – and we're adding the best articles to our blog!
Please help us "Save the Bulbs!" by forwarding our newsletter to a kindred spirit, garden, museum, or group. Or if a friend sent you this issue, SUBSCRIBE here!
Simply credit www.oldhousegardens.com.