To read more by topic or date, see our Newsletter Archives page.
---
"The love of gardening is a seed that once sown never dies."
– Gertrude Jekyll, 1843-1932, arguably the 20th century's most influential garden designer and writer
'Jersey's Beauty' and its Millionaire Fans
Cutting Glad Corms to Make More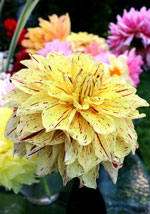 Despite some recent spring-like weather, it's still winter here in Ann Arbor, with a predicted low tomorrow night of 15 degrees. Most years our night temperatures don't stay reliably above freezing until April, which is why we don't start shipping until then.
The good news is that, although 22 spring-planted beauties are already sold out, we have such good supplies of another 22 that we've cut their prices by 10-25% – at least for now. Save on:
11 DAHLIAS – including dark-leaved 'David Howard', single, bee-friendly 'Bonne Esperance', big, shaggy 'Tsuki Yori no Shisha', and confetti-speckled 'Dixie's Winedot' (pictured here);
4 IRIS – including repeat-blooming 'Eleanor Roosevelt' and looks-good-with-everything 'Gracchus';
4 DAYLILIES – including petite, spring-blooming 'Gold Dust' and the great A.B Stout's favorite, 'Mikado';
2 GLADS – perky little 'Elvira' and rosy purple 'Fidelio';
1 CROCOSMIA – cheery yellow 'George Davison'.
See them all at our Bulbs on Sale page – and then do yourself a favor and spend a little to get a lot of excitement for your summer garden!

So many great old peonies survive today that we change our line-up every year, and we always include some we've never offered before.
New this year are old-rose scented 'Auten's Pride' (pictured here) and magnificent, Nebraska-bred 'Henry Sass', and we've also brought back rosy pink 'James R. Mann' and the weird but wonderful fern-leaf peony.
A few more will follow, but since you can add to your fall order any time before Sept. 1, why not reserve a couple of these rare beauties for your garden right now?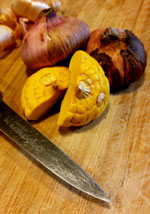 Even if your glad planting season is still months away, here's a tip from expert Cliff Hartline that you can use whenever that happy time arrives.
Cliff writes my favorite section of the NAGC journal Glad World. It's a Q & A column titled "Talk Radio," and a while ago a reader asked, "I heard you can cut corms in two to multiply them. How do you do that?"
First of all, Cliff replied, it's important to "make sure there are eyes and root nodes on both halves. The eyes go across the corm in only one direction. They are not like potatoes that have eyes everywhere. Peel the husk off before cutting, so you can identify the line of eyes." Look for small, individual flaps of shiny husk that protect the eyes, or the emerging tips themselves.
Don't do this too early, though. "Without the husk, the corm will dry out quicker, so you need to do this close to the time of planting."
"After cutting it, put powdered sulfur [available at garden centers or online] on the open wound. This helps seal the scar and protect the corm when it is planted."
Before going on to cut another corm, sterilize your knife with alcohol.
If you're feeling lucky, "you can even cut the corm into three or four pieces," Cliff says, although "this increases the chance that it may not survive." Even if you only cut it in half, there's some risk involved, so we recommend you try it with inexpensive glads first (although not Abyssinian glads).
Good luck, have fun, and please let us know how it goes!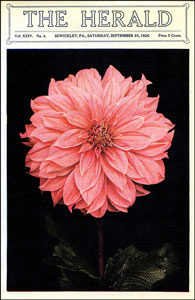 (Here's a fascinating story by our good customer Letitia Savage. Thank you, Letty, for sharing it with us!)
By the 1920s, Pittsburgh's industrial millionaires had flocked to Sewickley, Pennsylvania, to summer in country houses along the bluffs of the Ohio River. While the estates had ranks of professional gardeners, the owners were often actively involved, particularly when it came to competitive gardening.
Mrs. B. F. Jones, Jr. was typical of these serious amateur gardeners. The wife of a steel industry magnate, she lived at Fairacres, a 100-room Louis XVI mansion surrounded by acres of gardens. (You can see a few photos of Fairacres at our blog.) There, with the help of her head gardener R. M. Fletcher, she grew thousands of dahlias.
In Sewickley the gardening year culminated in September with the annual Dahlia Show. As the Sewickley Herald reported in 1926, "There is hardly another flower which makes such a glorious showing when exhibited in mass.... Those who have never seen a dahlia show have indeed a thrill yet to live for."
The three-day event included almost 50 competitive classes for dahlias – including several for vases of 12 to 25 blooms of one variety. Photos of the show in the society pages of the Pittsburgh press are breathtaking. Dahlias in vases tower over the heads of the small girls admiring them, and some arrangements are even taller than their mothers.
In 1926, the star of the show was 'Jersey's Beauty'. The Herald featured it in a full color photo on the front page of its September 25 edition and noted, "If you are familiar with dahlias, you will be interested in 'Jersey Beauty,' in some ways the finest dahlia developed in recent years." Introduced just three years earlier, it originally sold for $25 a tuber – a trifle for Mrs. Jones but the equivalent, according to the ADS's Martin Kral, of "fifty gallons of milk, or a man's new suit, or one of those modern home appliances, a vacuum cleaner."
Although it's not 100% clear whether it was Mrs. Jones's 'Jersey's Beauty' that stole the show in 1926, local reports say the Herald's cover-girl dahlia was raised at Fairacres, and an oil painting of that flower once hung in splendor there, perhaps alongside her Gilbert Stuart portrait of George Washington.
Twenty years after her death in 1941, Mrs. Jones' opulent summer home was razed. Her painting of 'Jersey's Beauty' survives, though, preserved by the Sewickley Valley Historical Society, along with a stack of small cards tied with a faded blue ribbon. Although they don't include dates or variety names, each card documents one of the many flower-show awards that Mrs. Jones won, poignant souvenirs of her prize-winning roses, chrysanthemums, and, above all, her glorious dahlias.
('Jersey's Beauty' went on to become one of the most popular dahlias of the 20th century. Although it's almost sold out, if you order it now you can enjoy it just as Mrs. Jones once did – and it won't cost you anywhere near as much as a vacuum cleaner!)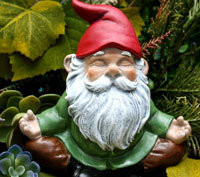 We've all been there. It's the first beautiful Saturday of spring, you've spent hours blissfully working in the garden – and the next morning you're sore all over and hoping you haven't seriously injured yourself.
But it doesn't have to be that way. Whether you're heading out to the garden after a long winter off or just a long week at work, you can protect your body from pain and worse by doing a few easy exercises ahead of time.
Here are some simple tips and a short video from the excellent Everybody Gardens blog of our friend Doug Oster at everybodygardens.triblive.com/these-simple-exercises-will-get-you-ready-to-garden-and-keep-you-healthy/. We hope you'll give it a look and do your muscles, back, and joints a favor!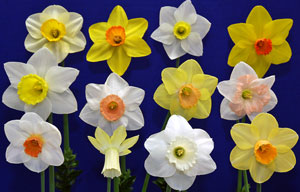 From heirlooms to varieties so new they don't even have names, tens of thousands of daffodils will soon be on public display in 43 ADS daffodil shows all across the country.
The season kicks off this weekend with shows in California, Louisiana, and Dallas; the spectacular National Show is March 10-12 in Sacramento; and it all ends May 7 in Sheboygan, Wisconsin.
Michigan will have its own show this year, April 26-27, at Fernwood Botanical Garden in Niles. For an added treat, the fields of breeder John Reed will also be open to the public. Organizers hope the events will help spur the founding of a Michigan Daffodil Society. (Sign us up!)
If you've never been to one, you're missing something special. For a complete list, visit the outstanding ADS website at http://daffodilusa.org/events-show-calendar/calendar-of-events/.
February's articles included Winston-Salem's amazing municipal iris garden, "supremely beautiful" 'Ophir' daylily, the very first collarette dahlias, save 66% on used and rare garden books, and more.
You can read all of our back-issues at oldhousegardens.com/NewsletterArchives – and we're adding the best articles to our blog!
Please help us "Save the Bulbs!" by forwarding our newsletter to a kindred spirit, garden, museum, or group. Or if a friend sent you this issue, SUBSCRIBE here!
Simply credit www.oldhousegardens.com.