To read more by topic or date, see our Newsletter Archives page.
---
"If seeds in the black earth can turn into such beautiful roses, what might not the heart of man become in its long journey toward the stars?"
– G.K. Chesterton, 1874-1936, British writer, poet, and philosopher
"Supremely Beautiful" 'Ophir' Daylily
Winston-Salem's Municipal Iris Garden
Save 66% on Antique Garden Books
Can You Help Us Find a New Ark?

Although 13 of our spring-planted treasures are already sold out, we've just added 6 more to our Bulbs on Sale page, thanks to upwardly revised counts from our Oregon and New Hampshire growers and our Ann Arbor micro-farms.
Now you can SAVE 10-25% on:
1 Daylily – extra early, cinnamon-shaded 'Gold Dust';
2 Iris – dazzling 'Wabash' and charmingly imperfect 'Loreley'; and
6 Dahlias – cool 'Lavender Chiffon' (pictured here), family heirloom 'Wisconsin Red', speckled 'Dixie's Winedot', smoldering 'Old Gold', and the Queen of the Bronx, 'Gypsy Girl' – all for delivery in April.

Now there are more reasons than ever to get an early start on your fall order.
19 Bulbs are Back – including black-cherry 'Philippe de Comines' (pictured here), weird 'Keats' daffodil, and our fabulous Brown Sugar sampler – all listed at our New and Back page.
44 Bulbs are Cheaper – including 400-year-old 'Cloth of Gold' crocus, ghostly 'Sulphur Phoenix' daffodil (aka Codlins and Cream), and the eagerly multiplying white Roman hyacinth.
Peonies are Coming – Although we still haven't settled on our peony offerings, we will soon – and we're hoping to offer more than ever.
Remember that you can always add to your order later, so why not get it started NOW?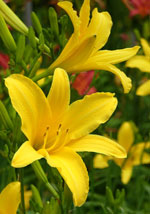 Ten years ago in a pioneering article for Horticulture magazine, Betty Gatewood sang the praises of heirloom daylilies.
"These plants, once treasured by gardeners for their elegance of form, are mostly unknown today," she wrote. "But they are distinguished by one great quality: they retain the classic lily shape that has largely been bred out of modern daylilies. They are supremely beautiful. For this alone they are worth seeking out."
Betty's number one example was the lovely 'Ophir'. One of the first American-bred daylilies, 'Ophir' has "trumpet-shaped flowers (rather like a golden Easter lily) of unmatchable shape," she wrote. "It is also a robust grower, tall (about four feet), slightly fragrant, and very floriferous. Blooming . . . for almost a month, it is far too fine a plant to be forgotten."
We completely agree – and though this "supremely beautiful" daylily is sure to sell out soon, you can still order it now for April delivery. If you listen carefully you can probably hear Betty saying, "You won't regret it."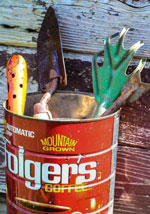 Even if your garden is buried in snow, here are some helpful tips for now or soon:
Check on Stored Bulbs – If you stored any tender bulbs last fall, it's important to check on them periodically. Problems discovered early can often be remedied, but if you ignore them until planting time, everything may be dead. Learn more at "Check Stored Bulbs Now."
Don't Skimp on Chilling – If your forced bulbs try to bloom before the stem has lengthened, it's most likely they haven't had enough chill-time at 48 degrees or less. Returning them to cold storage now could help. Learn more at our Forcing Bulbs page.
Loosen Matted Leaves – Small, early bulbs often emerge much earlier than seems possible, especially in warm micro-climates. Matted leaves and winter mulch can hamper their growth, so get out there early and gently loosen or remove it.
Fertilize Before They Emerge – Although it's always best to be guided by a soil test, if you haven't fertilized in a while, you may want to do so this spring. It's easier and safer if you scratch it into the surface before bulb foliage emerges. Learn more at "Fertilize Early."
Get Ready – Check your garden tools and supplies now, before the mad rush of spring. Buy more fertilizer, twine, stakes, potting soil, animal repellant, gloves – and what else will you need? Be sure you know where all of your tools are, and maybe even treat yourself to a new one.
Order More Bulbs – Of course! See all of our treasures at OldHouseGardens.com.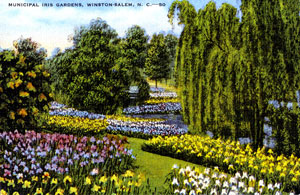 Does your city have a municipal iris garden?
That seems very unlikely, which is why I was so surprised when this postcard arrived in the mail recently.
It's a modern reproduction of a 1949 postcard showing the "Municipal Iris Gardens, Winston-Salem, NC." On the back it reads: "The Municipal Iris Garden contains 20,000 plants, of 525 varieties. The blossoms range from pure white to deep purple, gold, and dark red, and are at their best during May. Weeping willows and rustic bridges add to the beauty of the rolling parkway."
20,000 plants – of 525 varieties! I had to know more, so I contacted the folks who sent the card – which announces the 2017 Conference on Restoring Southern Landscapes and Gardens– and here's what I learned.
"The development of the gardens to their present state of beauty is a typical Cinderella story," the Twin City Sentinel reported in 1938, "with many local iris growers acting as fairy godmothers."
It all started in the early 1920s when a new neighborhood was laid out which included a four-acre "gully-way" that was left untouched "since there seemed no other purpose it could serve."
Although today we'd probably consider it a valuable natural area, times were different then and in 1931 a doctor who lived nearby urged the city to beautify it with iris donated from his own extensive gardens. Iris were enormously popular at that time, and before long other neighbors joined the campaign and the Municipal Iris Garden was born.
The city parks department cleared the land, planted weeping willow trees, built stone and rustic-work bridges over the stream, and laid out gracefully curving beds. By 1938 the Twin City Sentinel reported that "Winston-Salem's iris attract visitors from all parts of the state. From an unattractive gully the city parks department has transformed Runnymede Parkway into one of the most popular parks in the city."
But that was then. By the early 1950s the iris had been replaced with lower-maintenance azaleas, and today even those are gone. The stone bridges still stand, though, bearing silent witness to the park's glory days – and who knows what the next chapter might be for this Cinderella gully-way?
For additional images, visit digitalforsyth.org/photos/browse/places-gardens-runnymede-iris-gardens.
For your own little iris paradise, see the 17 heirloom iris we're shipping this spring.
And many thanks to Camilla Wilcox, Kay Bergey, and Martha Hartley for sharing this remarkable story with me!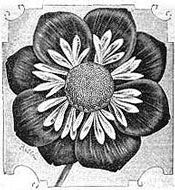 While researching our 'Fashion Monger' dahlia – a Garden Gate "must have" for 2017 – we discovered this tidbit in the Oct. 2, 1902, Journal of Horticulture, Cottage Gardener, and Home Farmer:
"A new type of dahlia has come into existence. It has been named the collaret form and first was brought to notice by Messrs. H. Cannell and Sons [of] Swanley, Kent. . . .
"This new class possesses . . . a series of stalked appendices of a collaret form producing a great ornamental effect. The engraving gives a good idea of its nature. The colors are somewhat limited at present but in the course of another season or so the variation of tints will be very much increased . . . .
"The original plants have already been awarded Gold Medals and Certificates at various important exhibitions. 'President Viger' [pictured] is the best-known. . . . As there may be a future for this race, it is probable that many growers will obtain plants to form a beginning with them."
There was indeed "a future for this race," and scores of collarets– or collarettes, as they're usually spelled in the US – are available today. 'President Viger' is extinct, alas, but we offer two of the oldest – 'Fashion Monger' (from 1955) and 'Clair de Lune' (1946) – and you can order them now for April delivery!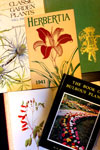 After 40 years of selling used and rare books, our friend Heiko Miles of Calendula Horticultural Books is closing up shop to devote more time to other pursuits. As he explained to me recently, "Life is just so full."
That's good news for garden book lovers because everything at CalendulaBooks.com is now marked down 66%. Although some of the rarest are still pricey – a 1625 Italian florilegium will set you back $1,048– most are less than $5, and many are just a dollar or two. For example, one of the boxful I just bought is A.E. Speer's 1911 Annual and Biennial Garden Plants "with historical notes and very many variety descriptions" for just $1.03.
Heiko's website is bare-bones, but it's filled with treasures, and in all the years I've been ordering from him, he has always served me well. Thank you, Heiko, and may your next chapters all be happy ones!

After Scott retires this May, Old House Gardens is going to need a new place to call home. We're looking to buy (a) a small house with (b) a couple of acres that's (c) in Washtenaw County and (d) south or west of Ann Arbor/Ypsilanti, with ideally (e) 800 square feet or more of garage, pole barn, or barn.
We're working with a realtor, but if you know of something like this that might be available but isn't on the market yet, please contact us at 734-995-1486 or help@oldhousegardens.com. Thanks!
January's articles included:
'Fashion Monger' named "best new plant,"
a 1930 iris expert's picks,
why grow historic daylilies,
Colette's camellia vs. tuberose, and more.
Please help us "Save the Bulbs!" by forwarding our newsletter to a kindred spirit, garden, museum, or group. Or if a friend sent you this issue, SUBSCRIBE here!
Simply credit www.oldhousegardens.com.