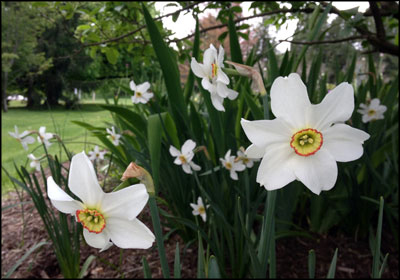 Are you looking for something special to plant this fall? Here are five strong-growing and distinctive heirlooms you might want to try.
"Love them!!!" wrote Mary Sorenson of the pheasant's-eye narcissus she planted at the Centre Furnace Mansion in zone-6b State College, Pennsylvania. Mary attached this wonderful photo and added, "They look like the most beautiful butterflies in the garden."
In her book Slow Flowers, Seattle author Debra Prinzing describes the moss-tinted flowers of silver bells as "fluffy and delicate." Combined in a bouquet with 'Super Green' roses, apricot Verbascum, lamb's-ears and dusty miller, they "surprised me as much as those chartreuse roses," she adds. "Are they flowers? Are they greenery? I like that it's hard to tell."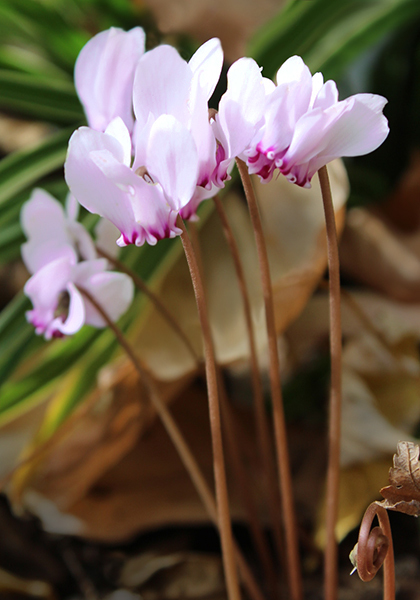 "I think I can safely say that 'Generaal de Wet' tulip is one of the most indestructible tulips on the planet," says Lisa Miller of zone-7a Sparks, Nevada (and it's richly fragrant). "It has been happily blooming here in a neglected pot for at least five years now. I have more planted here and there, even in shade" – the very bright shade of Nevada, that is – "and they all just keep coming back for more abuse."
"If only one autumn-blooming cyclamen is to be grown," writes Rod Leeds in Autumn Bulbs, "then it must be this one" – Cyclamen hederifolium (pictured on the left, with fallen leaves in back). "It is very accommodating, flourishing in so many garden situations. A semi-shaded site in friable (easily crumbled) soil suits it very well. Here it will self-sow profusely and soon build into a spectacular sight in early September."
"You should see my 'General Kohler' hyacinths!" writes Donna Mack of zone-5b Elgin, Illinois. "Every spring more and more of them appear, and I actually have to dig them up and move them. They're growing among ornamental grasses, which have a low priority for watering, so they get the dry rest they want in summer. When the grasses are cut down in spring, it's lovely to see them blooming there."
Read October's News, Alerts, & Quotation.