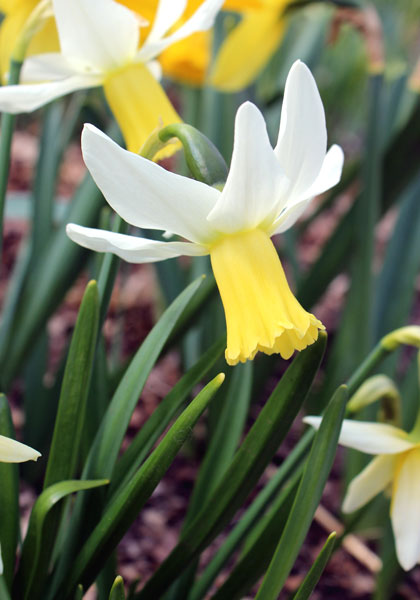 Can't decide what to plant this fall? Here's some expert advice offered by top British garden designers in the October 2016 issue of Gardens Illustrated.
Jinny Blom says, "'If you do nothing else, buy bulbs. Don't try to be clever, just pile them in and let them sort themselves out." Her top recommendations include:
Galanthus nivalis – "Spring wouldn't be spring without snowdrops."
Crocus tommasinianus – "I'm always charmed by the starry flowers of this sweet little crocus which flowers so eagerly. . . . Plant great drifts of them. . . . They die away to nothing so cause no fuss at all."
Tulipa sylvestris – "I found a patch of these exquisite, scented tulips growing in a damp meadow. . . . They are beautiful, with an elfin grace."
'Thalia' daffodil – "I've lost count of how many of these sweet, pure-white narcissus I've planted. It is simply the best and most beautiful in my book, and very reliable."
Annie Guilfoyle says, "Plant bulbs in larger quantities than you think you'll want. That way you will not be disappointed." She especially favors:
Crocus angustifolius, Cloth of Gold – "This little Ukrainian crocus has rich, golden petals. . . . Beautifully sophisticated, it forms a carpet of color when you need it most."
Hyacinthoides non-scripta – "For me, English bluebells are the bulbs that really herald in the spring. . . . Perfect for naturalizing in those tricky, shady corners under deciduous trees."
Alison Jenkins says, "It's easy to overlook bulbs, but they add . . . some magic at a dreary time of year." She recommends just one heirloom, but it's superb:
'Jenny' daffodil – "The graceful form and soft tones of this daffodil work well when naturalized. . . . It has creamy-white, swept-back petals with a pale-yellow trumpet."
And Declan Buckley says, "Bulbs are invaluable for injecting early season color. The key is to think big and plant in generous quantities." His top choices include:
Narcissus poeticus var. recurvus – "Despite its delicate appearance, this deliciously fragrant, late-flowering, wild species . . . is tough and sturdy."
'Gravetye Giant' snowflake – "Fragrant, snow-white, bell-shaped flower, tipped with green. I have planted it among ferns on the edge of a woodland garden and in borders with 'Thalia'."
Read July's News, Alerts, & Quotation.