---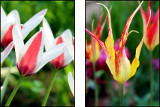 Two of the most unusual tulips we offer are the peppermint-striped T. clusiana, and stiletto-petalled T. acuminata – both of which have been grown and loved by a couple of unusually creative Southern gardeners.
In his 1993 classic The Well-Placed Weed, the celebrated Atlanta-area garden designer Ryan Gainey featured a masterfully harmonious planting combination: T. acuminata alongside American columbine (Aquilegia canadensis) in an informal cottage garden display where the red-and-yellow colors and wispy shapes of the two flowers echo one another perfectly.
A half-century earlier, the great American author Eudora Welty wrote to a friend from her home in Jackson, Mississippi (as quoted in One Writer's Garden), "Species tulips are hard to get now, but I love them best. You know, the little wild tulips that still have lightness and grace and perfume and the clear delicate colors that I guess all original flowers had. One is clusiana, that you know, the white and red striped tulip with violet blotch. . . . They are all small and sort of bow in the wind and flare up." (June 2018)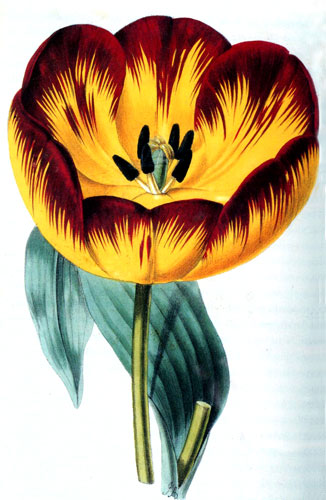 Here's some cutting-edge news from the 182-year-old Wakefield and North of England Tulip Society's latest newsletter:
"A consortium of three Dutch companies . . . have sequenced tulip DNA using Oxford Nanopore Technologies and the TULIP algorithm (The Uncorrected Long-read Integration Process).
"It seems the tulip has the biggest genome that has ever been sequenced. Its size is estimated to be nearly 11 times larger than that of humans.
"Far more work lies ahead to analyze the data but the intention is to link gene sequences to particular characteristics that can be manipulated to 'transform tulip breeding, making it faster, more predictive, and above all "greener" because we will focus on varieties that can be grown sustainably,' according to Hans van den Heuvel of Dümmen Orange [one of the largest Dutch flower breeders and growers]. This would mean using genetic engineering to raise tulips with in-built resistance to pests and diseases, thus reducing the use of chemicals, for ecological and financial benefits."
At Dümmen Orange's website, van den Heuvel goes on to say that "the tulip genome makes the human genome look tiny: the entire human genome fits into one tulip chromosome." Bas Reichert, CEO of the lab that sequenced the genome, says the project "proves that this technology is now feasible and affordable" and will "further accelerate developments in the ornamental sector."
So are fragrant, deer-proof tulips that return and bloom for decades just around the corner? Maybe not, but it looks like our centuries' old quest to develop better and better tulips is about to enter a momentous new stage. (Jan. 2018)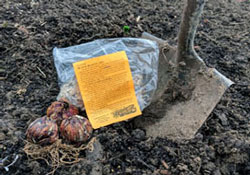 Nature is amazing, as any gardener knows.
For example, you've probably noticed that seed pods can form on your tulips, lilies, and other bulbs if you don't deadhead them after flowering – but how do those seeds end up as bulbs six or eight inches underground, without a gardener to plant them there?
The answer involves contractile roots, blue light, and – for tulips – the evolutionary pressure of marmots. Canadian blogger Larry Hodgson explains it all at LaidBackGardener.blog/2017/09/20/how-bulbs-plant-themselves/.
One caution, though: In an accompanying article, Larry recommends planting tulips a foot deep and says Darwin Hybrid and Viridiflora tulips often return best – but that's not been our experience. For our tips on how to get your tulips to return and bloom year after year, visit oldhousegardens.com/HowToFall#Tulipa. (Nov. 2017)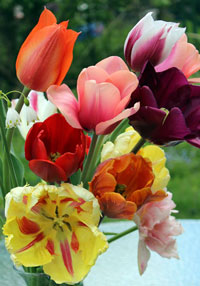 We're proud to have made the short list of Martha Stewart's "top bulb sources" in the September 2017 issue of Martha Stewart Living.
"My excitement for tulips," Martha writes, "is a bit like what occurred in 17th-century Holland during the time of Tulipomania." She reminds her readers to check tulip bulbs as soon as they arrive to be sure they're "firm, with no soft spots, rot, or cracking," but wait to plant them until "nighttime temperatures are consistently in the 40s."
Although spring may be a long way off, tulips are "more than worth the wait," she adds. "It's always pure joy to see those first shoots appear after a long winter."
For your own boxful of tulip joy, order now at oldhousegardens.com/Tulips. (Oct. 2017)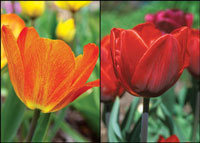 Heirloom bulbs are survivors, but even we were surprised by these two reports:
Here's what our good customer Marianne Schmidt of zone-5b Stuyvesant, NY, had to say about one of our most fragrant tulips – although please note that we can't guarantee it will work for you:
"Last spring the deer devoured all of my tulips EXCEPT 'Generaal de Wet'. I don't know if it was the fragrance or color that turned them off, but this year I'm pinning all of my tulip hopes and expectations on this beautiful tulip!"
And though we'd never recommend planting tulips THIS late, we were happy to get this news about one of our oldest tulips from our long-time customer Tara Fitzpatrick of zone-6a South Hadley, MA:
"Testimony for your 'Couleur Cardinal' – I forgot a bag I had intended to force inside in the basement fridge all winter. I found and planted them in the garden in March during a thaw, and they bloomed perfectly in May!" (Sept. 2017)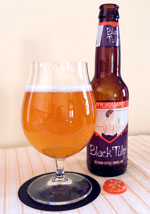 We love bulbs, and I love beer, so when I saw a beer called Black Tulip at the grocery store recently, I felt duty-bound to drink a few and give you a full report.
Black Tulip is a tripel ale brewed by Michigan's New Holland Brewing Company and named for a novel by Alexander Dumas (author of The Three Musketeers) set in 17th-century Holland.
Tripels are "similar to Belgian-style golden strong ales," I learned at craftbeer.com, except they're "generally darker and have a more noticeable malt sweetness." Popular in Belgium and the Netherlands, they're best enjoyed in a goblet-shaped "tulip glass," and New Holland claims theirs is actually "dusted with tulip petals."
Online, fellow beer drinkers have described Black Tulip as "a big, full-flavored, complex, easy to drink beer" that's "very creamy and smooth," with "lots of fruit and spice" and "a reasonable dose of hop bitterness." I'd agree with all of that, and I liked Black Tulip a lot. Tripels have a higher alcohol content than most beers, though, so please drink it with care.
Black Tulip is available in 26 states. To find it near you, enter your zip code at beermenus.com/beers/5675-new-holland-black-tulip – and as our Dutch friends say, Proost! (Mar. 2017)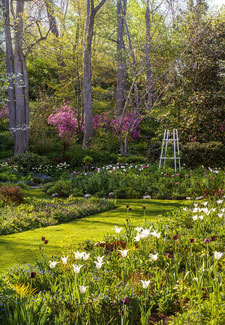 You may know David Culp as the best-selling author of The Layered Garden and an acclaimed landscape designer, but to us he's a customer and fellow fan of heirloom bulbs, especially graceful old daffodils and unusual tulips.
David lives in a 1790s farmhouse known as Brandywine Cottage just outside of Philadelphia. His plantings there are especially beautiful in the spring – as an article by Janet Loughrey in a recent issue of Garden Design made abundantly clear.
Although "renowned for his masterful successive plantings and naturalistic style," Laughrey writes, David is also "an avid collector of rare and unusual plants, including antique and specialty tulips. 'I plant my favorite varieties near the house, in the rock or gravel gardens, or along the road, where they can be displayed more prominently and I can enjoy them up close,' he says. Unusual patterns, colors, and shapes such as these striped, multicolored, or lily forms get top billing."
Among the tulips pictured are three of our heirlooms: lily-flowered 'White Triumphator', stiletto-petalled Tulipa acuminata, and 'The Lizard', "a highly prized Rembrandt broken form with swirling patterns of rose and creamy yellow."
Thanks, David, for giving our bulbs such a beautiful home! (Nov. 2016)
The spectacular bulb plantings at Holland's Keukenhof Gardens are internationally famous, but have you ever heard of the Instanbul Tulip Festival – where four times as many bulbs will burst into bloom this month?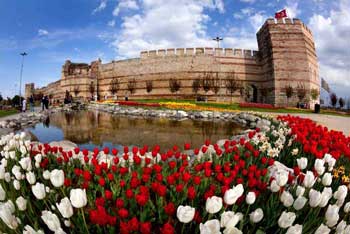 "Istanbul sparkles in April," wrote Frazer Henderson in a recent newsletter of the Wakefield and North of England Tulip Society. "Brilliant splashes of color decorate public parks, streets, road verges, and traffic islands . . . as millions of tulips exuberantly announce the arrival of spring. Started in 2005, the city's Tulip Festival seeks to revive the flower's popularity and celebrate its contribution to Turkish culture. This year over 30 million bulbs – all propagated in Turkey – were planted.
One highlight of last year's Festival was the world's largest floral carpet blooming in front of Hagia Sophia, the spectacular Ottoman cathedral built in 543. "Over 500,000 bulbs in . . . deep purple, red, bright yellow, and burnt orange were planted in a highly geometric design covering 1262 square meters. . . . A babel of exaltations . . . confirmed the carpet's awesomeness."
If you can't get to the Festival in person this spring, treat yourself to a virtual visit at http://howtoistanbul.com/en/istanbul-tulip-festival/5911#prettyPhoto. Click any of the tiny photos at the bottom of the article for a slideshow of many, many more. Enjoy! (April 2016)
JFK's Tulips — More History and a Brand New Sampler
We knew that 'Blue Parrot' tulips were featured in the redesign of the White House Rose Garden initiated by President Kennedy in 1962 (see "JFK's Garden"), but thanks to a tip from a friend, we've now learned a lot more about that iconic garden — and we're celebrating with a brand new sampler of five fabulous tulips that bloomed for Kennedy there.
Located just outside the Oval Office, the Rose Garden has a long history, but by Kennedy's time it was woefully neglected. He re-envisioned it as a flower-filled ceremonial space for welcoming foreign dignitaries, hosting major press conferences, and so on, and he enlisted the remarkable Bunny Mellon to turn his vision into reality.
Mellon was a philanthropist, art collector, and avid amateur gardener. Her redesign featured an open lawn surrounded by boxwood-edged flower beds and four great saucer magnolias transplanted from the Tidal Basin. Kennedy was intimately involved in the development of the garden and, having read Thomas Jefferson's garden diary, urged Mellon to include plants in it that Jefferson grew. "It was truly President Kennedy's garden," Mellon said later. "His concern for its growth and well-being was never ending."
See photos and learn more about the Rose Garden's long history at the White House Historical Association's website or — for even more — treat yourself to a copy of the summer 2015 issue of White House History which is devoted to the topic.
And now with our brand-new "Springtime in Camelot" sampler, you can enjoy five of the tulips that bloomed in Kennedy's garden. We'll send you three bulbs each of lavender 'Blue Parrot', dark maroon 'Black Parrot', flamingo-pink 'Fantasy', rose-pink 'Mariette', and 'White Triumphator', all for just $25. No matter what your politics, this beautiful sampler deserves your vote! (Oct. 2015)
Tulips Gone Wild: Florentines in Yorkshire and Sweden
Although it's a graceful wildflower with a long history in gardens, the Florentine tulip (T. sylvestris) is also a bit weedy, spreading by underground stolons to produce new plants that can take years to bloom. Two articles in the Wakefield and North of England Tulip Society newsletter gave me a deeper appreciation for both its history and its vigor.
Linda Chapman explains that the Florentine is "a tetraploid (having double the number of chromosomes) which may account for its vigor. It is not native to the UK but is naturalized here, though how it arrived is not known. It could have come with the Romans" or much later with "Flemish, Walloon, or French refugees from 1540 onwards."
When Linda went searching for Florentines where they'd been reported in the past, she found almost none — until she visited a protected "Site of Special Scientific Interest" in Yorkshire. There along the banks of the River Nidd "there were tulips as far as we could see, literally hundreds of them. It was a truly remarkable sight."
In a second article, Anita Irehoim writes about the Florentine in Sweden. "Olof Rudbeck the Elder (1630-1702) established the first botanical garden in Sweden at Uppsala and grew the 'yellow tulip from Bologna'" — an early name for the Florentine tulip. (Florence and Bologna are 50 miles apart.) By 1744 it was naturalized in Sweden, and today it's still found "especially in grass areas in old gardens and parks but also in forest edges and along [roadside] verges." Anita says "the best way of getting flowers is to disturb the soil. Dig and turn the soil upside down! It makes some sense since it is . . . a weed of the vineyards."
Olof Rudbeck's son was also a botanist, and "one of his best known students was Carl Linnaeus, the man who devised our system of plant nomenclature." Today Linnaeus's summer house is a museum and "sanctuary for surviving Linnaean plants. Of the 900 varieties he may have had in the garden, only about 40 remain today — one of which is T. sylvestris." (Sept. 2015)
JFK's Garden and 'Blue Parrot' Tulips
'Blue Parrot' — one of the seven tulips we're offering for the first time this fall — once played a leading role in the White House Rose Garden. According to a 1963 LIFE magazine article titled "JFK's New Garden," the "once rundown" space outside the Oval Office was bulldozed and replanted as a "traditional 18th-century garden" with a lawn for presidential receptions.
"And the master gardener is none other than urban oriented J.F.K. himself," the article continues. "While Jackie toils at renovation in the White House, the President happily shows visitors around the great outdoors of the flower beds. 'Isn't this garden terrific?' he glows. 'And you know, you're only allowed to stand in one spot on the grass for two minutes.'"
The garden was designed by Bunny (Mrs. Paul) Mellon, a good friend of the First Lady who went on to spend the rest of her long life — she died last year at the age of 103 — gardening, designing gardens, and collecting rare garden books at her Virginia estate, Oak Spring Farms.
The article includes color photos and a partial plan of the garden where "visitors now parade amid a panoply of Blue Parrots, santolina, Oriental Splendor, Queen of Sheba, Yellow Cheerfulness, periwinkle, and Shot Silk nourished by seven gardeners working diligently under the President's very eye." See it all here. (Aug. 2015)
Sissinghurst Gardener Blogs about Top 5 Tulips — and Us
We got a nice email last month from a gardener at England's famous Sissinghurst Castle Garden. "I thought you might like to know that your nursery was mentioned in our Gardeners' Blog this week," wrote Helen Champion. "Thank you for creating such an interesting website. I find your in-depth information about heritage bulbs an excellent reference."
In her post titled "My Top 5 . . . Tulips," Helen ranks pink 'Clara Butt' #1. Introduced in 1889 and named for a world famous singer, "it flowers in the Rose Garden and is reliably perennial, having grown at Sissinghurst for many years," she writes. "It's hard to imagine a singer in today's world putting up with a name like Clara Butt when she could be Madonna, Beyonce, or Lady Gaga but . . . Clara was immensely popular."
Clara's tulip was, too, "but fashions move on," Helen writes, and "by 2007 only one grower produced 'Clara Butt' commercially and it is likely that the tulip would have been lost forever were it not for the efforts of Scott Kunst from Old House Gardens in the USA. He bought the remaining stock of 'Clara Butt' and sent 100 bulbs to Holland to be propagated. Now the future of this bulb is secure."
Tulip #3 on Helen's list is another wonderful old heirloom we offer, 'Prinses Irene', which she says has "historically been grown in the copper pot in the Cottage Garden, where the flame colored flowers sit in perfect contrast to the blue-green patina of the copper."
Going enthusiastically beyond her Top 5, Helen recommends 20 other great tulips such as 'Greuze' which is grown today in Sissinghurst's Purple Border. Read about them all. And thank you, Helen! (June 2015)
See Our 20,000 Tulips in Colonial Williamsburg Journal
Since 2009 we've been proudly supplying all of the bulbs that Colonial Williamsburg plants throughout the 300 acres of its world-famous historic village. If you haven't seen them blooming there, we highly recommend you add "visit Williamsburg in spring" to your bucket list. It's really something.
This spring our tulips also graced the cover and a four-page photo spread in Colonial Williamsburg: The Journal of the Colonial Williamsburg Foundation. "The tulips arrive from Old House Gardens, a supplier of heirloom flower bulbs, during October's first week," the article begins. "They are planted anew each season to ensure that the displays in Historic Area gardens are spectacular. More than 20,000 tulips are planted, usually around November 1. More than 14,000 bulbs of other kinds – narcissus, anemones, alliums, hyacinths, and others – go into the ground as well."
To enjoy the photos, start at the cover (which may load slowly) and then enter 28 in the page-number box at the bottom of the screen. Although we don't offer most of the tulips in the photos to home gardeners, you can order the stiletto-petalled Tulipa acuminata (on page 31) and all the rest of our fabulous tulips NOW at last fall's prices – and enjoy a bit of Colonial Williamsburg in your own back yard next spring. (May 2015)
Old Masters Remixed: The Floral Still Lifes of Bas Meeuws
If you'd love to own one of those sumptuous flower paintings from Rembrandt's era filled with striped tulips, cabbage roses, and other exquisite blooms, but their multi-million dollar price tag is beyond your budget, take a look at the astonishing art of Dutch photographer Bas Meeuws.
With his digital camera and hours of painstaking work in Photoshop, Meeuws creates images that both mimic the centuries-old masterpieces and yet are strikingly new. Like the original artists, he starts by creating images of individual flowers — and insects, snails, and so on — and then later draws from this digital stockpile to assemble his bouquets. By the time he's done composing, manipulating shadows, erasing cut lines, and so on, he may spend as much as 60 to 100 hours on a single work.
Spectacular Photos of Our Tulips Win Grand Prize in Moscow
Here's another holiday gift suggestion: a spectacular, 4 x 4-foot photo of purple-flamed 'Insulinde' tulip in hyper-detail by our good customer David Leaser. If $4200 is more than you were planning to spend (or ask for), no problem. David offers the same incredible image in other sizes for as little as $100.
With their bee's-eye view of flowers, David's photos allow you to appreciate details that you'd miss from even a foot away. As he explained to me in a recent email, "I use a special macro technique I developed that marries Nikon to NASA to achieve extreme detail. I am literally layering dozens of photos in a focus stack so the entire flower is focused from front to back, and you can see nearly microscopic detail."
David's photos can be found in museums and galleries around the globe, and a collection of eight of his favorites — including 'Insulinde' and 'Estella Rijnveld' — recently won the Grand Prize for nature photography at the prestigious Moscow International Foto Awards competition.
Organic Bulbs: Dutch Farmers Growing Greener
"Tulips represent 50% of the billions of flower bulbs grown every year in the Netherlands," Marty writes. "At present, only a small percentage of them are grown organically. . . . But in Holland, attitudes and practices have begun to change." Wilbrord Braakman, a leader in the movement, "has been growing bulbs organically for about 25 years. In the best years, his harvest exceeds that of conventional growing methods, he says. Braakman also teaches classes for growers who are interested in limiting their use of pesticides and in improving their soil."
"Conventional growers are following the organic trend with considerable interest," Marty adds, quoting our friend Carlos van der Veek. "'I have open eyes to use as few chemicals as possible,' and most growers feel the same way, Van der Veek says. The growers who follow completely organic practices 'are true pioneers, and hopefully they will find ways of better growing which can be used by the whole industry.'"
Six Heirlooms among "18 Stunning and Off-Beat Bulbs"
Fragrant Tulips
From 1912: Growing Parrot Tulips in Hanging Baskets
"An effective and rather uncommon way of growing [parrot tulips] is in hanging baskets of wire or wood. Thickly moss all round the exterior of the receptacle, and fill the inside with a retentive soil of half leaf-mould [ie. compost] and half good fibrous loam and sand. Place the bulbs so that some will grow through the sides and some out of the top. The basket can be started as an ordinary pot, care being taken to stand it on something so as not to flatten the bottom too much. A flower pot does well for the purpose. When a few inches of growth have been made, it must be suspended in a greenhouse or winter garden and kept well watered, especially in hot, windy weather. So treated, each one will make a very pleasing object, the great uncouth and ragged blooms hanging down in charming confusion and displaying their quaint coloring and weird shapes." (Sept. 2014)
Plant a "Small Extravagance" — "Technicolor Tulips" as Annuals
"After a long, gray winter the burst of Technicolor tulips in our spring gardens provides me the same sensation moviegoers must have experienced in 1939 when Dorothy spiraled down into Oz. Our annual display of tulips at the [Coastal Maine Botanical Gardens] brings throngs of winter-weary families out on warm weekends to soak up the life-giving color, and school groups have begun scheduling their annual trips around the peak display. Though it may seem excessive to some, we purchase tens of thousands of bulbs from Holland each October and plant them in soil recently vacated by frost-slain summer annuals. With a few weeks of gentle weather left, the bulbs quickly sprout a nest of white roots to anchor them against the heaving frosts. Once their blooms have been spent the following spring, we dig them up to make way for summer displays. . . . On a smaller scale at home, even a hundred bulbs can make for an attention-getting display, and . . . this small extravagance will not break the bank."
A Squirrel-Proof Tulip???
No, Jane, we haven't — but maybe one of our newsletter readers has? Although it's probably nothing more than a happy coincidence, we're definitely keeping our fingers crossed. (June 2014)
Keepers? What Do You Think of 3 Tulips We're Trialing?
200,000 Tulips Free for the Picking at Amsterdam's Tulip Day
Dutch bulb-growers celebrated their second annual Tulip Day recently by filling a town square in Amsterdam with 200,000 tulips in full bloom and inviting the public to pick as many as they wanted for free. Although it's much too early for tulips to be blooming outdoors in the Netherlands, Tulip Day marks the beginning of the season for bulbs as cut flowers and in pots, and by the end of April this year 1.7 billion tulips will be sold worldwide.
Tulips for a Dutch-Canadian Father: Preserving Bulbs and Memories
Although we rarely ship outside the country, we're making an exception this fall for Marion Huysmans of Salmon Arm, British Columbia.
"My love of flowers and getting dirt under my nails comes from years of following my dad around when I was little, 'helping' as much as I could. A year ago we found out that his prostate cancer is incurable and he may only have another year or two left. Since then, I've been doing my best to learn as much as I can from him and he's been giving me seeds and cuttings from his favorite plants, so he will always live on in my garden.
Why is Such a Beautiful Tulip Named 'The Lizard'?
It's Official: Spring was Hot
"Call it spring's fever," wrote Seth Borenstein in a recent Associated Press article that confirmed what many gardeners already suspected. "Federal records show the US just finished its hottest spring on record. March, April, and May in the lower 48 states beat the coldest spring temperature record by a full 2 degrees. The three months averaged 57.1 degrees, more than 5 degrees above average. That's the most above normal for any US season on record. . . . The National Oceanic and Atmospheric Administration also reported that it was the second warmest May since records began in 1895. May averaged 64.3 degrees, just behind 1934."
And it wasn't only spring. "The first five months of 2012 were the hottest start to a year in US weather record history. The 12-month period starting last June is also the hottest on record." Whew!
It's hard to predict all of the ways that this extreme weather will affect plants. Our good friend Art Tucker of the University of Delaware, for example, wrote us in surprise: "This spring was one of the driest and hottest on record for Delaware. About 50% of my established peonies refused to emerge and those that have emerged have prolific botrytis, which I have only occasionally noticed here and there in the past. Why botrytis now, after the driest spring on record? I thought botrytis was fostered by moist weather???"
Gardeners should expect to see long-term effects, too. In many areas, for example, the warm, dry spring pushed bulbs into dormancy earlier than usual, giving the plants less time to photosynthesize and bulk up — which could mean diminished bloom next spring. So stay tuned, and keep your green thumbs crossed. (June 2012)
No Digging Required — Just "Top Plant" Your Tulips
Bomb-Sniffing Tulips: Coming Soon to a Garden Near You?
A Tulip for Houston: T. clusiana "Officially a Success!"
Our good customer Dawn Anderson of zone-8/9 Missouri City, Texas, emailed us recently:
Scott's "Tulips with a Past" Now Online
Heirloom Tulips Hit Prime-Time TV
Sherlock Holmes and the Case of the Dark Purple Tulip
"Did you happen to observe a picture over the professor's head?" [Holmes asked.]
"I don't miss much, Mr. Holmes. Maybe I learned that from you. Yes, I saw the picture — a young woman with her head on her hands, peeping at you sideways."
"That painting was by Jean Baptiste Greuze."
The inspector endeavoured to look interested.
"Jean Baptiste Greuze," Holmes continued, joining his finger tips and leaning well back in his chair, "was a French artist who flourished between the years 1750 and 1800. . . ."
The inspector's eyes grew abstracted. "Hadn't we better —" he said.
"We are doing so," Holmes interrupted. "All that I am saying has a very direct and vital bearing upon what you have called the Birlstone Mystery. In fact, it may in a sense be called the very centre of it."
MacDonald smiled feebly, and looked appealingly to me. "Your thoughts move a bit too quick for me, Mr. Holmes. . . . What in the whole wide world can be the connection between this dead painting man and the affair at Birlstone?"
It was clear that it did. The inspector looked honestly interested.
"I may remind you," Holmes continued, "that the professor's salary can be ascertained in several trustworthy books of reference. It is seven hundred a year."
"Then how could he buy —"
"Quite so! How could he?"
"Ay, that's remarkable," said the inspector thoughtfully. "Talk away, Mr. Holmes. I'm just loving it. It's fine!"
Holmes smiled. He was always warmed by genuine admiration — the characteristic of the real artist.
Celebrating 400 Years of Gardening in New Netherlands
When Groundhogs Are a Good Thing
"One friend had given me fifty tulip bulbs, one for each of my years, which we planted in a long trail down the driveway. Now they were popping up with flaming red heads on slender stalks like candles on a birthday cake. The groundhog that dug up some bulbs over the winter had taken a few years off. I would try to remain grateful to the groundhog later on, when he was eating my beans." (Apr. 2009)
Blog of the Month: The Undaunted Heirloom Gardener
Tulipa clusiana Returns Happily for Mississippi Gardener
Our good friend Felder Rushing shared this email with us from one of his Mississippi Public Radio show listeners, Karen Lee:
Wisconsin Garden Writer Falls in Love with 'Schoonoord'
Although she "shied away from bulbs" and had never planted a single tulip before, garden writer Linda Brazill of Madison, Wisconsin, finally "took the plunge" and ordered several dozen from us last fall. She planted them "willy-nilly, purely as experiments," and the results were "so fragrant and so stunningly beautiful" that she's already ordered more.
'Clara Butt': Grow the Tulip, Listen to the CD
Dutch Embassy Celebrates with Our 'Zomerschoon'
To celebrate Dutch American Heritage Day on November 16, the Dutch ambassador in Washington hosted an intimate VIP luncheon. A curator from the National Gallery lectured on Rembrandt and then each guest was presented with a very special gift from the days of Rembrandt — a 'Zomerschoon' tulip bulb [no longer available] from Old House Gardens!
Julia Koppius of the ambassador's staff reports that the bulbs were "a hit" and the guests "delighted" with this "unique, beautiful, and memorable gift." Needless to say all of us here at Old House Gardens were thrilled to be included in the festivities! (Dec. 2006)
Spice Up Your Herb Garden with Odd, Elegant Tulipa acuminata
Expert Surprised: Heirloom Tulip Thrives in Steamy Mobile
Take a Peek at the 171st Annual Wakefield Tulip Show
Vita of Sissinghurst Loved Clusiana
Classic Tulip Combos from 1918
Garden Design's "Way Hot 100" Includes Three of Our Bulbs
'Beauty of Bath' Revealed — A Tulip Mystery Story
Boxer Puppies and Fragrant 'Elegans Alba'
Our good customer Jeananne Forgey of Swayzee, Indiana, wrote us last spring:
Celebrate Rembrandt's 400th with Our "Feathered, Flamed, Fabulous" Tulips
So Happy Together: Tulips and Moss Rose
Our good customer Romualda Bielskus in zone-5 Palos Hills, Illinois, writes:
Scott adds: That's exactly what tulips like in the summer, "little water." (Sept. 2005)
Back in Fashion: Fragrant Tulips and Other Scented Plants
"Many of our best-loved flowers have lost their fragrance over the last half-century as hybridizers pursued traits like brighter colors, bigger flowers, compact growth or long stems. . . . But as the gardening community grows more sophisticated, and therefore more appreciative of the sensual and the subtle, smell . . . is returning to garden fashion."
Weird Old Tulips: Laughing about Our Rarest Jewels
From 1620: "Small, Bold" 'Lac van Rijn'
Our good customer Rachel Ashley of Vashon, Washington, writes:
Increase Your Rarest Tulips by Growing Them in Pots
Our good customer Rimmer de Vries has had great success in multiplying some of our oldest and rarest tulips in his zone-5b garden in Saline, Michigan. He says he learned his technique from Martha Stewart and that he's had best success with early-blooming tulips. We can't vouch for it ourselves, but it's definitely working for him! Rimmer writes:
"I use dirty builders sand (poorly sorted material) mixed with a small amount of peat/pinebark-based potting soil. Builders sand is typically found in gravel pits and used as engineered fill for foundations, etc. I don't like the "play sand" sold at hardware stores as it is filtered to a uniform size that seems too fine.
"Last year I added some Turface (hot fired clay used for baseball diamonds, $14 for 50 pounds which fills about a 20 gallon container) and growers grit that the bonsai people like so much (crushed granite used for hens, available at any feed store, $4 for a 50-pound bag which fills about a 5 gallon container) mixed in with the sand to improve drainage. Be careful not to make the mix too dense or heavy.
"I place 1-2 inches of gravel on the bottom of the 2 to 5 gallon plastic pots (clay pots might work even better), add 3-4 inches of the sandy grit, mix in a healthy portion of ground bone meal (not the granular stuff), plant the bulbs, cover them with a few inches of sandy grit with bone meal, and top it off with sandy grit without bone meal to avoid attracting animals. The pots are plunged in the fall in a raised portion of the garden between perennials and mulched with shredded oak leaves in very late fall. Don't leave the pots on top of the soil as temperatures there will be too extreme.
"In the spring when it rains a lot, I pull the pots up and place them inside decorative pots on my front steps so they won't act as sumps and get water-logged in my heavy clay-soil garden. They bloom there and look great.
"In June after the foliage withers, I place the undisturbed pots (with soil and bulbs intact) on a shelf in my garage (dry and hot) until fall planting time when I replant the bulbs. Even though the pots are in the garage a long time, they retain some moisture. Turning them on their sides can help or, since tulips like to be as dry as possible when they're dormant, it might be better to remove the bulbs from the pots after the foliage withers and hang them in mesh onion bags to avoid rot. But even leaving them in the pots, I harvest more bulbs for fall planting every year." (Oct. 2004)
Hortus Bulborum Book Spotlights 2500 Heirloom Tulips
Love That 'Lincolnshire' Tulip!
Our good customer Bill Howe of San Francisco emailed us in April:
Our Readers Write: A 'Zomerschoon' Short Story
Too Dry? Tulips Like That!
If you haven't seen rain in way too long, one bit of good news is that bulbs are built for drought and most of yours should be fine. Some, like tulips and hyacinths, may even perform better than ever next spring, since they prefer dry summers — as in their ancestral homelands.
Even tulips and hyacinths, though, need good moisture while in growth — from fall till six weeks after bloom — so be sure they get that or their performance will suffer. Newly-planted bulbs are especially vulnerable. (Sept. 2002)
Rachel's Favorite Tulip
Rachel Murphy, our terrific [former] VP for Customers, has a front yard filled with tulips. She writes:
Memories of 'Clara Butt'
Our good customer Dillon Jones of Salem, OR, writes:
"Ancient Tulips": Reflections from The New York Times
Changing Fashions, "Conservative Instincts," and Rediscovering Great Bulbs
"We owe a vast debt of gratitude to the conservative instincts of our peasantry. Just think, for instance, how often it has happened that the weathercock of fashion has turned out the Chippendale chairs from the dining room of the Hall first to some stable loft, and then to the cottages [workers houses] on the estate to be discovered and bought back half a century later.
"The same change of taste, or lapse and abeyance of good taste we might say, turned out the old roses and herbaceous plants to make way for showier bedding sorts. Again, Cottage Tulips, rescued from cottage gardens, are clearly the throw-outs of various tulip fanciers who discarded . . . those that would not behave just as they wished and their self-imposed rules decreed. Many a laborer in the gardens of such autocrats has [appreciated these rejected tulips and brought them home], . . . and perhaps fifty years later a Barr or a Hartland has spotted a clump of some glowing and graceful tulip, and gladly purchased the stock from the surprised tenant of the old cottage for what seemed to him untold wealth. . . .
"Anyone with a keen eye for a good plant might do good work by keeping that eye open on cottage plots [or yards today in poorer areas both rural and urban!]. A really hardy, reliable plant of good habit is what the cottage gardener wants, and it is after all not a bad standard to set up for the larger garden, and a plant that has thriven and been found worth growing for fifty years in a cottage garden is certain to have many good qualities in it." (2001-02 catalog)
Parrot Tulip Poetry from Sissinghurst's Vita Sackville-West
. . . the Parrot, better called the Dragon,
Ah, that's a pranking feat of fantasy,
Swirling as crazy plumes of the macaw,
Green flounced with pink, and fringed, and topple-heavy,
A tipsy flower, lurching with the fun
Of its vagary. Has it strayed and fallen
Out of the prodigal urn, the Dutchman's canvas
Crammed to absurdity? Or truly grown
From a brown bulb in brown and sober soil?
The English Florists' Tulip
The Tulip: The Story of a Flower That Has Made Men Mad
History's Greatest Tulip Party?
"Under Sultan Ahmed III [who reigned 1703-1730], Turkey became a hotbed of floriculture. . . .
"At tulip time, . . . one of the courtyards of the Grand Seraglio was turned into an open-air theatre; thousands of tulip flowers were mounted on pyramids and towers, with lanterns and cages of singing birds hung between them. Tulips filled the flower beds, each variety marked with a label of filigree silver. At the signal from a cannon, the doors of the harem were opened and the Sultan's mistresses were led out into the garden by eunuchs carrying torches. Guests had to dress in clothes that matched the tulips (and avoid setting themselves on fire by brushing against candles carried on the backs of hundreds of tortoises that ambled around the grounds).
"One of these tulip extravaganzas was described by . . . the French Ambassador . . . in the early 18th century. 'The Grand Vizier. . . and others of the court have a great taste for flowers, and above all the Tulips,' he wrote. . . 'There are 500,000 bulbs in the Grand Vizier's garden. When the Tulips are in flower and the Grand Vizier wants to show them off . . ., they take care to fill in any spaces with Tulips picked from other gardens and put in bottles. At every fourth flower, candles are set into the ground at the same height as the tulips, and the pathways are decorated with cages of all sorts of birds.
"'All the trellis-work is bordered with flowers in vases, and lit up by a vast number of crystal lamps of various colours. Greenery is brought in from the woods roundabout and used as a background behind the trellises. The colours and reflections of the lights in mirrors makes a marvelous effect. The illuminations are accompanied by noisy music and Turkish music lasts through all the nights that the tulips are in flower.'" (1999-2000 catalog)
Reducing Bulb Diversity — and Garden Worthiness
And we'll add this: As greenhouse-forced tulips have become more lucrative, the bulbs of many of these same varieties are being sold to home gardeners. The problem is that though these bulbs are great for commercial production, many are mediocre for home gardens where our conditions, needs, and desires are quite different.
It's the supermarket tomatoes story all over again: when plants are bred for one priority — such as long-distance shipping or greenhouse forcing — other virtues such as taste or garden-worthiness are often lost. (1999-2000 catalog)
Florentine Tulips: Living Relics in Pennsylvania-Dutch Country
"The plants do not survive in dry woods or dry sites around here. The plants at Jenkins Arboretum in Berwyn, near Philadelphia, are in such deep moist shade that no other plants grow around them. However, they also grow in some open meadows in the Philadelphia area. . . .
Tulips in Elizabeth's 1898 Garden: Sprightly and Enjoying Life
"I love tulips better than . . . any other spring flower; they are the embodiment of alert cheerfulness and tidy grace . . . like a wholesome, freshly tubbed young girl. . . . Their faint, delicate scent is refinement itself; and is there anything in the world more charming than the sprightly way they hold up their little faces to the sun? I have heard them called bold and flaunting, but to me they seem modest grace itself, only always on the alert to enjoy life as much as they can and not afraid of looking the sun or anything else above them in the face." (1996 catalog)
In Praise and Defense of Early Tulips
"The Tulips known as 'Early' do not by any means receive the recognition that their special comeliness and usefulness merit. So many, so marvelous . . . are the Darwins, Breeders, and the Cottage varieties of the later season [which today are all lumped together as Single Lates] that too often the early-flowering kinds are quite overlooked. . . .
"They suffer too . . . by association in our minds with pots and geometrical bedding, for which they are indeed ideally adapted. But these are not the only roles they are capable of filling with grace and distinction . . . There is a pleasant surprise awaiting those who cast precedent aside and allow this type of Tulip to play a more gracious and less formal part in the spring scene. . . .
"I have found too, that several years of good service may be had of these early Tulips without lifting and with only a slight diminution of size, if the soil in which they are planted has not been too heavily and freshly manured. This slight falling off in size indeed seems to me no drawback, for just as I like Hyacinths best when a few years of border life have reduced their obese opulence, so I like Tulips (this is rank heresy, I know) when they have lost something of their self-conscious hugeness and take their places a bit more simply in the garden scene." (1995 catalog)
---
For articles on other topics, see our main Newsletter Archives page.