---
---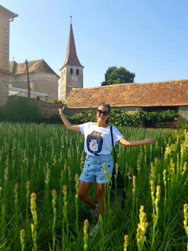 Tourists poured into the Romanian village of Hoghilag this past weekend for the annual Tuberose Festival.
"Just as France has the lavender fields, Romania has the fields of tuberoses," explains festival director Claudia-Romana Rista. "With a tradition of over 100 years in growing tuberoses, Hoghilag is called today the Land of Tuberoses."
Located in the historic Transylvania Highlands, "the largest eco-touristic destination in Romania," Hoghilag's tuberose fields produce upwards of 150,000 bloom-stalks per acre. Some are sold as cut-flowers, but most are harvested for use in perfumes where, according to fragrantica.com, "no note is more surprisingly carnal, creamier, or contradicting."
Festival activities include perfume workshops, flower cooking and jewelry-making classes, films, concerts, traditional foods, and a bicycle tour of the tuberose fields. Learn more at Romania-Insider.com and the Hoghilag Facebook page – and to enjoy your own Backyard Tuberose Festival, order a few bulbs now for spring planting! (Aug. 2017)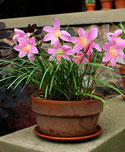 We recently learned an old name for pink rain lilies.
Our good friend and Tulsa garden writer Russell Studebaker wrote that he'd seen a pot of them in full bloom at a garden club meeting. "The owner told me she 'never knew their actual name.' She had gotten them long ago from her family in Missouri. They called them 'house pot lilies' because they were always grown in an old pot that no longer served for cooking – probably enamelware, agateware, or graniteware that had developed a hole. Can't you just imagine how nice those little pink flowers would look blooming in a blue enamelware pot?"
Rain lilies bloom when rain drenches their roots, so it makes sense that they'd thrive metal pots – although ours bloom just fine in regular terra cotta, as you can see here.
Summer is coming, so why not order a few to try yourself in any kind of pot you want? (April 2017)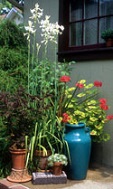 If you're not sure how to spell tuberose, you're in good company. Misspellings – or alternative spellings? – have been common for hundreds of years.
In 1664, for example, the great John Evelyn in his Kalendarium Hortense spelled it tuber-rose – which makes a certain sense because it grows from a tuber (actually a rhizome, but whatever) and smells as good as a rose.
Many of the misspellings entered into our website's search-box are mundane ones such as tube rose, tuberosas, tuberrosa, tuperose, toberose, and tuberus.
Others are more entertaining, though, such as tubarose (with really big flowers?), tiberose (a Roman form?), tubrose (best in containers?), tuberoe (less expensive than tubecaviar?), and my favorite, turborose, which perfectly expresses the flower's high-powered fragrance.
However you spell it, you can still order a few right now and enjoy its fabulous fragrance this summer – but don't delay, because they're going faste, phast, fast! (April 2017)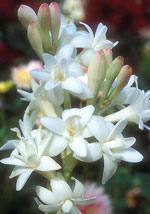 Although little known today, Colette was the highly acclaimed French author of some 50 novels, many of them scandalously sensual. In "The Gardenia's Monologue," which is one of the essays in her 1948 book For an Herbarium, that famously fragrant flower scorns all of her scented rivals, except one:
"I put up with all of these humbler bearers of nocturnal balms, certain that I have no rivals, save one, I confess . . . before whom at times I do worse than confess: I abdicate. On certain meridional nights heavy with the promise of rain, certain afternoons rumbling with casual thunder, then my ineffable rival need only show herself, and for all the gardenia in me, I weaken, I bow down before the tuberose."
To savor the sublime fragrance that inspired Colette, order your single or double tuberoses now for April delivery. (And thanks to Toni Russo of Solon, Iowa, for sharing this essay with us!) (Jan. 2017)
"Garden Gate's Top Picks" Include 3 Heirlooms Blooming Now
In "Garden Gate's Top Picks: These 9 Plants Add a Touch of Tropical Flair," Shayna Courtney recommends three of our favorite spring-planted bulbs. The August 2015 article starts with a photo of 'Atom', our all-time best-selling glad. "Hummingbirds love the miniature blooms of 3-foot-tall 'Atom'," Shayna writes. There's also a great photo of 'Mexican Single' tuberose, and she writes that its fragrance "intensifies in the evening, so choose a spot where you can enjoy its fragrance and the moths that visit its radiant nighttime blooms." Finally, Shayna praises rain lilies (Zephyranthes), and although here in zone 6 we always grow them in pots, she notes that where they're hardy they make "a good spreading groundcover." (Aug. 2015)
Grow Your Own Ryan Gainey Bouquet: Tiger Lilies and Crocosmia
Bulbs in Pots: Our New Page of Tips for Tuberoses, Rain Lilies, and More
Every summer we decorate our front porch with pots of fragrant tuberoses and little pink rain lilies, while out in the back yard we tuck pots of glads in among the perennials to provide exclamation points of color.
Crinum's "Sticky Candy Aroma" Brings Back Memories of Grasshopper Sticks
'Ehemanii' Wowed Them in 1892, Too
Growing Crinums in the North
Crinums are fabulous in Southern and warm West gardens, but what if you live in a colder zone? Although they're not the easiest bulbs to grow in pots — partly because they keep getting bigger and bigger every year — plenty of our customers are doing it and enjoying the results. As for what to do with them in the winter, here are some tips from two New England enthusiasts:
From zone-7a Falmouth, Massachusetts, our good customer Alison Arrouet writes: "I have two crinums that I winter over in my exercise room with my agapanthus and fuchsias. I water them once a month and then in mid-February start watering and fertilizing regularly. They never lose their leaves, they just hang in there, and of course they love being pot-bound. They bloom here in late summer and fall, and their fragrance is marvelous."
Further north in zone-5a Brattleboro, Vermont, our good customer Mary Lou Buchanan writes: "After the first frost, I place them in my cellar which stays about 40 degrees F. I do not do anything with them while they are down there. About mid April I bring them upstairs into warmth and gradually expose them to more light. I trim off dead leaves and, if there is room in the pot, I add a little fresh potting soil with a spoonful of slow release fertilizer. If they have out-grown the pot, I separate and replant them. I keep them in the house until warm enough to place outside, acclimating them gradually. I put them in full sun in my yard all summer. My three bulbs have grown to about twelve now. I tried wintering them over as house plants but found they got pale and floppy. The cellar method works for me." (April 2013)
"An Incomparable Flower": Growing Tuberoses in 1683
"April: Now take out your Indian Tuberoses, parting the off-sets (but with care, lest you break their fangs), then pot them in natural (not forced) earth with a layer of rich mould [compost] beneath . . . to nourish the fibres [roots] but not so as to touch the bulbs. Then plunge your pots in a hot-bed temperately warm, and give them no water till they spring, and then set them under a south wall. In dry weather water them freely, and expect an incomparable flower in August."
Evelyn's 300-year-old advice for winter storage isn't much different from ours to store them pot and all in a dry, dark space: "September: Your Tuberoses will not endure the wet of this season, therefore set the pots into your conserve, and keep them very dry. It is best to take them out of the pots, about the beginning of this month, and either to preserve them in dry sand, or to wrap them up in papers, and so put them in a box near the chimney." (March 2013)
Crocosmia: Bright Stars in the Garden and a Great Natural Dye, Too
Don't Like Cannas? Give 'Ehemanii' a Look!
Staff Pick of the Month: Cheap, Stunning Crocosmia
Rita, our VP for Customers (and unofficial mother hen of the office), writes:
The blooms are simple and widely-spaced on the stem, something like forsythia's. That makes a single sprig striking all by itself in a vase, or it can add a lot of variation and excitement to a bouquet of other flowers.
The crocosmias we offer tend to bloom late, when most summer color is over, and that's another thing I like about them. They also have the added advantage of being small enough to tuck in almost anywhere. I have a clump of just five bulbs that I planted in heavy clay soil among the roots of a shrub, and it makes a big splash. Not bad for $4.75! (Feb. 2012)
Tuberoses: Enjoying Indonesia's "Sweet Nights" in South Dakota
'Ehemanii' in Winter: Don't Store It Dry, Keep It Growing Inside
Heirloom Bulbs for the White House Garden
Gardeners of all political stripes can agree on at least one important issue: the White House vegetable garden is a good thing. This spring, to thank First Lady Obama for inspiring so many gardeners and would-be gardeners, we sent her three of our favorite heirlooms to plant in her garden. "Although they're not vegetables," we wrote, "all three have traditionally been grown in vegetable gardens across America. They attract pollinators, they make great cut-flowers, and, as [Scott's] grandmother used to say, they just look pretty out there."
We'll probably never know whether our bulbs make it into the First Garden, but that's okay. As with any gift, it's the thought that counts, and one of gardening's greatest pleasures is imagining what could be. (May 2011)
Tuberoses in Williamsburg, from 1736 to 2011
"What is amazing to me is how well known the tuberose is in the 18th century, and how little known in the 21st. It is mentioned frequently in the correspondence between John Custis of Williamsburg and Peter Collinson of London. A 1736 letter from Collinson reads: 'It gives Mee great pleasure that the Tuberoses proved a new Acquisition to your Garden. I [am surprised] you had them not, when they are on both sides of you in south Carolina & Pensilvania. My friend [colonial botanist John Bartram] from Last place writt Mee he had last yeare 149 flowers on one single Flower Stalk which is very Extriordinary, but I have heard the Like from Carolina where they Stand in the Ground and Increase amazeingly.'"
Canna 'Ehemanii' is Blooming in the Snow
Better Blooming Rain Lilies in Pots
Childhood Joy Regained: Crinum in Colorado
Sometimes you can go home again, at least in the garden. With "Hooray!!!" as her subject line, our good customer Betty Yahn of Aurora, Colorado, emailed us in late July:
"Years passed and I tried to find out the name of that bulb. I was so excited when its photo showed up in your online catalog. There were dire warnings of no blooms the first year and it would be challenging to grow in a pot, but there have been two stalks covered with trumpets so far, and the fragrance is just as I remembered from 50 years ago. Thank you! I hope there are many who will plant this bulb and enjoy it as much as I do." (Sept. 2010)
Where Have All Our Cannas Gone?
Although we love them, and we've worked hard to preserve and share the best of them with you, we've decided to stop selling cannas — at least temporarily.
A new virus has been attacking cannas worldwide in recent years, and despite herculean efforts by our expert American growers, we've become troubled by what we've started seeing in our trial gardens and hearing from our customers.
You come to us for great bulbs, and that's exactly what we want to send you. When we can once again be sure that every canna we ship is superbly healthy, we'll return them to our catalog — and celebrate! But right now that's beyond our reach.
And we're not abandoning our other rare cannas altogether. With an eye to the future — and the possibilities that tissue-culture offers — our indomitable Missouri grower will continue growing the best of them as scientists, farmers, and enthusiasts around the globe search for solutions.
Arctic Crinum: One Customer's Success Story
We love stories like this. Crinums are usually found in the South — or indoors — and most experts recommend them only for zones 7 and warmer. But don't we all dream of growing plants that really shouldn't survive in our gardens? And experimenting is one of the great pleasures of gardening. So we weren't entirely surprised by this email from our good customer Lynn Falls of zone-5/6 Grand Rapids, Michigan:
"It looks exactly like the picture of the one you have for sale, pink and white striped. My sister in northwest Arkansas sent it to me. She received it from her mother-in-law who is in her 90s. This is from a VERY old plant.
"I have it on the east side of my house near the foundation. These guys are tough, just plant in a protected area. I don't do anything special to protect it for winter. But I am the wood chip queen, so it has about three inches of wood chips on it." (June 2010)
Saving Tuberoses and Learning from an 11-Year-Old
How's Your 'Ehemanii' Canna Doing?
View 'Ehemanii' in Greg Grant's Texas Garden, and Order Yours ASAP!
If you decide you need one yourself, you'll need to move fast. We still have 10-15 available, but since they don't hold up well in storage we're shipping them through Monday only. They may not be cheap, but they are extraordinary. (Apr. 2009)
Tuberoses at Versailles and Around the Globe
Our good friend Wesley Greene is a garden historian and the lead interpreter at Williamsburg's Colonial Garden. He writes:
What Do You Plant at an Icon of Mid-Century Modernism?
"Little Pots on the Front Porch" — Rain Lilies in the Early 1900s
"It is one of the hardiest species and is said to winter safely in Philadelphia. As a child I thought of the little rose-colored lilies as the sign and seal of summer. My grandmother in Georgia grew them in her garden, and my grandmother in West Virginia grew them in little pots on the front porch.
"Those in my garden [in Raleigh] came from Georgia. They have been with me so long and have increased so much that their bloom makes a sea of pink. The season is in June, but there is scattered bloom in the late summer and even to the end of September. The flowers are large, to over three inches long, on ten-inch stems. They open out flat at midday and close in the afternoon; this is a characteristic of the genus. The shimmering leaves are grass green." (March 2008)
Fragrance Fit for a President: Thomas Jefferson and Tuberoses
They're Also Great in Pots!
Most of our spring-planted bulbs are as easy and fun to grow in pots as they are in the garden.
We grow all of our elephant ears in pots, too, so we can soak them daily without wasting water and drenching their neighbors. 'Illustris' and 'Fontanesii' thrive when their saucers are constantly full of water, or grow them in glazed pots without drainage holes.
Tempted? Got pots? To get started, order a few bulbs now! (2005-06 catalog)
Our Tuberoses Bloom at Mount Vernon and National Arboretum
Erna Says, "Plant Some Tuberoses This Spring!"
Our good customer Erna Hassebrock of Hot Springs, Arkansas, writes:
Did You Know Fragrant Tuberoses Make Great Cut Flowers?
Our good customer Judy Sanders of Montgomery, Texas, writes:
Big bunches of freshly-cut tuberoses are sold today in Mexican street markets, as they probably were in Aztec street markets long ago. Plant your own this spring and you can enjoy a fragrance prized by gardeners for a thousand years. (Jan. 2005)
"It's Hard to Believe They've Been Overlooked So Long!"
Our good customer Marilyn Sydow of Columbus, OH, writes:
Celebrate Our Aztec Tuberoses with Antique Chocolate
A sign at Zingerman's, our local, world-class deli, caught my eye: "Antique Chocolate." I picked up a bar and read the label: "Xocoatl . . . was introduced to Europe by the Spanish in the 16th century, who had learned the process from the marvelous Meso-American people. Since 1880, the Antica Dolceria Bonajuto continues to make this chocolate with the same ingredients and methodology that was passed on from the ancient Aztec civilization."
I had never tasted chocolate like this before! Enraptured, I sampled another old-style chocolate from Oaxaca, Mexico. Zingerman's description fits both well: "The texture is coarse, with little sugar crystals exploding in your mouth and a dark, subtle, cinnamon and smoke flavor."
Tender Rain Lilies Thrive for a Century in Zone-4 Wisconsin
Reblooming Tuberoses
Our good customer Donna Boyles of Pownal, Maine, writes:
No Need to Wait for a Tuberose Revival
"It is hard to understand why this really excellent summer-flowering bulb, with its permeating fragrance . . . should have fallen off, as it has, in its popularity. Possibly some day it will meet with a 'revival,' as have so many of the other flowers of 'Grandmother's garden;' but those who grow things for their intrinsic value, rather than because they may happen to be 'in style,' need not wait for that day." (1996 catalog)
---
For articles on other topics, see our main Newsletter Archives page.