---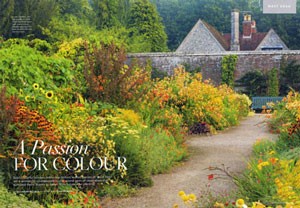 Underappreciated Henry's lily is one of my favorite lilies, so I was happy to see it featured not once but twice in the September 2017 issue of The English Garden.
In the gardens at Lamport Hall in Northamptonshire, "history and heritage meet modern planting techniques" in the style of Piet Oudolf. There "the soft orange flowers of Lilium henryi are used abundantly throughout the herbaceous borders," combined with great swaths of hollyhocks, agapanthus, and American natives Joe Pye weed and Rudbeckia.
Henry's lily also plays a major role at West Dean Gardens, a "formidable horticultural powerhouse" in West Sussex. A glorious two-page photograph of the historic walled garden there shows it blooming exuberantly in the Hot Border which "smolders across the length of the kitchen garden's greenery." (See a much larger version of this photo at our blog.)
Henry's lily "grows like stink and is a real good do-er," says gardens supervisor Sarah Wain. In fact, it's one of the "stalwarts" of the border, along with "heleniums 'Butterpat' and 'Moerheim Beauty', daylilies, Solidago, Sedum, Heuchera 'Palace Purple', Potentilla 'Gibson Scarlet', and Rudbeckia fulgida."
California poppies, nasturtiums, and 'David Howard' dahlia also figure prominently in the border, along with Crocosmia 'Lucifer'. As luck would have it, I planted a clump of 'Lucifer' next to the Henry's lilies in my backyard this summer, and though it wasn't quite West Dean's Hot Border, they did look great together.
Henry's lily is one of four we now ship in the spring. To see how great it can look in your garden, order a few now! (Sept. 2017)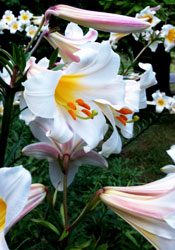 Regal lilies will be blooming here soon, and every year when their fragrance fills the air I'm reminded of this description written by E.H. "Chinese" Wilson, the great plant explorer who first brought them to America.
Of the 2000 plants Wilson collected in his eight trips to Asia, the regal lily was his favorite – although an avalanche broke his leg while he was collecting it and he walked the rest of his life with what he called his "lily limp." In his 1917 book, Aristocrats of the Garden, he writes:
"Journey in thought with me for a moment or two, westward . . . to Shanghai, gateway of far Cathay; onward and westward up the mighty Yangtsze River for 1800 miles, then northward up its tributary the Min some 250 miles to the confines of mysterious Tibet; to that little-known hinterland which separates China proper from the hierarchy of Lhassa; to a wild and mountainous country . . . where mighty empires meet.
"There in narrow, semi-arid valleys, down which torrents thunder, and encompassed by mountains composed of mud-shales and granites whose peaks are clothed with snow eternal, the regal lily has her home. In summer the heat is terrific, in winter the cold is intense, and at all seasons these valleys are subject to sudden and violent wind-storms against which neither man nor beast can make headway.
"There in June, by the wayside, in rock-crevice by the torrent's edge and high up on the mountainside and precipice, this lily in full bloom greets the weary wayfarer. Not in twos and threes but in hundreds, in thousands, aye, in tens of thousands. Its slender stems . . . , flexible and tense as steel, overtop the coarse grasses and scrub and are crowned with . . . large funnel-shaped flowers, each more or less wine-colored without, pure white and lustrous on the face, clear canary-yellow within the tube and each stamen filament tipped with a golden anther.
"The air in the cool of the morning and in the evening is laden with delicious perfume exhaled from every blossom. For a brief season this lily transforms a lonely, semi-desert region into a veritable fairyland."
Thanks to Wilson, you can enjoy a bit of this distant fairyland in your own backyard. Simply order now for fall delivery! (June 2017)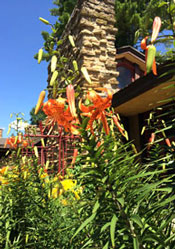 Tiger lilies were Frank Lloyd Wright's favorite flower, and he grew masses of them in the gardens of Taliesin, his spectacular Wisconsin home and studio.
Taliesin's Cultural Landscape Coordinator, Jessica Tripalin, emailed us earlier this summer saying, "The 50 tiger lilies you sent us last fall look amazing in the gardens here. The preservation crew is aiming to restore the entire estate to the year Mr. Wright passed. Our goal is to attain the look and feel of 1959. I am so happy with the results in the gardens this year. Thank you so much for your beautiful plants!"
Jessica also sent us this photo of a few of our tiger lilies blooming in front of one of Taliesin's massive stone chimneys and the iron-pipe trelliswork that Wright designed for the gardens.
Tiger lilies are native to Japan and were frequently depicted in Japanese art. It's easy to see how their simplicity, grace, and drama appealed to Wright, and no doubt they also reminded him of the months he lived in Tokyo while overseeing the construction of his early masterpiece, the Imperial Hotel.
To learn more about Wright's gardens, read our review of Derek Fell's The Gardens of Frank Lloyd Wright which we recently posted at our blog. (Sept. 2016)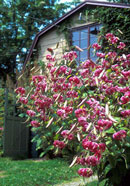 In a recent post at her award-winning blog The Garden Diaries, Clair Jones writes that the "top draw for butterflies" in her Maryland garden is the gorgeous, easy-to-grow 'Black Beauty' lily. She even includes a short video of a half-dozen tiger swallowtails blissfully sipping nectar from the lily's deep raspberry-colored flowers.
Clair's post also introduced me to "butterflying," which she defines as observing and photographing these beautiful pollinators. Along with helpful tips for attracting and taking digital photos of them, she offers some fascinating facts about butterflies. For example, did you know that butterflies taste things with their feet?
August is a great month for butterflying, with many of the 765 species in North American active then. To enjoy more of them in your garden, read Clair's tips – and maybe plant a few 'Black Beauty' lilies this fall. (Aug. 2016)
Learning from You: Lilies in the Living Room
Speaking of lilies, here's an unexpected way to enjoy them up close, from our good customer Kathryn Hubler of Falls Church, Virginia:
"I thought you'd enjoy this photo of the gold-band lilies we received from you last year blooming in our living room. We've discovered we like to grow them in pots so we can enjoy their beautiful blooms and scent indoors. A pot of them is now a necessity, so we ordered fresh bulbs from you this year and will rotate the old ones into the garden.
"I grow the lilies outside, protecting the pot in the winter, and then when the first bud opens I bring them inside by our sunny, south facing window. I started doing this by accident one year when I brought the pot indoors to protect the flowers during a big rain storm. They last longer indoors, they're never damaged by deer, slugs, or earwigs, and their fragrance is divine!"
Two of the most influential gardeners of the 20th century, Gertrude Jekyll and Vita Sackville-West, would probably approve of Kathryn's technique. Both recommended growing fragrant lilies in pots and then moving them onto the terrace, near doorways, or alongside garden benches when they came into bloom, as they did in their own famous gardens.
Kathryn planted her lilies in the fall which gave them plenty of time to develop a good root system before they had to start growing above ground. Spring-planted lilies may be more of a challenge in pots, but we plan to try gold-band and 'Uchida' ourselves this spring, and we'll let you know how they do.
For tips on growing all sorts of bulbs in containers, see our Bulbs in Pots page. Have fun, and send us your photos! (Dec. 2015)
Madonna (Lily) Blows Up Our Facebook Page
Grown in gardens since 1600, Madonna lily is still a superstar — or at least our recent photo of it in bloom here with larkspur and poppies prompted so many likes (1,854) and shares (5,246) that almost 400,000 people have seen it so far. Yes, 400,000! And that's a global fan-base — appreciative comments were posted in Spanish, French, Italian, Portuguese, Romanian, Finnish, Thai, and Filipino.
Enjoy it yourself at Facebook.com/HeirloomBulbs — and to make sure you see our next big hit there, check "Follow" under the "Liked" button near the top of our page. Thank you, and happy gardening! (July 2015)
To Protect Your Lilies, Plant Alliums
Our good customer Amy Reynolds of Saint Louis, Missouri, emailed us this helpful tip:
"Your lily bulbs are fabulous! I popped them in the ground immediately. To protect them from an abundant local rodent population, I've planted them (as I always do with lilies) with several allium companions. I've found that squirrels and chipmunks won't excavate past the alliums to get to nearby lily bulbs while they're dormant, and the rabbits won't go near allium foliage come spring."
Grow Your Own Ryan Gainey Bouquet: Tiger Lilies and Crocosmia
Stone Cold Survivors: Tiger Lilies Thrive in Voyageurs National Park
Starting in the 1940s, Chicago businessman Jack Ellsworth and his wife Elsie built a monumental terraced garden next to their summer home on the shores of Lake Kabetogama, deep in the wilderness of what is now Voyageurs National Park in northern Minnesota. At its peak in the early 1960s the garden included 62 rock-edged beds planted with thousands of lilies and other flowers and ornamented by 200 rock sculptures.
Lilies for Bright Shade
"Plant These Lilies!" Say Two Famous Garden Writers
As lily season unfurls in all its glory, trying to decide which of those luscious beauties to add to your garden can be overwhelming — so here's some helpful guidance.
Are Martagons and 'Mrs. B' Chipmunk Resistant?
Can Regal Lilies Ease Arthritis Pain?
"This remedy really does work!" she emailed us. "It doesn't cure arthritis, of course, but it takes the pain away. My mother grows regal lilies (in her New Albin, Iowa, garden). When they bloom and the petals start to turn brown, she takes them off the plant and cuts them up into chunks. Then she puts the petals into a glass jar and covers them with rubbing alcohol. She lets them sit for one month, drains off the liquid, which turns brown, and rubs the liquid onto the sore arthritic spots."
The remedy was suggested to Janet's mom by a local doctor who learned about it from a patient from Russia. Although we're intrigued and hope it works, please remember that we are NOT doctors and are NOT endorsing it in any way. (August 2010)
Tiger Lilies and Dahlias in The Gardens of Frank Lloyd Wright
"Martagons Won't Do Well in Your Zone," We Said, But . . . .
"I visited England last year and fell in love with martagon lilies. I rushed home and ordered both the pink and white ones from you. You warned me that they might not grow in my South Carolina garden. But persist I did, and planted, watered, and waited. They came up and bloomed! I planted them in my shade garden because our shade is like the rest of the country's sun. My soil is red clay but I amended it with 1/3 compost or peat moss and 1/3 sand which I've found works well in South Carolina.
"Now we wait to see if they come back next year. But in the meantime, I am so happy I was able to grow them in my own little English garden in South Carolina." (July 2009)
Summertime. . . and the Lilies are Blooming
Sara ends her essay with a few kind words about us and a shout-out to all who are growing heirloom bulbs. "Bulbs survive only by keeping the continuum growing, generation after generation," she writes. "We gardeners form a necessary and pleasurable part of the chain, by our purchases and support of dedicated providers such as [OHG], and by perpetuating cherished bulbs in our own soil types, climates and aesthetic settings." (June 2009)
Black Beauty Lilies Thrive in Zone-8 Florida
Our good customer Judy Little of Cantonment, Florida, writes:
Martagon Lilies "Worth the Wait" Says Garden Gate
"Good things come to those who wait. It often takes more than five years for martagon lily to start blooming in your garden. [OHG note: That is definitely the worst case scenario!] But you won't mind the time once you see a mature clump of dozens of plants with up to 50 of the 2-inch, downward-facing flowers on each stem! . . . .
"The large mass of flowers makes an impact in any sun to part-shade garden. The sturdy stems hold whorls of deep green leaves and don't require any staking to keep them standing tall. Mark the spot where you plant the bulbs so you don't accidentally dig them up — sometimes the plants don't emerge for a couple of years after planting! [OHG: Again, this is an extreme.]
"Tip to Hurry It Along: Buy the biggest plants or bulbs you can find [OHG: Ours!], but more importantly, once you plant them, don't disturb or move them." (Oct. 2008)
Hurricane Ike Survivor: 'Rubrum' Lily
Our condolences to all of you touched by Ike's devastation! Here's one happy report from our good customer Stephanie Murrey-Alonso who lives in Pearland, just south of Houston:
New York Times Interviews Scott, Praises Our Lilies
Just in Time for Summer: 'Red Velvet' (Lily) Cake Recipe
Garden Design's "Way Hot 100" Includes Three of Our Bulbs
'Black Beauty' Showcased in Family Circle — And in Front of Our Barn
For expert advice on lilies, you won't find anyone who knows more than our good friend, Eddie McRae. After a lifetime working with lilies commercially in the Pacific Northwest, he now helps direct the Species Lilies Preservation Group. His new book offers chapters on growing, propagating, and hybridizing, along with complete information on 93 species — many long in gardens — and the development of modern hybrids. Far from an introductory handbook for casual home gardeners, this is a book that's dense with specialized information for, as the title says, growers and collectors. (Jan. 2004)
Wow! 75 Flowers on One Regal Lily Stem!
Though we'd like to take credit for this magnificent display, it's just the result of fasciation, a weird process that leads to those huge, crested cockscomb flowers, too. In lilies it's often triggered by random mechanical or weather-related damage to the growing tip in spring, and typically it's just a one-year thing.
Thanks to our good customer Carol Cote of Shady Grove Gardens in Rochelle, VA, for sharing this incredible photo with us. (Jan. 2004)
Two Great Lilies for Alkaline Clay
Who Is Mrs. Backhouse and Why Is She in My Garden — Twice?
Denise's Favorite Lily: 'Black Beauty'
If you've ordered from us by phone in the past year or so, chances are you've been helped by fabulous [former employee] Denise Lynne. She writes:
And my evaluation after their first season in my garden? I wish I had room for 50! In my small cottage garden, entirely visible from the street, 'Black Beauty' was a tremendous success. Tall and sturdy, its many blooms were bright, cheery, and subtly fragrant. Their dark raspberry color seemed to glow in the sunshine and at twilight they looked almost like velvet. My many garden visitors — both friends and passersby — always seemed to comment on them. I can hardly wait for next year's show. Like all lilies, they should be even more spectacular their second year — which hardly seems possible!" (Nov. 2002)
---
For articles on other topics, see our main Newsletter Archives page.