---
---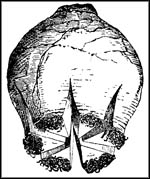 Daffodils, tulips, and most other bulbs multiply naturally underground by producing offsets or daughter bulbs. Roman hyacinths do, too, but – after centuries of breeding – traditional garden hyacinths reproduce so slowly this way that bulb growers long ago developed ways to speed up the process. The techniques described below by Liberty Hyde Bailey in his 1896 Nursery Manual would have been familiar to bulb-growers a century earlier and are still standard practice in the Netherlands today.
Bailey starts by explaining that "bulbels are often produced by an injury to the bulb. Growth of stem and leaves is more or less checked and the energy is directed to the formation of minute bulbs." It's the bulb's natural reaction to injury that growers take advantage of in multiplying hyacinths.
"The favorite method is to make two or three deep transverse cuts into the base of the bulb [image 1]. The strongest bulbs should be chosen, and the operation is performed in spring or early summer, when the bulb is taken up."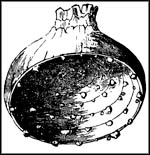 In another method, "the bulbs are hollowed out from the underside for half or more of their depth [image 2]. This operation is sometimes performed later in the season than the other, and precaution should be exercised that the bulbs do not become too moist, else they will rot. . . .
"The mutilated bulbs are stored during summer, and are planted in fall or spring. The wounded bulbs produce very little foliage, but at the end of the first season the bulbels will have formed. The bulbels are then separated and planted by themselves in prepared beds.
"Several years are required for the bulbels to mature into flowering bulbs. Some of the strongest ones may produce flowering bulbs in three years, but some of them, especially those obtained from the hollowed bulbs, will not mature short of six years."
Could you do this at home? Of course – and now's the time for it. If you do, please share your story (and photos) with us. Good luck, and have fun! (June 2018)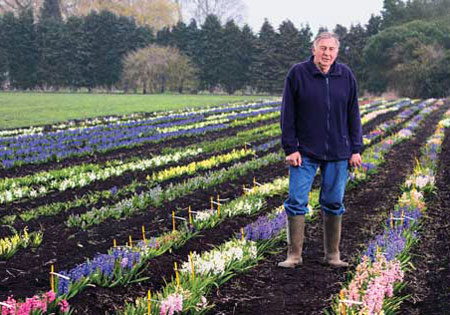 Our good friend Alan Shipp and his ark of hyacinths are featured in the fall 2017 issue of Heirloom Gardener magazine. Editor Rebecca Martin tells the inspiring story of how Alan, a third-generation vegetable farmer, became the world's leading expert on historic hyacinths and guardian of some 250 rare varieties.
Nine of Alan's treasures are pictured in the article, and if some of the photos look familiar it's because you've seen them at our website. As Rebecca writes, shortly after Alan sold his first hyacinths he started exporting bulbs to "Scott Kunst, founder of Old House Gardens, who's also passionate about saving old cultivars. OldHouseGardens.com is a Michigan mail-order company specializing in heirloom flower bulbs, and the exclusive U.S. dealer for Alan's hyacinths. 'There's nothing like a phone call from Alan, out of the blue, telling me about some exciting new hyacinth he's found,' Scott says. 'It's like the sun suddenly bursting out of the clouds on a beautiful spring day. He's truly an inspiration and a world treasure.'"
You can read the entire article – and explore Heirloom Gardener magazine – at heirloomgardener.com/profiles/people/heirloom-bulbs-zm0z17fzmar. Although all of Alan's hyacinths are sold out this fall, seven other fabulous, fragrant heirloom hyacinths are still available – if you order now! (Oct. 2017)
Lonely "Leftover" Survives, Blooms, Wins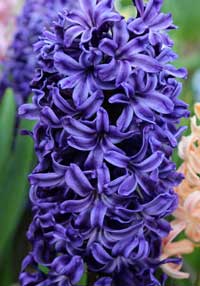 "Bulbs want to grow." That's what we say here at Old House Gardens whenever we hear a story like this one sent to us recently by our good customer Anita Bischoff of Kings Park, NY:
"In January, I found one 'Marie' hyacinth bulb lying in my garage. I must have dropped it when I planted the other 24 last fall. I put it in a glass forcing vase and then into my wine fridge. When green sprouted from the top, I put it on a windowsill. It looked beautiful as it was growing and it bloomed just in time to win a FIRST prize at the Smithtown Garden Club meeting last week – so all was not lost for the leftover. Happy Easter!" (April, 2016)
Customer Raves: Hooray for Hyacinths!
Although once the most popular bulb of all, hyacinths are rarely found in most gardens today. If you're not growing them, you're missing something special — as these fans will tell you:
Writing in Horticulture magazine, our good friend Marty Ross of zone-6a Kansas City, MO, tells of planting hyacinths "here and there in groups of three or five, almost like wildflowers. The soft pink 'Lady Derby', which has been around since 1875, is one of the prettiest, and it has persisted in my garden for years. I grow it among epimediums, hardy begonias, and a splashy variegated hosta; they hide the hyacinth foliage when it flops over in late spring."
Double 'General Kohler' "keeps on multiplying," our long-time customer Donna Mack writes us from zone-5b Elgin, Illinois. "Every year I have more, and the bulbs are huge. I think you're right that they like being dry in summer. I have them planted among ornamental grasses — they're lovely there when the grasses are cut down in spring — and that area has a low priority when it comes to watering. You should see them! Every spring more and more appear. This past spring, I must have had half a dozen new ones."
And in Slow Flowers: Four Seasons of Locally Grown Bouquets, Debra Prinzing of zone-8b Seattle recommends making small, multi-colored bouquets of nothing but hyacinths. "A singular sensation — for the eye as well as the nose — hyacinths are so stunning that it's hard to justify pairing them with any other flower. In fact, you really only need one hyacinth bulb, cupped in a special forcing glass, to experience the arrival of spring on your windowsill. . . . When I brought home a mixed bunch from the farmers' market, they filled my car with a heady perfume."
See for yourself by ordering a few of our 15 awesome hyacinths (several of which are on sale at 10-15% off) or our easy Easter Basket sampler now! (Oct. 2015)
Extinct No More: Last "Eyed" Hyacinth Rediscovered in Romania
Although originally considered inferior, double hyacinths came into vogue in the early 1700s after one breeder discovered a double white that had "red" petals in the center of each floret. "Eyed" hyacinths with other contrasting colors were soon developed, fueling a Hyacinth Mania in the 1730s — but, as Alan writes, "we considered all of these extinct many, many years ago."
Recently, though, "a lady called Ingrid living in Switzerland had a lorry driver friend called Theo. Theo and a fellow driver took a lorry load of humanitarian aid to a remote little village in Romania where Theo's friend met, courted, and eventually wed a local girl. Theo returned to the village for the marriage, and so splendid was the hospitality that Theo gave the bride's father a pocket watch." In return, the father invited Theo to "take anything he wished from the garden. Theo selected a hyacinth bulb labeled 'Gloria Mundi' and on his return to Switzerland gave the bulb to his gardener friend Ingrid.
"Very fortunately for the plant world, Ingrid passed it on to Alan Street of Avon Bulbs who [eventually] gave two small bulbs to me for the Hyacinth National Collection. . . . 'Gloria Mundi' was illustrated in 1767, and a pot of ten small bulbs in bloom was this spring awarded an RHS Certificate for Plants of Historic or Botanical Interest.
"Footnote: The garden in Romania has been located and visited this past April. The old man is dead and his son has dug up all flowers to grow vegetables. Saved just in the nick of time one might say!"
Tulsa Garden Writer Swoons for "Spicy" 'Madame Sophie'
Our good friend and long-time Tulsa garden writer Russell Studebaker emailed us a few months ago, agitated about a certain double white hyacinth that we offer:
Stone Bouquet: 17th-Century Tulips, Roman Hyacinths, and Crown Imperial
Fragrant, Colorful, Historic . . . and Hard to Spell
Available Now: The World's Only Double Yellow Hyacinth (Is it 'Ophir'?)
Advice from 1928: July is Best Time to Order Bulbs
How to Love Gardening When Winter Drags On and On
"February and March are my favorite gardening months," our good customer Carole Bolton wrote us last week — from snowed-in Coldwater, Michigan, where temperatures were well below freezing and the sun hadn't been seen for days. Had she lost her mind? Quite the contrary! For years now, Carole has been forcing hyacinths indoors every winter — lots of hyacinths — and this year's "are especially beautiful," she wrote. "They're healthy, tall and fully flowered. They make the freezing rain and weather advisories bearable."
Hyacinth Fields Forever: A Snapshot of Paradise
In the Beginning: Double Hyacinths Go from Rejects to Super-Stars
"The first double variety was a seedling which appeared in the gardens of Peter Voorhelm . . . at Haarlem. At that time, the exact date is not certain but it was probably towards the latter part of the seventeenth century, all the bulb growers waged incessant warfare against all hyacinths raised from seeds or offshoots bearing flowers which in any way did not conform to the conventional notions of a perfect flower. The idea of a double variety does not appear to have entered even into the dreams of the Dutch [flower lovers].
"But (and the story reads almost like a page out of Dumas) Peter Voorhelm was taken ill, and could give no attention to his plants, and was unable to examine them until the hyacinths were beginning to die off. A flower of unusual form arrested his attention, and examination proved it to be a double hyacinth. It was very small, but he cultivated and multiplied it, and was soon able to place it on the market, whilst numerous amateur growers were found willing to pay high prices for the new bulb.
"The . . . first double hyacinth had a comparatively short life, for it was lost long before 1768. The two double varieties discovered subsequently were named, respectively, 'Marie' [not the single 'Marie' that we offer now] and the 'Roi de la Grande Bretagne'. . . . The latter was raised about 1698, and was infinitely the finest of the first three varieties and over a thousand florins was paid for a single bulb." (Sept. 2010)
Style Alert: Hyacinth Purple is "New Darling of Trend Watchers"
Site of the Month: For Those Who Love Hyacinth Vases
Hyacinth History Now Online
Martha's All-Hyacinth Bouquet
Why not try your own hyacinths-only bouquet this spring and see if you don't agree with Martha and us that it's simple, elegant, and a good thing! (April 2007)
RHS Votes to Embrace Hyacinths
Our friend Alan Shipp of the British National Collection of Hyacinths rang us up with some exciting news the other day.
The venerable Daffodil and Tulip Committee of the Royal Horticultural Society voted recently to take hyacinths under its wing, "the first change in its remit," Alan crowed, "since the nineteenth century!" The Committee is making plans to host a full trial of hyacinths at Wisley, with the best being granted the prestigious RHS Award of Garden Merit. The Committee also hopes to include hyacinths in the 2008 London Show competitions, though Alan says "much work will need to be done in preparation as it is many, many years since hyacinth shows took place, and whilst the records of rules and judging criteria exist, the type of hyacinths that they related to do not."
These new efforts by the RHS reflect and will further spur the rebounding interest in hyacinths (once Europe and America's most popular bulb) and they've left us wondering — could an American Hyacinth Society be next? (Jan. 2007)
Top Five Perennial Hyacinths — and Deer-Resistant, Too!
Which hyacinths return and rebloom best? Dr. Bill Miller of Cornell University tested dozens of varieties in zone-5 Ithaca, NY, zone 6-7 Long Island, NY, and zone-7 Clemson, SC. At each test-site, twenty bulbs of each variety were planted in full sun, fertilized, and watered once. After that they received NO supplemental watering (hyacinths like dry summers) and only routine weeding.
After three years, these were the top-five performers, with their date of introduction and the total number of bloom-stalks followed by sub-totals for Ithaca, Long Island, and Clemson in parentheses.
1. 'Atlantic', 1986 = 90 (35, 30, 25)
2. 'Fondant', 1983 = 83 (28, 36, 19)
5. 'Carnegie', 1935 = 66 (22, 25, 19)
Hyacinths are also resistant to deer browsing, Dr. Miller adds, "and this is a key benefit that should be recognized." So now you know! (Aug. 2006)
Extra-Easy Refrigerator Forcing
Here's an almost unbelievably easy way to coax fragrant hyacinths into bloom on your winter windowsill. Though books and experts may tell you it's impossible, our customers showed us that it really works.
Collecting Antique Hyacinth Vases
Gardeners in the 19th century loved forcing hyacinths in special vases for winter bloom. The practice dates back to the mid-1700s when Madame Pompadour, influential mistress of Louis XV, had hundreds of hyacinths forced in vases at Versailles.
Today, antique hyacinth glasses are collected worldwide. For a glimpse of the immense collection of Dutch enthusiast Wim Granneman, visit kennemerend.nl/bollenglazen. Wim's homespun site includes forcing-vase history, tips for finding them today, and even a section on crocus pots. Best of all is the "Vases Worldwide" section which features hundreds of Wim's vases, old and new.
[For even more on forcing vases, see the wesite and blog of British enthusiast Julie Berk at hyacinthvases.org.uk and gardenwithindoors.org.uk.]. (Dec. 2005)
Victorian Advice for Growing Hyacinths
"Hyacinths. In October prepare the ground by digging two feet deep, thoroughly mixing with the soil, as it is returned, equal parts of earth mould and well rotted manure and clean sand. A small quantity of poudrette [literally: fine powder], put in deep, is beneficial. Pulverize and mix in the earth thoroughly with the manure. Then cover four inches thick with sand, that the manure may not touch the bulbs.
"[A month later,] plant the bulbs three inches deep in sand. The colors are believed to mix by planting the different colors together; therefore one should sacrifice beauty of display for the permanent beauty of the colors, by planting the different colors in separate groups . . . .
"After blooming, the foliage dies or turns yellow, when (the spot having been previously marked by sticks with labels) the bulbs should be lifted and separated. The small offsets should be replanted at once, which is better for them than drying. . . .
"Keep all the colors distinct, and carefully wrap each in a bit of newspaper, and bundle all in paper and mark them. Then put away in a room where a fire is never built. We have pursued the newspaper plan of preserving hyacinths for years, and never lost one." (Oct. 2005)
'Vuurbaak' Hyacinths Wow Them in Fort Worth
Our good customer Steve Leahy of Fort Worth wrote recently:
Pink Roman Hyacinths Smell Like Cinnamon Candy
Emily Dickinson's Hyacinths
In early 1884, poet and flower lover Emily Dickinson wrote to her sister:
"I have made a permanent rainbow by filling a window with hyacinths, which Science will be glad to know." (2003-04 catalog)
Too Dry? Hyacinths Like That!
If you haven't seen rain in way too long, one bit of good news is that bulbs are built for drought, and most of yours should be fine. Some, like tulips and hyacinths, may even perform better than ever next spring, since they prefer dry summers — as in their ancestral homelands.
Even tulips and hyacinths, though, need good moisture while in growth — from fall till six weeks after bloom — so be sure they get that or their performance will suffer. Newly-planted bulbs are especially vulnerable. (Sept. 2002)
Stop the Flop: 5-Second Staking
To keep a wayward hyacinth upright, cut a thin bamboo stake 12 inches long and run it along the stem from the top down into the soil a few inches (not so deep that you hit the bulb). The florets will clasp the stake, and you're done! (2002-03 catalog)
Bone Shavings & Hartshorn: Victorian Tips on Forcing
"If small bits of powdered charcoal be mixed with the earth, it imparts great depth and brilliancy of color to the flowers, and a dark, rich green to the foliage. Bone shavings or horn scrapings assist a full development of foliage and flower. If the plants are watered once a fort-night with a very weak solution of glue, or a few drops of hartshorn added to the water, the same effect with be produced." (1999-2000 catalog)
Re-blooming Hyacinths After Forcing Them
"Can I plant my hyacinths in my garden after I force them indoors?" That's a question we're often asked. Here's one testimonial from our long-time customer Bonnie Jean Malcolm of Essex, Massachusetts, writing of gardening at her former home in the San Bernardino Mountains of California:
"I force my hyacinths in hyacinth jars [forcing vases]. After they stop blooming, I take them out of the water and lay them on a paper bag and let them dry. . . . In the fall, I plant them outside with plant food (whatever kind I have). . . . I had read that one should just throw away forced bulbs, as they never did well, but I couldn't bear to throw away such lovely bulbs. . . . Mine settled in and multiplied and I got good blooms." (1999-2000 catalog)
What Do You Have Against Hyacinths?
"Few flowers have suffered more unjustly at the hands of the American gardening public — unjustly because they have been banned from countless gardens for no fault of their own, but on account of the revulsion of taste against the circles, half-moons, crescents, stars, and other atrocities that were cut in lawns in bygone days and filled with Hyacinths.
"Big or little, white, pink, blue, or yellow, the Hyacinth is a lovely flower when used with discretion or restraint. To condemn it for the bad company it kept generations ago is . . . narrow-minded . . . .
"Don't be afraid of Hyacinths. Try them and see how many different garden positions suit them. . . . But don't be without this early and delightfully fragrant flower." (1995 catalog)
---
For articles on other topics, see our main Newsletter Archives page.