---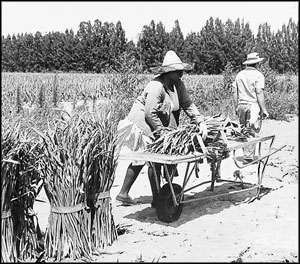 Once upon a time, sunny Fort Myers, Florida, was not just a popular vacation destination, it was also the gladiolus-growing capital of the world, with local farms shipping some 500 million stems a year to florists throughout the US and overseas.
It all started in 1935 when two successive winter freezes in central Florida drove gladiolus growers further south to the Iona area just outside of Fort Myers. Within a decade, 30 growers were cultivating some 2500 acres of glads there.
Gladiolus at the time were hugely popular. Not only were they showy and easy to grow but their long vase life made them the perfect cut-flower. Every year gladiolus societies across the country displayed thousands of spikes in shows that drew tens of thousands of visitors. (See a 1921 glad show here.)
Harvesting the Fort Myers glads started in November and continued into June. According to one grower's son, "The glads were cut before they bloomed, so a visit to the gladiolus farm was a view of acres and acres of green stalks with workers walking through the fields and cutting stalks with buds soon to bloom. The goal was for the stalks to bloom in the hands of the florist."
Bundled and packed in hampers, the glads were shipped by air and then delivered by a patchwork of local truckers, all in an era before UPS and FedEx. Sometimes they traveled in the climate-controlled trucks of Purolater Courier whose main business was delivering celluloid film reels – which could burst into flames if they got too warm – to movie theaters.
Even in the Fort Myers area, growers sometimes needed to protect their crops from frost. At first they burned old tires to create heat and a protective blanket of smoke. (Don't try that at home!) Later they turned to oil-fired heaters along with crop dusters to circulate the air over the fields.
Nothing lasts forever, though, and by the 1970s most glads sold in the US were being flown in from overseas where both land and labor were cheaper. One by one the Fort Myers growers sold their fields to developers, and by 1980 the area's reign as the gladiolus capital of the world was just a memory.
To learn more, read the recent article in the Fort Myers News-Press.
To make your yard the gladiolus capital of your neighborhood, order now for spring-planting! (April 2018)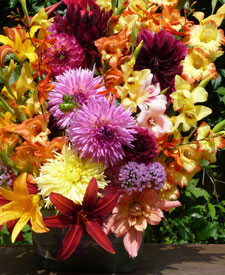 Alstroemeria and gazanias, step aside. According to a leading British newspaper, dahlias and glads are the hot new flowers for bouquets.
Although the news took a while to reach us here in Michigan, The Telegraph reported in September 2016 that "nostalgic Britons have revived an English country garden trend by decorating their homes with 'frumpy' British-grown flowers such as gladiolus, dahlias, and delphiniums."
"Despite once being associated with other 'undesirable' stems such as chrysanthemums, experts said . . . more families are choosing these retro-style flowers instead of classics such as roses and lilies." In fact, one major supermarket chain reported that glad sales were up 30%.
"Although gladiolus are often used in magnificent displays at venues such as Westminster Abbey, they are perfect for the less experienced arranger," said a spokesperson at the National Association of Flower Arrangement Societies. "Gladiolus make a bold modern statement in a large vase or container on their own."
For easy, on-trend bouquets from your own backyard, why not order a few of our retro-style glads and dahlias now for spring delivery? (Dec. 2017)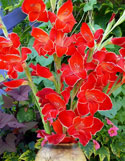 Our signature glad 'Atom' has a famous friend in England – and we introduced them!
Garden designer Rosemary Alexander is the founder of The English Gardening School, author of a half-dozen books, and winner of the RHS Veitch Memorial Medal. We met years ago when we lectured for a series of Horticulture magazine seminars. Although OHG usually ships to US addresses only, when Rosemary asked if she could order a few of the bulbs I'd shown in my slides, I happily agreed.
'Atom' was one of the first she ordered, and she liked it so much that – ten years later – she recommends it in Gardens Illustrated's February cover article, "Rosemary Alexander's 100 Great Plants for an English Country Garden." Woo-hoo! "Long overlooked as an attractive garden plant," she writes, "smaller gladioli are now back in fashion."
Another half-dozen heirlooms we offer also made it into Rosemary's top 100 plants: 'Bishop of Llandaff', dahlia, 'S. Arnott' snowdrop ("quickly forming very handsome clumps"), 'Thalia' daffodil ("longevity and vigor make this a popular choice for naturalizing"), regal lily ("I plant the bulbs in plastic pots and sink these in their final position in early summer as a glamorous, scented treat"), winter aconite, and sternbergia.
Spring-planted 'Atom' and 'Bishop of Llandaff' are going fast, but if you order them now you can enjoy their simple, bright blooms this summer – just like Rosemary does. (Mar. 2017)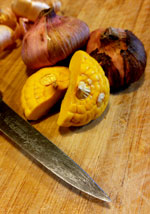 Even if your glad planting season is still months away, here's a tip from expert Cliff Hartline that you can use whenever that happy time arrives.
Cliff writes my favorite section of the NAGC journal Glad World. It's a Q & A column titled "Talk Radio," and a while ago a reader asked, "I heard you can cut corms in two to multiply them. How do you do that?"
First of all, Cliff replied, it's important to "make sure there are eyes and root nodes on both halves. The eyes go across the corm in only one direction. They are not like potatoes that have eyes everywhere. Peel the husk off before cutting, so you can identify the line of eyes." Look for small, individual flaps of shiny husk that protect the eyes, or the emerging tips themselves.
Don't do this too early, though. "Without the husk, the corm will dry out quicker, so you need to do this close to the time of planting."
"After cutting it, put powdered sulfur [available at garden centers or online] on the open wound. This helps seal the scar and protect the corm when it is planted."
Before going on to cut another corm, sterilize your knife with alcohol.
If you're feeling lucky, "you can even cut the corm into three or four pieces," Cliff says, although "this increases the chance that it may not survive." Even if you only cut it in half, there's some risk involved, so we recommend you try it with inexpensive glads first (although not Abyssinian glads).
Good luck, have fun, and please let us know how it goes! (March, 2017)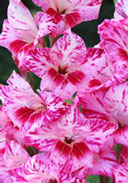 Good news! Despite the extreme drought that afflicted much of Maine this year, all was not lost at our glad growers' farm. In fact, we recently learned from Paul and Elisabeth that we'll be getting at least four of their rare beauties this spring –
'Bibi', the "pink cheetah" glad (pictured here),
tiny, apricot 'Starface',
radiant little 'Green Lace', and
one of our most antique-looking glads, the incomparable 'Dauntless'.
We're hopeful that more will follow in January – but don't delay. Supplies are even more limited than usual, so do yourself a favor and order early! (Dec. 2016)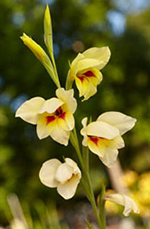 There's an unlikely "cover girl" on the front of Garden Gate's December issue: gladiolus!
Once scorned as hopelessly out of fashion, glads continue their slow rise back into popularity. Garden Gate's headline touts their "Gorgeous Color, Dramatic Shape, Old-Fashioned Charm," and adds "your garden needs this flower1"
To integrate glads into your garden – instead of just growing them for bouquets – check out the article's excellent tips and photos in "Design Your Garden with Glads." There's a great section on non-traditional glads, too, with photos of our small-flowered, surprisingly hardy 'Carolina Primrose' (pictured here) and 'Atom' as well as the fragrant Abyssinian glad.
For a free copy of this issue, click the "Free Preview Issue" tab at gardengatemagazine.com. As long-time subscribers ourselves, we know you'll find a lot to like in Garden Gate! (Nov. 2016)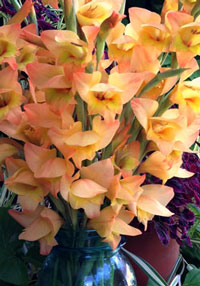 Here in zone-6a Michigan we leave our Byzantine, 'Boone' (pictured), and 'Carolina Primrose' glads in the ground every winter and they come back and bloom the next year just like any other perennial.
But wouldn't it be great if ALL glads were that hardy? A recent article in the NAGC journal Glad World makes me think that might just be possible.
In his always excellent "Talk Radio" column, Cliff Hartline says that glad grower Bert Blanton "is noted for NOT digging his glads yearly," even though he lives in zone-6b Missouri. Bert used to protect his glads in winter with a thick mulch of straw, but he says it "always blew around and I was constantly replacing it."
So three years ago he tried landscape cloth instead, and it worked so well that he's been using it ever since.
"I plant my rows six feet apart," he says, "and cover my aisles and rows with landscape cloth, putting the seams right over the rows." He pegs it down with wire landscape-cloth pins (also called sod staples), and then rolls it back in the spring.
The only problem? After three years of no digging, "I now have jillions of flowers," Bert says. "I have about 20 spikes to a foot, and the rows have expanded themselves to 15 inches wide. I am getting so many spikes, it is more than I can sell at the Farmers Market or give away. My spikes are larger than anyone else's, so I sell them for $2.00 each."
We're going to experiment with Bert's technique this winter, even though our gardens are half a zone colder than his. If you try it, too, please let us know how it works for you and we'll share our results here. (Oct. 2016)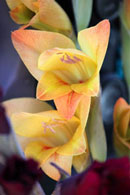 Every week when we post one of our most recent newsletter articles to our blog, we also add a few of the best articles from our archives – including these we added recently, inspired by the gorgeous gladiolus bouquets that Vanessa has been picking for our office:
How Winter-Hardy Are Your Glads? Our Readers Report (Aug. 2010)
No Need to Buy a Monet, Just Garden like Him! (Jan. 2009)
Glads for Free: Growing Cormlets into Big Fat Corms (May 2013)
'Boone' Rocks Amy's Garden – and Fine Gardening (August 2012)
Sickly Glads? The Culprit May be Thrips (Aug. 2013)
Or see ALL of our glad posts here.
It's been a hot, dry summer in much of the US. In fact, it's been so bad in Maine that we had to drop a whole page of rare glads from our catalog because our grower there is worried he won't have any corms to share with us!
But how will it affect your bulbs? First some good news: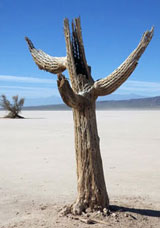 Bulbs are one of Nature's clever survival strategies. They're essentially underground bunkers where the plant can stay cool and store moisture. And once the weather improves, bulbs often bounce back better than most plants.
Some bulbs even prefer dry summers. Tulips and hyacinths, for example, evolved in parts of the world with little to no summer rainfall. That means yours may bloom better next spring than they usually do – at least if you're in the eastern half of the country where normal summers are rainier.
And some bulbs like it hot. As long as you've kept them well watered, your tuberoses, rain lilies, crinums, and cannas are probably thriving this summer, and we hope you're enjoying them!
On the other hand, dahlias often struggle or fail in hot summers. That's because they're native to the highlands of Mexico where days can be hot but nights are much cooler. When nights in your garden stay warm, growth will slow or stop and they may even die. If you water them too much when growth has stalled, they may rot underground.
Don't despair, though! If you can just keep your dahlias limping along until temperatures cool, they'll kick back into gear and bloom gloriously until frost. And for dahlias that can handle warm nights better, look for "heat-tolerant" in our descriptions – although even these have their limits.
Glads in hot summers can be attacked by tiny, almost invisible sucking insects called thrips. Thrips proliferate when it's hot and can leave glad leaves and blossoms mottled, or even prevent buds from opening. For tips on control, see oldhousegardens.com/Thrips.
Glads may also develop kinked stems in hot weather, as they sag a bit during the day and then grow upright at night when evaporation slows. To minimize the kinks, keep your glads well-watered and avoid damaging their shallow, wide-spreading roots.
High heat also affects flower colors. Deep-colored lilies such as 'African Queen' may be paler, bicolor dahlias such as 'Deuil du Roi Albert' may bloom temporarily as solids, and the rosy tones of 'Kaiser Wilhelm' and others won't develop fully until the weather cools.
This fall is expected to be warmer and drier than usual, too. Since most spring-blooming bulbs start growing new roots in late summer or early fall, keep their soil reasonably moist then, and be sure to keep the bulbs you plant this fall especially well-watered.
And try not to worry. Bulbs have been dealing with challenging weather for millennia. And there's always next year – which, as every gardener knows, is one of the great things about gardening. (Aug. 2016)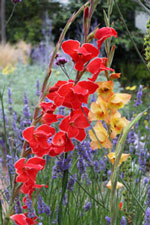 "How and why does a flower fall out of fashion?" asks Gardenista blogger Michelle Slatalla in what she calls the first of a new series, Rethinking Flowers, devoted to "old garden favorites that deserve a second chance."
First up – gladiolus! Like many gardeners, Michelle had never grown glads before, but when we sent her a few of our small-flowered and unusual heirlooms (including 'Atom' and 'Boone', pictured here in her garden), she ended up seeing them in a whole new light.
Glads are "breathtaking," she writes, and our graceful "heirloom varieties mingle well with other perennials." In her California garden, for example, Michelle grows them among clumps of lavender whose cool tones perfectly complement the warmer colors of many glads.
For more – including evocative photos from Michelle's garden and an account of an ultra high-society wedding in 1923 with the bride and her attendants "fairly staggering under the weight of gladiolus" – check out the whole wonderful post at Gardenista.com. (July 2016)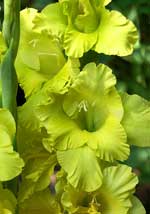 Spritely little 'Green Lace' was elected recently to the Gladiolus Hall of Fame, one of the glad world's highest honors. Introduced by Clark Pickell of Rochester, New York, this outstanding "soft green ruffled little glad" is "still vital today," fifty-five years after its introduction in 1961.
If you hurry you can still order 'Green Lace' for planting this spring, along with fellow Hall of Famer and customer-favorite 'Atom'. (The two of them, by the way, look great together in bouquets.) Among the 112 other glads honored by the Hall since its founding in 1981, we've offered 'Bluebird', 'Blue Smoke', 'Caribbean', 'Friendship', 'Isle of Capri', 'Lavanesque', 'Melodie', 'Peter Pears', 'Snow Princess', and 'Spic and Span' – and we hope to offer them all again next year. (April 2016)
Like most people, I had no idea that flowers ever grew at The Rock – until 2009 when an order for some of our dahlias and glads arrived here from that infamous island in San Francisco Bay.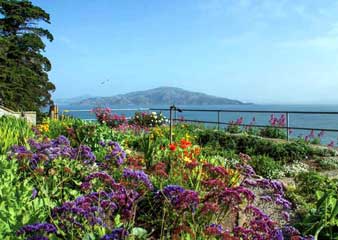 Alcatraz, I soon learned, has a long, complex history, and gardens have been a part of most of it. Some were public plantings tended by prisoners while others were the home gardens of the warden and guards who lived there with their families.
Last month I spent an afternoon walking Alcatraz with Dick Miner, a long-time volunteer who's been helping to bring its gardens back to life after 40 years of abandonment. Dick talked about the herculean effort to clear decades of weeds and overgrowth and the excitement of rediscovering paths, retaining walls, and a surprising array of garden plants that survived amid the ruins.
"Bulbs were a favorite garden plant of the island's residents," Alcatraz's director of gardens Shelagh Fritz wrote recently in Horticulture magazine. "Many bulbs originate from other Mediterranean regions and therefore find great success here – a happy coincidence since soldiers and guards simply brought their favorite garden plants with them to Alcatraz" including daffodils, freesia, Spanish bluebell, snowflake, and grape hyacinth. "When we cleared the overgrowth from the gardens, these bulbs came back to life after lying dormant for decades."
Dahlias and glads appear in historic photos of Alcatraz, and Shelagh has ordered many of ours to replant there including 'Clair de Lune', 'Old Gold', and 'Thomas Edison' dahlias and Abyssinian, 'Bibi', 'Dauntless', 'Fidelio', 'Spic and Span', and 'Starface' glads.
For a look at these fascinating gardens, see Shelagh's article, "A Hardened Garden." To learn even more, go to AlcatrazGardens.org. And if you're one of the 1.5 million people who will visit Alcatraz this year, don't miss the docent-led tours of the gardens! (April 2016)
In "Garden Gate's Top Picks: These 9 Plants Add a Touch of Tropical Flair," Shayna Courtney recommends three of our favorite spring-planted bulbs. The August 2015 article starts with a photo of 'Atom', our all-time best-selling glad. "Hummingbirds love the miniature blooms of 3-foot-tall 'Atom'," Shayna writes. There's also a great photo of 'Mexican Single' tuberose, and she writes that its fragrance "intensifies in the evening, so choose a spot where you can enjoy its fragrance and the moths that visit its radiant nighttime blooms." Finally, Shayna praises rain lilies (Zephyranthes), and although here in zone 6 we always grow them in pots, she notes that where they're hardy they make "a good spreading groundcover." (Aug. 2015)
Fragrant Glads: Why Aren't There More Like 'Lucky Star'?
Bill Seidl of Wisconsin emailed us a while ago looking for a fragrant glad from the 1950s. Although we couldn't find it for him, he taught us something about why gladiolus fragrance is so elusive:
"From about 1957 through 1967," Bill wrote, "I hybridized glads with fragrance as a goal. No progress. In 1968, for $200, I imported 20 bulbs of 'Lucky Star' from Joan Wright [its New Zealand breeder] and worked at fragrance from that angle. Still no improvement.
"Dr. Robert Griesbach [the famous breeder of lilies and daylilies] worked at it at the same time and gave up after a while. He realized before me what the trouble was: 'Lucky Star' has a genetic makeup of AaAa, where A stands for the fragrance gene from Abyssinian glads [which Joan Wright had already discovered were virtually impossible to cross with regular glads]. Unfortunately during meiosis the genes segregate uniformly rather than randomly, which means the pairings are always Aa, never AA or aa. So when you cross them with regular glads, which don't have any fragrance, the resulting plants are always Aaaa — or in other words, there is always a DECLINE in fragrance.
"At age 83 I do not intend to start over with glads," Bill added. "But in 1968 I also spent $200 to buy four peonies from Japan, the first intersectional hybrids by Toichi Itoh. That was a better investment. It inspired me to get into peony breeding. Now you can find me on the internet if you type my name and 'peony' into any search engine."
As for 'Lucky Star', Bill says he still plants "six corms every year in a pot atop a five-gallon pail, which makes for easy watering," and he still enjoys its fragrance, which he pointed out is "best sniffed toward evening." To sniff it yourself, order 'Lucky Star' now for spring planting! (Jan. 2016)
"Glads, like daffodils, tend to face the direction from which they receive the longest period of direct sunlight. While you might expect this to be south, early morning or late afternoon shade from nearby trees or buildings might cause those glads so shaded to face due east or west, or southeast or southwest, depending upon how the shade pattern moves with the sun during the day. . . . Facing is an important consideration since you would like to view the front of the spike from whatever vantage point you usually view the bed, border, or pot."
Have you ever seen a flower show devoted entirely to gladiolus? Well, now you can, thanks to a "virtual exhibit" by the Castle Museum of Saginaw County History.
"In my garden? No way." That's what our good customer Susan Stauber of Beacon, NY, had to say about glads — until she took a chance on our small-flowered, best-selling 'Atom'. She writes:
"I grew up in a part of the country where the huge hybrid gladiolus were grown in fields. Great for funeral arrangements and corporate office lobbies, but in my garden? No way.
"P.S. Everyone who walks by wants to know what those wonderful red flowers are. They can't believe they're gladiolus!" (May 2014)
Every summer we decorate our front porch with pots of fragrant tuberoses and little pink rain lilies, while out in the back yard we tuck pots of glads in among the perennials to provide exclamation points of color.
Glads for Free — Tips for Growing Your Tiny Cormlets into Big Fat Corms
"Generally speaking, any cormel that falls thru a 1/8-inch screen does not produce well. . . . I only plant cormels the size of a pencil eraser or larger. I pass all my cormels over a 1/4-inch screen and plant those that do not fall through. . . . The larger ones will definitely give you a larger corm to harvest and . . . if they are planted early, they will often bloom in September. . . .
We'll remind you that cormlets have nearly impenetrable outer shells and they'll sprout much better if you either nick or gently crack these or simply dissolve them by soaking in full-strength household bleach for a few hours immediately before planting. Plant cormlets in full sun, 1-2 inches deep and 1-2 inches apart, depending on size. Keep the soil moist but not soggy until grass-like foliage emerges and, for optimal growth, throughout the summer. Good luck, have fun, and let us know how they do for you! (May 2013)
A huge bouquet of 'Boone' glads from our micro-farms was gracing our office work-table when an email arrived reminding us that even one 'Boone' can be a thrill. "I just wanted to pass along a photo of my lovely 'Boone' gladiolus," our good customer Amy Darnell of Columbia, Missouri, wrote. "I am so, so glad I bought it!"
Although most cut-flowers today come from overseas, the next time you pick up a luscious bundle of glads at the supermarket you'll probably be supporting a forward-looking Michigan farm family. Here's their story, as told by Lynn and Jo Mayer when they were inducted into the Michigan Farmer's Hall of Fame in 2010.
"In 1971, we bought our first farm and still reside there today. As young farmers, we worked full-time raising grain crops with a few acres of gladiolus . . . At that time, gladiolus were known as funeral and wedding flowers and had limited uses.... We knew we would have to develop a new market if we were going to succeed.
"In the 1970s, floral sales in supermarkets were just getting started. That's when we decided to attempt to mass merchandize gladiolus floral bouquets in supermarkets to be enjoyed as a cash-and-carry item. We knew this would be a challenge but gave it a try anyway . . .
"Today, we are the single largest producer of gladiolus cut flowers in the United States, producing, packaging, shipping and marketing nearly 400,000 glad stems per day from June 20 through October 20 each year. As a result, Michigan is the leading producer of gladiolus cut flowers in this country. We service nearly every major supermarket chain across the U.S. and Canada. We provide employment for approximately 200 people to produce and market nearly 1000 acres of hand-harvested cut flowers . . .
"In 2000, we transferred the farm to our four children . . . We hope they are able to continue this family farm tradition, keeping Michigan on the map as the largest producer of gladiolus cut flowers in the U.S."
Continuing to innovate, the Mayers are now supplying cut-flower peonies and sunflowers to supermarkets as well, so go ahead and treat yourself to a bundle of those the next time you see them, too — and thanks for helping to rebuild Michigan's economy! (July 2012)
Mike joined the Navy right out of high school and came home six years later to start work on a degree in computer security. For the past year and a half he's also been our awesome IT assistant, the guy behind our Facebook page, and a brand-new gardener. Kelly, our Micro-Farms Manager, writes:
Gardeners of all political stripes can agree on at least one important issue: the White House vegetable garden is a good thing. This spring, to thank First Lady Obama for inspiring so many gardeners and would-be gardeners, we sent her three of our favorite heirlooms to plant in her garden. "Although they're not vegetables," we wrote, "all three have traditionally been grown in vegetable gardens across America. They attract pollinators, they make great cut-flowers, and, as [Scott's] grandmother used to say, they just look pretty out there."
We'll probably never know whether our bulbs make it into the First Garden, but that's okay. As with any gift, it's the thought that counts, and one of gardening's greatest pleasures is imagining what could be. (May 2011)
Masset adds that "increasingly, the focus [at Highgrove] has been on a much more sustainable approach to bulbs." As head gardener Debs Goodenough explains, "Out of the 40,000 bulbs we planted last year, 95% are an investment in the garden. The crocuses and daffodils will carry on year after year." (Feb. 2011)
"Also I saved some little bulblets from my 'Atom' last fall and planted them this spring in a container and four out of five of them are blooming. I didn't think they would bloom the first year.
"One of the best gardeners I know told me that glads love calcium nitrate but she couldn't find any. I'm an ex-apple farmer from the East Washington apple country, and I always get calcium nitrate from the ag-supply companies in apple country. I use it on my glads and get it for her for the 1000 glads that she grows. Orchardists use a lot of calcium nitrate. Trees love it.
"I'm going to leave one each of a few other kinds of glads in the ground this fall and mulch them heavily with straw and see what happens. I'll let you know next summer how it turns out." (Dec. 2010)
Of course some bulbs love the heat. In many gardens this summer, cannas, tuberoses, and rain lilies have been especially happy — and we hope you've been enjoying them. (Aug. 2010)
If you dug and stored your glads last fall, you probably noticed lots of tiny cormlets (or cormels) clustered around the bases. Ranging in size from a BB to larger than a pea, these mini-corms will grow to blooming-size in a year or two.
Getting them to sprout, though, can be a challenge, due to their nearly impermeable shells. You can nick or gently crack the shells, but it's easier to dissolve them by soaking in full-strength household bleach for a few hours just before planting. Plant in full sun, 1-2 inches deep and 1-2 inches apart, depending on size. Keep the soil moist but not soggy till grass-like foliage emerges and, for optimal growth, throughout the summer. With good care, any cormlet larger than a pea will grow to blooming-size by the time you harvest them in the fall, and the smaller ones by the following fall. Good luck and have fun! (May 2010)
Our good customer Bill Killpatrick of Lafayette, NJ, wrote us recently:
"I'd love it if you'd ask your readers about glads. . . . I'm just getting too old and creaky to dig 'em all up. Find it easier to just buy new every spring. But, much to my surprise, for the past four winters, a good 80% of the corms have wintered over just fine right in the garden. Officially, I'm a zone 6. Due to elevation and exposure, I'm really a zone 5-ish. We've NOT had reliable snow cover, I don't mulch, nuthin'. But come spring, up pop the glads — big, double-corm, monster glads."
"Anyway, I wanted you to know that the bulbs you sent me have brightened many lives, not just my own. Thanks so much for your work! I look forward to ordering (many) more bulbs from you in the future." (Sept. 2009)
If not, that could be a blessing in disguise — to judge from the experience of our good friend (and garden writer) Russell Studebaker of Tulsa. The ONE we sent him a couple of years ago didn't bloom its first year, but the next year he had five bloom stalks from that one plant. Yes, FIVE! As Russell said, "Not bad. And who knows what it will do next year!" (Apr. 2009)
"While driving in to work . . . , the old Waylon Jennings and Willie Nelson song, 'Luckenbach, Texas' popped into my head. There is a line that goes, 'Maybe it's time we got back to the basics of love.' Well, it dawned on me that this line may apply to gardening as well; sometimes we need to get back to those basic plants that we've loved for years. Gladiolus is one of those plants.
"New plants are always fun and interesting, but we should never forget the forefathers. Sometimes, it's good to get back to the basics." (Apr. 2009)
Doug Whitman of Marcellus, NY, is equally appreciative but he says "They smell only like Abyssinian glads! I know of no other fragrance quite like theirs. I have about 50 of them this year, all planted together, and they have been prolific bloomers (5-10 blooms/stalk), to say nothing of their exquisite beauty and magnificent fragrance. All I need do is step out of my front door and their scent reaches me from 50 feet away."
On the other hand, Doug notes that some visitors to his garden "can't detect their fragrance at all, even with their noses buried in the blooms." Alas! (Mar. 2009)
For the last twenty years of his life, Monet painted only one subject: his gardens in Giverny. Many bulbs played a leading role in those gardens, and it seems his taste for bulbs was shaped, at least in part, by financial difficulties in his early years.
And a thousand miles away, Ruth Geraci of Summerdale, Alabama, wrote: "My Byzantine glads are so beautiful. The first year's glads multiplied, adding to the new ones I planted last fall. Everyone admires them! Thanks for having such beautiful and unusual plants for my hot southern Alabama climate." (Sept. 2008)
Our good friend Larry Rettig of the Amana Colonies in Iowa writes:
Does your nose agree? Email us your fragrance-description!
"Perfumey," Alexa said, "Like lilac, with a touch of . . . ?"
"Honeysuckle," Renee suggested, "lilac and honeysuckle . . . and maybe forsythia?"
"Forsythia? What does forsythia smell like?" everyone asked.
"I love this scent," Jessica said, "but I can't describe it."
"I can't even smell it," Scott lamented.
So help us out. What do Abyssinian glads smell like to you? (Sept. 2008)
Last summer, Kerry Hoffman of Clara's Meadow Flower & Herb Farm in Watsontown, Pennsylvania, wrote us in excitement:
"I have discovered an excellent storage container [for glads]: an egg carton. I simply fill it with a dozen cleaned bulbs and write the variety name with a permanent marker in the corresponding spot on the cover, the way candies are labeled in a box. The individual cells keep mold and diseases from spreading, and the carton takes up just a little space on a basement shelf." We'd only add that, if you're using styrofoam egg cartons, be sure your bulbs are good and dry before storing them.
Our fall-planted Bulb of the Year is NOT your ordinary glad. For a start, it's perennial through zone 6, and we have true stock! Our good customer Tamara Bastone of Chesapeake, Virginia, writes:
A self-described "glad lover for over 50 years," our good customer Margaret Kwitek of Maribel, Wisconsin, says if you don't have glads blooming in your garden this summer, you're missing more than flowers:
"Oh my goodness, your pictures of glads are wonderful! As for any 'glad haters,' all they have to do is put a comfy chair in the garden when the glads are in their glory. Sit quietly and enjoy the show of hummingbirds. They seem to know when you relax and feel quite comfortable coming in to those lovely flowers. I've even had them come to flowers I had cut and was bringing into the house. I'm never disappointed when I need a lift. I ALWAYS have glads if for no other reason. Who would fail to be delighted?" (Aug. 2006)
Don't delay! It's been years since we've had enough of this rare glad to offer it, and we expect the handful of corms we have will sell out in a flash.
Our friend Greg Grant sent us this tidbit by the illustrious Roy Lancaster from a BBC website:
Our Texas friend Cynthia Mueller emailed us in June saying:
We often plant glads in black plastic nursery pots and then when they bloom we set them into the border wherever a fresh burst of color is needed. As a bonus, the rigid sides of pots help keep glads standing upright better than they often do when planted directly in the garden. (2005-06 catalog)
Our friend Greg Grant sent us this tidbit by the illustrious Roy Lancaster from a BBC website:
Our Texas friend Cynthia Mueller emailed us in June saying:
"The gladiolus is the best of all the summer-flowering bulbs, all things considered. . . . It is a flower anybody can grow, and it is lovely enough to satisfy the most exacting. . . .
"Of late . . . the size of the flower has been increased, its colors intensified, and new markings and combinations of colors of wonderful beauty have rewarded the skillful hybridizer. It deserves a place in every collection. . . .
"There is nothing coarse about the Gladiolus. It has all the delicacy of the Lily combined with the magnificence of color peculiar to the most brilliant and showy tropical plants. Nothing is finer for cutting for vases. . . .
"The bulb increases rapidly. If you invest a dollar or two in bulbs this season you will have quite a stock of them in fall, when you come to dig them, and from these, planted next spring, you will obtain all you care to use, and very likely more. If so, it will afford you a great deal of pleasure, doubtless, to share them with your flower loving friends who may not be so fortunate as you are." (2004-05 catalog)
So, be cool! Order some great old glads and dahlias for spring planting! (March 2004)
Sandra Pickett of New Castle, Indiana, writes of our best-selling glad:
Our good customer Elizabeth Newsom of El Cerrito, CA, writes:
Last month, we asked you to tell us why you do or don't plant spring-planted bulbs. To all of you who responded, thank you! Here are two "glad" responses:
"I always plant a few glads because they are foolproof," says Leslie Swartz from Hollister, California. "No feeding, no extra watering, planted in unamended adobe clay soil." Kae McDonald of Glenwood Springs, Colorado, adds, "We lived in a condo, and I found that glads did very well in containers." (Jan. 2003)
Our good customer Jim Massey of Moncure, NC, writes:
Glads may grow with kinked stems in extra-hot weather as they sag a bit during the heat of the day — unable to keep their cells full of water — and then grow upright at night.
Thrips (tiny sucking insects) may attack your glads when it's extra hot, too. Insecticidal soap is one mild control.
---
For articles on other topics, see our main Newsletter Archives page.