---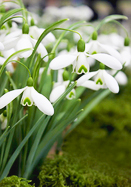 If you think all snowdrops are the same, think again. Here's what our good customer Virginia Boyett of zone-7b Perryville, Arkansas, had to say the first year one of our favorites bloomed for her:
"The 'Magnet' snowdrops that I planted last fall have been in bloom for about three weeks, and they are the biggest snowdrops that I have ever seen.
"On cloudy days the buds stay closed and remind me of miniature tulips hanging upside down. Stark white, they are graceful and elegant.
"On sunny days, though, the outer whorl stands literally straight out, like the blades of a helicopter. With the extra-long pedicels, the entire bloom looks as if it could just take off and fly.
"The blooms keep coming, too. Each bulb has had 3-4 blooms apiece so far. I am loving it. I am just sorry I didn't order more."
Last offered in 2014, 'Magnet' is back in our catalog this fall, so Virginia – and you – can order it now! (August 2018)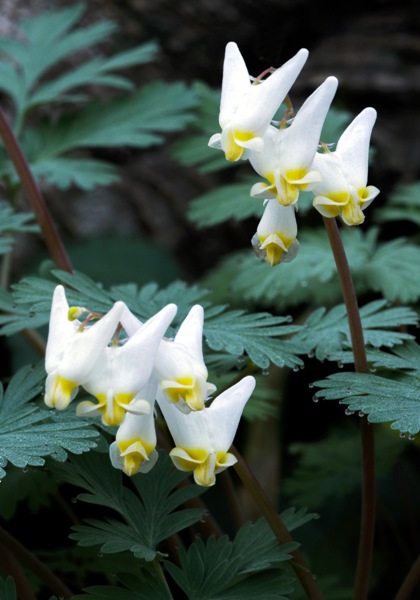 In his UK National Collection of Dicentra, Roger Brook grows 30-40 different kinds of bleeding hearts from all over the world. Although we offer just one – Dicentra cucullaria, Dutchman's breeches – we were happy to read in the May 2018 issue of The English Garden that it's Roger's "current favorite."
Dutchman's breeches is "a diminutive, early flowering species from mountainous areas of northeastern United States and Canada," writes author Val Bourne. "It has been grown in Britain since the early 18th century and was thought to have been sent by the Quaker botanist John Bartram (1699-1777) to Philip Miller at the Chelsea Physic Garden."
"The exaggerated, heart-shaped flowers led the Menominee Indian tribe of Wisconsin to use this plant as a love charm," Bourne adds. Another common name for it is "stagger weed, alluding to this plant's toxic effect on livestock and presumably people" – which is good news for gardeners because it means that it's deer-and squirrel-proof.
Although in his Yorkshire garden Brook says that "wet winters and slugs" make it "difficult to keep in the ground," in colder gardens here in the US it's usually easy to grow. In fact, I once dumped out what I thought was a pot of empty soil in a shady spot in my Ann Arbor garden and every spring since then a little colony of Dutchman's breeches has been blooming and spreading happily there.
To see what a treat this native gem can be in your garden, order it now for fall delivery. (April 2018)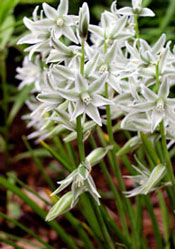 Along with an excellent article about our friends at the Hortus Bulborum, the October issue of Gardens Illustrated (#226) includes an article featuring recommendations from UK garden celebrities titled "Designers' Favorite Bulbs."
Famed garden writer Mary Keen recommends fragrant 'General de Wet' tulip, "hard to find" Tulipa clusiana, and 'Trevithian' daffodil which is "scented and good for picking," and "lasts longer than most in the garden."
Rosemary Alexander of the English Gardening School recommends "showy, long-lived" winter aconite, "timeless and elegant" 'Thalia' daffodil, and – pictured here – silver bells (Ornithogalum nutans). "With silvery, gray-green, bluebell-like flowers," she writes, "it is subtle and beloved by flower arrangers as it lasts well when picked. Best in well-drained, light shade. Great among ferns."
And Tom Stuart-Smith, whose current projects include "restoring an Islamic garden in Marrakech," recommends "subtle" 'Vanguard' crocus – "for sheer impact it is superb," he says – and pricey 'S. Arnott' snowdrop. "I am not a collector," he writes, "and for the most part I am completely happy with . . . humble Galanthus nivalis . . . but I have bought about 20 'S. Arnott' every year for the past ten years and am beginning to think it's really worth it. So much substance combined with grace." (Sept. 2016)
Every year since 2001, Seattle's Elisabeth C. Miller Botanical Garden has released an annual list of Great Plant Picks. Although especially well-suited to gardens in the Pacific Northwest, many of these plants are also outstanding choices for gardens across the country.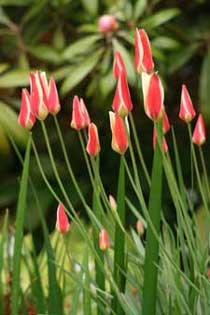 Butterflies, bees, and hummingbirds are the focus of this year's GPP list, and Rick Peterson provides an excellent introduction to it in Pacific Horticulture. "As temperatures warm, bees emerge from their winter slumber looking for nourishment," Peterson writes, and since "crocus are among the garden's earliest blooming bulbs," the GPP list includes several such as C. tommasinianus, 'Jeanne d'Arc', 'King of the Striped', and 'Mammoth Yellow'. A few species tulips are also recommended, including T. clusiana and T. sylvestris which will have bees "bustling around the garden with satisfaction" and, in the right spot, will "reliably return year after year."
Other Great Plant Picks that we're offering now for delivery this fall include:
extra early-blooming winter aconite, traditional snowdrop, and giant snowdrop,
wildflowery Grecian windflower, 'Gravetye Giant' snowflake, and sowbread cyclamen,
unbeatable 'Saint Keverne', 'Thalia', and pheasant's-eye daffodils,
and elegant martagon and regal lilies.
Learn more and see the entire list organized into categories such as "Fantastic Foliage," "Made in the Shade," and "Plants that Make Scents" at greatplantpicks.org/plantlists/search. (May 2016)
Blog-Goddess Reports "Virtually 100% Success" with Our Winter Aconites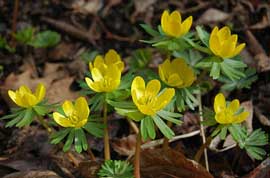 Always the first bulb to bloom here in our garden, winter aconites are thrilling, cheery, and carefree — so why aren't more people growing them?
Although their tiny tubers can be hard to get established, our good friend Margaret Roach writes this week at her wildly popular A Way to Garden blog, "Good news: Buying waxed tubers from a vendor like Old House Gardens helps. I had virtually 100 percent success with their waxed tubers — a dramatic difference from any other time I'd tried to establish a new colony."
Read more tips and see Margaret's inspiring photos of these easy beauties in her garden at awaytogarden.com/hot-plants-winter-aconite/. (March 2016)
Newly Added: Gender-Bending "Indian Turnip"
In 1820 when it was listed in America's very first bulb catalog, Indian turnip was the common name for the striking native plant that most of us today call jack-in-the-pulpit. Although its raw corms are poisonous, Native Americans learned to neutralize the poison by roasting or drying them for six months, after which they could be peeled and ground into a flour for making bread.
Jack-in-the-pulpit and Indian turnip are just two of this intriguing plant's many names which include (so the internet says) Iroquois breadroot, starchwort, pepper turnip, bog onion, dragonroot, memory root, Indian cherries (for its red fruit), Indian cradle, brown dragon (to distinguish it from its native cousin, green dragon), petit precheur (in Quebec), aronskelk (in Dutch-settled areas), tuckahoe, cooter-wampee, wake robin (a name more often applied to trillium), Adam's apple, devil's ear, cobra lily, and — from its Old World cousin Arum maculatum — cuckoopint and lords-and-ladies.
And here's another fascinating tidbit: jack-in-the-pulpit can change from male to female and back again. When they're smaller, plants are generally male, but when environmental conditions are favorable and they grow large enough, they become female, producing seeds in a cluster of bright red berries. The year after fruiting or when conditions are challenging, plants often change back to male until they can build up the strength to set seed again.
This multi-talented native bulb is easy to grow in light shade, and you can order it now for fall planting. (July 2015)
See the Difference: English vs. Spanish Bluebells (and Counterfeits)
Spanish bluebells are great. Also known as squill in the South, they're tough enough to bloom and naturalize just about anywhere. But if it's English bluebells you're looking for – the iconic wildflower of British woodlands – you'll need to know how to tell them apart, because counterfeits are ubiquitous.
Our true English bluebells are the real deal. They come to us from a small nursery in Wales where they're native, and you can order yours now for fall planting at last fall's prices. (April 2015)
Save on Hardy Byzantine Glads for Fall Planting
Unlike most years at this time, we're NOT sold out of what may be the most exciting bulb we offer — the TRUE, fall-planted, perennial-in-zone-6-and-warmer Byzantine glad. The last of them are discounted 10% today ONLY, and as our good customer Tamara Bastone of zone-7b Chesapeake, Virginia, will tell you:
Snowdrops at Warp Speed
To Protect Your Lilies, Plant Alliums
Our good customer Amy Reynolds of Saint Louis, Missouri, emailed us this helpful tip:
"Your lily bulbs are fabulous! I popped them in the ground immediately. To protect them from an abundant local rodent population, I've planted them (as I always do with lilies) with several allium companions. I've found that squirrels and chipmunks won't excavate past the alliums to get to nearby lily bulbs while they're dormant, and the rabbits won't go near allium foliage come spring."
Learning from You: Pink Surprise Lilies Beyond Zones 6-7
ZONES — Many readers told us they've had long-term success with surprise lilies in zones 5b and 8a, and for the past couple of years we've been getting our bulbs from a third-generation bulb farm in 8a, so we've now expanded our zone recommendations to include zones 5b-8a(8bWC).
SOIL — Although well-drained soils are usually recommended for surprise lilies, several readers say theirs grow just fine in clay soil. Clay is dense, though, which makes it harder for bulbs to multiply, and it holds water longer which can cause bulbs to rot.
SUN/SHADE — Full sun seems to suit them best, especially the further north they're planted. But many of our readers said they do well in partial shade, too, especially if it's from deciduous trees which leaf out later.
PLANTING DEPTH — Some authorities say to plant them with the neck just under the soil surface, but our expert North Carolina grower recommends planting them so they're covered with 2-4 inches of soil. Since the bulbs we ship are 3-4 inches tall, that means planting them with the base 5-8 inches deep.
Six Heirlooms among "18 Stunning and Off-Beat Bulbs"
Teach Us, Please: Where (and How) Do Pink Surprise Lilies Grow Best?
1. If you garden in zone 6a or colder: Is pink surprise lily winter-hardy for you, and do you have any tips — sunlight, soil, planting depth, watering, winter protection, etc. — for getting it to multiply and bloom happily?
2. If you garden in zone 8a and warmer : Is pink surprise lily thriving for you, and do you have any tips — sunlight, soil, planting depth, watering, winter protection, etc. — for getting it to multiply and bloom happily?
Heirloom Alliums: "Top 12" and Tough Enough for an "Impressionist Meadow"
Stone Bouquet: 17th-Century Tulips, Roman Hyacinths, and Crown Imperial
Bulb of the Month: Emily Dickinson's Dog-tooth Violet
"While Emily reveled in her solitary walks and canine companions, she also explored with her friends. 'There were several pleasure parties of which I was a member, and in our rambles we found many and many beautiful children of spring . . . — the trailing arbutus, adder's tongue, yellow violets, liver-leaf, blood-root, and many other smaller flowers.'
"One spring, with a gift of adder's tongue, Emily enclosed this poem, noting their dappled leaves.
Their dappled importunity
Disparage or dismiss —
The Obloquies of Etiquette
Are obsolete to Bliss —
"Emily's poems . . . are often opportunities for the dictionary. 'Importunity' means unseasonable, and May is early for lilies. . . . 'Obloquies' are slanders, abuses. She implies that bliss beats bad manners. Perhaps Emily's floral acknowledgment was belated, or maybe there was a hidden meaning known only to the recipient."
"Chilly Lilies" Announce the Coming of Fall
Fine Gardening Spotlights Our True Byzantine Glads
"Upside-Down Plaid Tulips" for Paula's Husband's Stocking
Can you keep a secret? When she ordered this past fall, Paula Kocher of zone-6b Malvern, Pennsylvania, asked about putting bulbs in her husband's Christmas stocking. We told her that, although that might work for tulips, daffodils, hyacinths, and lilies, it would be risky for the small, tunic-less bulbs she wanted to give him. But it HAD to be those bulbs, she replied, so . . . .
"I'm going to make a little card with the photo from your catalog for his stocking, and while hubby wasn't here, I snuck out and planted them at the edge of the driveway leading to his garage (where he spends A LOT of time building his '57 truck) and covered them with just enough leaves so he didn't notice the disturbance. He had these at his first home and it took me a long time to figure out what he meant by an 'upside-down plaid tulip.' Santa is SO lucky we help him out every year."
Mary Rediscovers Her Great-Aunt's Spider Lilies
Flower Power: Bulbs to Cure Breast Cancer and AIDS
Staff Pick: Donna's "Tall, Strong, Lovely" Snowflakes
Gardener extraordinaire Donna Squires has been helping us ship bulbs for a decade now, and her big front-yard garden is filled with our beauties. When I asked her which fall-planted bulb she liked best, her answer surprised both of us:
Theophrastus, Baking Bread, and Byzantine Glads
How Do Red Spider Lilies Know It's Fall?
"We both can imagine what drives the daffodils and azaleas to bloom in the spring — the lengthening days, the rapid warming of the ground under our feet. But what is the signal for lycoris in September, when the ground still blisters your bare feet as it did in July, and the reservoir of summer warmth only makes the longer nights hotter longer? The lycoris sense something in the change of season that I don't have the sense to quantify, a change I'm never willing to believe, until I see the naked flower stems shoot up, reminding me that all my plans for fall are weeks behind." (late August 2012)
Bulb of the Month: Drought-Tolerant, Animal-Resistant, and Bee Friendly
Byzantines True and False — In 1790 and Today
Easy to Love, Hard to Spell
The High Line: Heirloom Bulbs Flourish in New York's Coolest Park
Elwes Snowdrop: Sydney and Scott Say Try It (and Save 25%!)
Prince Charles Plants Byzantine Glads at Home
Masset adds that "increasingly, the focus [at Highgrove] has been on a much more sustainable approach to bulbs." As head gardener Debs Goodenough explains, "Out of the 40,000 bulbs we planted last year, 95% are an investment in the garden. The crocuses and daffodils will carry on year after year." (Feb. 2011)
Rare Snowdrop Sells for $567
Southern Living's "10 Best Plants for Fall Planting"
Better Together: An Easy Combo for Your Spring Garden
Are Red Spider Lilies Hardy in Wisconsin???
Maybe. Although we recommend them for zones 7 and warmer only, Jean Virnig of Fort Atkinson, Wisconsin, has been experimenting with them. She writes:
"Here in my zone-5a Wisconsin garden, I have been growing the heirloom form for two years now, and although they have proved hardy enough to survive the winters with no special care, they may not be truly suited for this climate.
"Red spider lilies put up leaves in the fall which have to survive until spring. Last winter we had lows of -20 F, three weeks when the temperature never once rose above freezing, and destructive, desiccating winds. Nevertheless, every one of my bulbs still had green leaves this spring, albeit shorter, as they were burned back by the cold. On the bulbs I planted last fall, most leaves were 4"-6" long, as they were not able to grow much longer before the weather turned inhospitable. Those that were already established, planted the year previous, grew much longer foliage that lay down on the ground after the first snow and survived the winter nearly fully intact. Currently in late June all of the foliage is still green with no signs of dying back, although I suspect it will soon.
"In areas that have more consistent snow cover, or in a sheltered location like a woods, damage to the leaves over the winter would probably be mitigated. As for me, I will try covering them with straw this winter and removing it in the spring. I am still hopeful of some red spider lily blossoms in my yard in the future." (June 2009)
American-Grown Surprise Lilies: Reserve Yours for Fall Now!
Another Southern Voter for 'Gravetye Giant' Snowflakes
Our long-time customer Peter Schaar of Dallas writes:
Do Animals Eat Your Bulbs? Try These!
North or South, Fall is for Planting Byzantine Glads
And a thousand miles away, Ruth Geraci of Summerdale, Alabama, wrote: "My Byzantine glads are so beautiful. The first year's glads multiplied, adding to the new ones I planted last fall. Everyone admires them! Thanks for having such beautiful and unusual plants for my hot southern Alabama climate." (Sept. 2008)
Head Gardener Praises 'Gravetye Giant' (and Gophers Shun It)
Intensely Blue: Our New Turkish Glory-of-the-Snow
She's Awed by Our TRUE Byzantine Glads
Our fall-planted Bulb of the Year is NOT your ordinary glad. For a start, it's perennial through zone 6, and we have true stock! Our good customer Tamara Bastone of Chesapeake, Virginia, writes:
Mobile's Favorite Gardener Lauds Our Freesia and More
Schoolhouse Lilies and Surviving Katrina
Our good customer Nancye Renihan of Fairhope, AL, writes:
Our favorite bouquet was in a style we've seen in books of the mid-1800s that's much like Victorian carpet-bedding. In a small round vase, a circle of chive blossoms makes a neat, frothy border around a center of densely packed Spanish bluebells. For added texture, tuck in a few fuzzy leaves of lamb's-ear. By all means, do try this at home! (April 2006)
Garden Design's "Way Hot 100" Includes Three of Our Bulbs
Felder Reports: Hurricane Lilies Light Up Katrina-Browned Mississippi
We Say Byzantine Glads, They Say Whistling Jacks
Our friend Greg Grant sent us this tidbit by the illustrious Roy Lancaster from a BBC website:
Our Fall-Planted, True Byzantine Glads Flourish in Ireland, Too
Our Texas friend Cynthia Mueller emailed us in June saying:
We Shop the Competition: 25-Cent Byzantine Glads Unmasked
Are Wild English Bluebells Doomed?
True Byzantines Take Jim Back to the Fifties
Our good customer Jim Massey of Moncure, NC, writes:
Enjoying Spring's First Snowdrops Inside
The Thrill of Something New
"In the garden, at least, you soon grow almost sick of flowers that bloom endlessly . . . . Floribunda roses can become boring after a while; so can marigolds. They are nice enough, it's just that after a few months you wish they would look a little different. It is otherwise when the snowdrops bloom. Wow. Look at that. Right through the snow. Nobody ever gets bored with snowdrops or crocuses." (1999-2000 catalog)
---
For articles on other topics, see our main Newsletter Archives page.