---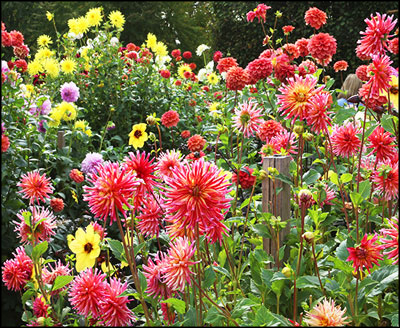 Fall is dahlia season, and the parking lot at Longwood Gardens was overflowing recently as thousands of visitors thronged to the national show of the American Dahlia Society.
Longwood is one of the country's grandest public gardens, and dahlias have been grown there ever since it was the private home of Pierre S. du Pont. Between 1909 and 1934 du Pont purchased "around 500 batches of dahlia tubers," according to the Longwood archives, probably for planting in his 600-foot Flower Garden Walk where they're still grown today in a sumptuous mix of annuals, perennials, and grasses.
In a recent interview with blogger Margaret Roach, Longwood horticulturist Roger Davis shares his tips for growing and (if you want to) storing dahlias. Two of the three varieties they discuss are heirlooms – dark-leaved 'Bishop of Llandaff' and creamy 'Café au Lait' – and fellow oldie 'Thomas Edison' is also blooming gloriously at Longwood this fall.
Read the complete interview here, and if it leaves you feeling inspired, here's a tip from us – you can order your own dahlias now for delivery at planting time next spring. (October 2018)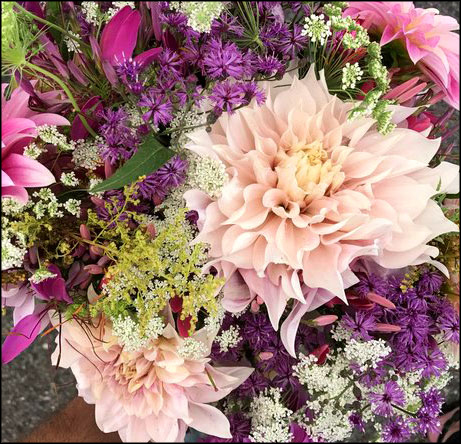 When we opened the September issue of Southern Living recently, we were surprised to find a big, beautiful dahlia staring at us from the first page of the lead article.
Dahlias like cool nights, so growing them in the South can be a challenge. But just outside zone-8a Birmingham, Deborah Stone grows them commercially for cut-flowers at her Stone Hollow Farmstead. In the article, Stone offers tips for success with dahlias in the South such as waiting until several weeks after the last frost date to plant them and giving them some protection from the hottest, midday sun.
A handful of heat-tolerant dahlias are mentioned in the article, including jewel-toned 'Juanita' and dark-leaved 'Bishop of Llandaff', and a dozen of "Deborah's Favorite Dahlias" are pictured, including dreamy 'Café au Lait' (pictured here), frilly 'Tsuki Yori no Shisha', and deep purple, always dependable 'Thomas Edison'.
To learn more about how you can grow dahlias in the South, see our tips from experts and customers at oldhousegardens.com/DahliasForHotNights . (Sept. 2018)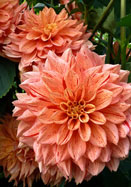 Garden writer Stephanie Cohen – who's been called "one of the most influential women in horticulture" – gives our 'Nonette' a shout-out in the August 2018 issue of Fine Gardening.
Calling it "A Dahlia to Die For," Stephanie writes that 'Nonette' has "bright apricot flowers that are speckled with burgundy," and "even those who consider themselves dahlia connoisseurs find this particular blossom so unique they will stop and stare. As with many bicolor dahlias, the red stippling is highly irregular: one flower may have a lot of mottling, while another may appear to be just solid apricot. But the surprise is half the fun!" 'Nonette' also produces lots of flowers, "giving you plenty for the garden and the vase."
Although it sells out every year, 'Nonette' is available now for delivery next spring. For plenty of flowers that will make you stop and stare, order now! (July 2018)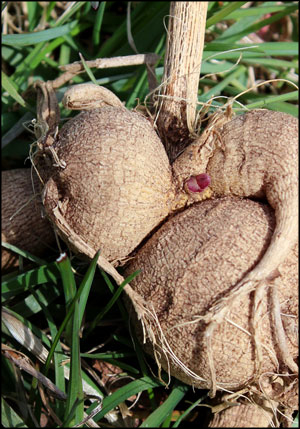 Although virtually everybody calls them tubers, we recently learned that dahlia tubers aren't really tubers. In a letter to American Gardener magazine, University of Nebraska horticulture professor Paul Reid explains:
"Once again I write to chide your authors and editorial staff for misapplication of the word 'tuber.' It should never be used for referring to the fleshy underground structures of dahlias, sweet potatoes, and probably not for daylilies. . . . They are not tubers!
"Tubers are underground stems, with nodes, internodes, and buds – the 'eye' of the potato tuber, for example. Tuberous roots are simply roots that are modified for food storage, but are decidedly not stem tissue."
He's right. Dahlia eyes sprout from the crown which connects the stem to the swollen storage roots. If a root breaks off without a piece of the crown, it can never sprout because it has no eyes.
Don't worry, though. Even the American Dahlia Society calls them tubers, so it's okay for you do the same. Informal language is often different from scientific language, and if you start calling your dahlias "tuberous roots" you'll just annoy your friends.
But facts matter, and now you know. (April 2018)
You don't have to start your dahlias indoors, but it can be fun – and reassuring if you're new to dahlias. Here's how our long-time office manager Rita Bailey does it.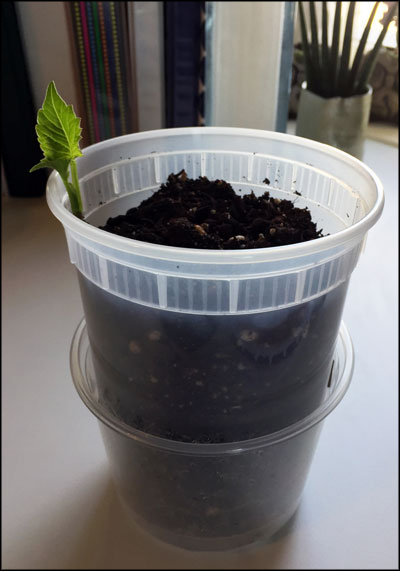 First of all, if you don't see any eyes on your tubers when they arrive, don't worry. This is perfectly normal. And if you do see eyes, you can skip right to step 4.
1. Start a month or even six weeks before your area's last frost date. Find yours by zip code at almanac.com/gardening/frostdates.
2. For each tuber you'll need some potting soil, a zip-lock bag, and a clear plastic deli container. Any size is okay as long as the tuber fits, Rita says, since it won't spend much time in either.
3. Put some potting soil that's moist but not soggy in the bag, lay your tuber on it, and close the bag most of the way. Set it someplace warm (room temperature is fine) and bright (but not in direct sun), and keep an eye on it.
4. Within a week or two you'll see eyes – little purplish or pale bumps like the eyes of a potato – emerging from the crown just below the old stem. Poke a drainage hole in the bottom of the deli container, fill it with damp potting soil, set it on a saucer (or in a shorter deli container, as in the photo), and plant your eyed-up tuber with the crown covered by about an inch of soil.
5. Keep it warm. Within a week or so, small white roots will begin to show at the sides of the container. Enjoy that sign of progress as you wait for the first sprout to emerge above the soil which, according to Rita, sometimes takes as long as two more weeks.
6. Once you see a sprout, give it as much light as possible and gently shake the container once or twice day to help strengthen the new growth.
7. As your last-frost date approaches, get your dahlia acclimated to outdoor conditions by hardening it off. This means setting it outside for a short period of time every day. Start with an hour or so in a sheltered spot and gradually increase the time and exposure until your plant is tough enough to spend all day in full sun.
8. When it's hardened off and the last-frost date is past, gently remove it from the container and plant it outside, burying the tuber a little deeper than it was in the container. Water it well and enjoy! (April 2018)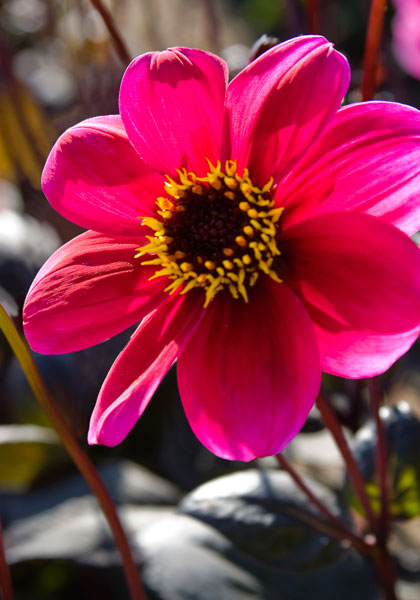 Renowned garden designer and author Mary Keen says dahlias – including some of our heirlooms – are "an indispensable feature" of her Gloucestershire garden.
In her long career, Keen has worked on many grand gardens, including those of the Rothschilds. At home, as she wrote in the July 2017 issue of Gardens Illustrated, she prefers the informal look of "a mingled matrix with a few spots of larger, brighter plants." In this setting, "dahlias are a much better bet than roses."
Along with the single red Dahlia coccinea, she favors "strong pinks and reds – 'Grenadier', 'Pontiac', 'Fascination', 'Roxy' [pictured here] – pale pink 'Gerrie Hoek', and pale-yellow 'Glorie van Heemstede'."
And here's a tip: Mary says if you use too many "attention grabbers" such as tulips, peonies, delphiniums, and dahlias, "planting lacks depth and mystery." But "you can scale down the impact by choosing more subtle forms" such as single, cactus. and waterlily dahlias which "lighten a planting better than a dinner-plate flower." (Mar. 2018)
In 1879 a customer wrote to nurseryman James Vick, editor of the popular Vick's Illustrated Monthly, praising a white dahlia that was "the prettiest thing I ever saw" with flowers that "didn't look much like dahlias, but more like asters."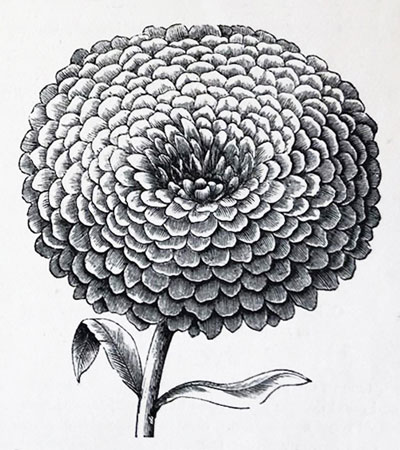 Vick explained that "this class of dahlias is called Pompon or Bouquet," and added that "there are two very good white sorts, White Aster and Little Snowball."
But do the globe-shaped flowers of 'White Aster' really look like asters?
Not compared to the perennial asters that are commonly grown today, but back in 1879 the most popular asters – by far – were the annual bedding plants known as China asters, Callistephus chinensis. Vick devoted an entire page of his 1872 catalog to images of them, including 'Imbrique Pompon', pictured here. Although it's an idealized image, I hope you agree that it looks something like a pompon dahlia – and some modern China asters do, too.
But originally 'White Aster' looked even more like an aster because its petals were notched at the tip, making them look narrower, more numerous, and, well, more aster-like. You can see what I mean in the color image here which is part of a full-page chromolithograph published in Vick's Monthly in 1878. (See the entire image at our blog.) Although none of the dahlias in the image are labeled, I'm virtually certain that's 'White Aster'.
Dahlia genetics are complex and unstable, though, and sometime during 'White Aster's long history its DNA apparently reverted to producing normal, rounded petals. (Something similar seems to be happening with 'Old Gold', whose petals are sometimes notched and sometimes not.) The change must have occurred sometime after 1956 because the de Jager catalog that year describes 'White Aster' as having "lovely laciniated flowers." Although nowadays "laciniated" refers to the fringe-like petals of dahlias such as 'Tsuki Yori no Shisha', its dictionary definition is simply "cut into narrow lobes; slashed; jagged."
Of course it could be that today's 'White Aster' is simply an impostor substituted for the real thing sometime between 1956 and when we first acquired it 50 years later from one of Germany's oldest and most respected dahlia nurseries – but, at least for now, I'm willing to give it the benefit of the doubt and believe that it's the real thing minus the notching.
Could the notching reappear someday? Yes! So please keep your eyes peeled and if you ever find a notched bloom on your 'White Aster', contact us ASAP. With a little luck we might be able to root a cutting and eventually re-introduce the original, more aster-like 'White Aster'.
(Thanks to garden historian Thomas Mickey who inspired this article and shared the amazing chromolithograph with us. Read Tom's blog post "Victorian Dahlia 'White Aster' Still Shines" and more at American Gardening.net.) (Feb. 2018)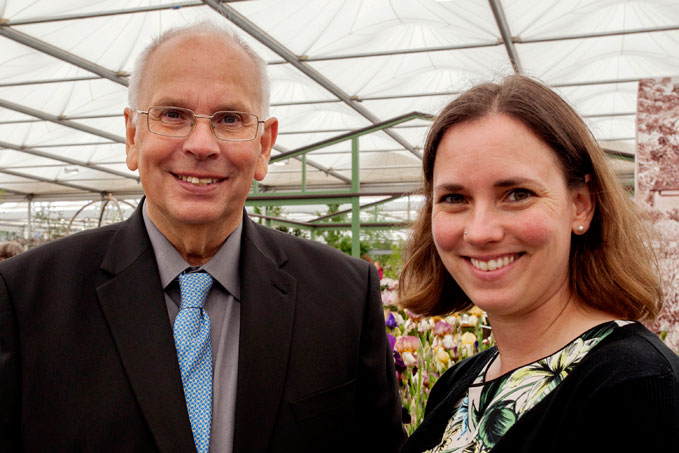 With its dark foliage and apricot-orange flowers, 'David Howard' is one of our most popular heirloom dahlias.
But who was David Howard?
Back in the late 1950s he was just a British teenager who'd always loved plants. Instead of raising hell he was raising dahlias from seed, and – according to a 2004 article in The Telegraph – "one of these, a seedling from Dahlia 'Bishop of Llandaff', was taken up by a visiting nurseryman, who named it 'David Howard'." Introduced in 1960, it became "an instant hit with gardeners and it remains one of the best dark-leaved dahlias around" – so good that it's won the prestigious RHS Award of Garden Merit.
Howard went on to launch his own nursery in 1969 with £50 in the bank and a half-acre of rented land. In time it grew to be as successful as his namesake dahlia, and today Howard Nurseries Ltd. - which Howard runs with his daughter Christine, pictured here - is one of England's largest wholesale perennial growers, annually producing over two million plants of some 1500 varieties.
Although Howard has always championed the best of the new, "it's not just new varieties that attract his eye. One firm favorite is a long-established bearded iris called 'Rajah' [from 1942], which has rich burgundy falls shot with gold and butter-yellow upper petals." Howard introduced it to leading garden designers "who have since used it to great effect in several show gardens. Its appeal has filtered down to garden centers" and it's now a popular iris throughout the UK.
We don't offer 'Rajah' – yet – but you can order 'David Howard' right now for planting this spring. Who knows, it may inspire you or a teenager you love to do what David Howard did and follow your garden dreams. (Jan. 2018)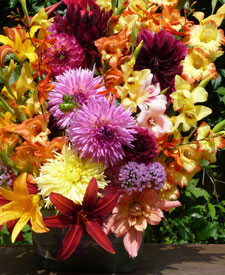 Alstroemeria and gazanias, step aside. According to a leading British newspaper, dahlias and glads are the hot new flowers for bouquets.
Although the news took a while to reach us here in Michigan, The Telegraph reported in September 2016 that "nostalgic Britons have revived an English country garden trend by decorating their homes with 'frumpy' British-grown flowers such as gladiolus, dahlias, and delphiniums."
"Despite once being associated with other 'undesirable' stems such as chrysanthemums, experts said . . . more families are choosing these retro-style flowers instead of classics such as roses and lilies." In fact, one major supermarket chain reported that glad sales were up 30%.
"Although gladiolus are often used in magnificent displays at venues such as Westminster Abbey, they are perfect for the less experienced arranger," said a spokesperson at the National Association of Flower Arrangement Societies. "Gladiolus make a bold modern statement in a large vase or container on their own."
For easy, on-trend bouquets from your own backyard, why not order a few of our retro-style glads and dahlias now for spring delivery? (Dec. 2017)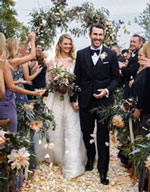 A few days after his team won the World Series this fall, Houston Astros pitcher Justin Verlander (former star of our hometown Detroit Tigers) married super-model Kate Upton in an intimate ceremony in Tuscany – and 'Café au Lait' dahlia was there!
At least we think that's what's decorating the aisle in this photo the happy couple posted on Instagram. The shape is right, the soft, dreamy color is right, and 'Café au Lait' is very much in vogue for weddings. (Although some of the blooms pictured have open centers, this is common late in the season when there's less sunlight for petal production.)
Take a look at a larger version of the photo at our blog and see what you think. Then to add some All Star/super-model romance to your garden, order 'Café au Lait' now for spring delivery! (Nov. 2017)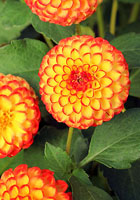 No, that's not a typo in the title above. We recently learned that the dahlia we've always known as 'Little Beeswings' – with an "s" at the end – is actually 'Little Beeswing' – without the "s."
Whatever you call it, this cheery little pompon dahlia has been a favorite of our customers ever since we first offered it in 2003. And this past July it was a hit at the RHS Hampton Court Flower Show where it was part of a display by Plant Heritage, the world's leading non-profit devoted to preserving garden plants.
As Lucy Pitman explains at the Plant Heritage blog, "'Little Beeswing' has been offered in the Plant Exchange for several years by a National Collection Holder in Cambridgeshire, he having obtained his original plants from Scott Kunst of Old House Gardens in Michigan. Because this bright Dahlia was flowering so beautifully in perfect time for the RHS Hampton Court Flower Show, it became the star of the show in the Plant Guardian display."
The National Collection Holder she credits is our good friend Alan Shipp, the Noah of hyacinths, who's been growing 'Little Beeswing' ever since we sent it to him years ago. When Lucy asked Alan about its history, he sent her to us, and after several hours of research in the OHG library and online, here's what we think we know.
'Little Beeswing' (the earliest spelling of its name) was introduced in 1909 (not 1886 or 1938, as some sources indicate) by Keynes, Williams, and Co. (not J.K Alexander), a celebrated nursery in Salisbury, England (not Australia) that introduced dahlias from at least 1863 to 1938. It apparently made its way to the US soon after (not in 1938 as Lucy believed when she wrote her blog). By 1916 it was noted as "new" in a list of "best dahlias" published by the New York Agricultural Experiment Station, and in 1917 it was mentioned in the Bulletin of the Dahlia Society of California.
Learn more at Lucy's blog post, or simply order 'Little Beeswing' now for spring planting. If it can shine at the Hampton Court Flower Show, just think what it can do in your garden! (Sept. 2017)
If you haven't planted all of your dahlias yet, here's a super-simple way to grow and store them from our good customer Jenn Hovland of Fleur de Louise Flower Studio in Stillwater, Minnesota.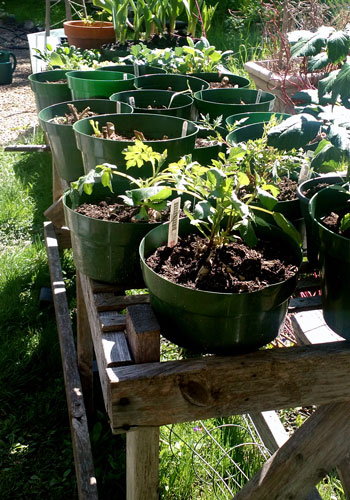 "For several years now I have stored my dahlia tubers 'in the dry' as they do in England," Jenn wrote on her spring order. "I start by planting a new tuber in a 1 or 2 gallon plastic pot. I lay it flat near the top of the pot, cover it with just an inch of soil, water it once, and then leave it alone until sprouts emerge.
"When the weather warms up, I plant it outside, pot and all, pounding a stake into the ground next to it. I always use black or green pots so that even the parts that aren't buried or hidden by other plants are pretty much invisible.
"At the end of the season when frost blackens the foliage, I wait a few days, lift the entire pot, cut back the dead foliage, let it dry on my porch for a couple of days, and then put it in the basement and forget about it. In March or April when I notice new growth, I move it upstairs to a sunny window and it's ready for the new season.
"By using this method, I've lost very few tubers to rot or drying out. Although it takes a little extra space to store the pots, it has worked very well for me."
Wanting to know more, I emailed Jenn and she cheerfully answered all of my questions.
One-gallon pots seemed small to me, so I was surprised to learn that she sometimes uses even smaller ones. Pot size doesn't seem to matter much because, although the tuber-cluster remains confined within the pot, its feeder roots grow through the holes in the bottom. When the pot gets crowded after a couple of years, Jenn divides the cluster and starts all over again.
During the winter she keeps the pots as dark as possible because light encourages sprouting. In March she starts checking for new growth, and when the first sprouts appear – this year in mid-April – she adds an inch of compost to all pots, waters them once, and moves them to a sunny window.
"Then in May," she told me, "I take the plants outside to harden them off for a couple of weeks, bringing them in at night until they adjust to outdoor living. By mid-May they'll be staying outside overnight, except when frost is predicted. I finally plant them in the garden around Memorial Day. By then they are quite large plants – which means they'll bloom earlier."
That sounds good to me, and I'm planning to give Jenn's method a try. If you do, too, please let us know your results so we can learn from you as well! (May 2017)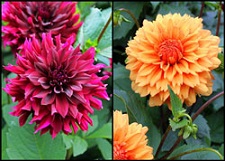 Here are a couple of rave reviews for two of our most popular dahlias:
"'Prince Noir' was absolutely brilliant," our good customer Connie Casey of Old Chatham, NY, wrote us a while back. "Many, many huge wine-red flowers from late July till the end of October. It (he?) was next to our outdoor shower, set off spectacularly by two vines in back – hops and a red and orange honeysuckle. Whenever we were invited to dinner I brought a bouquet of mahogany sunflowers, red snapdragons, maroon sneezeweed, pink cosmos, and 'Prince Noir'."
"'Old Gold' is absolutely, stunningly glorious!" our good customer Sejean Sohn of Bethlehem, PA, wrote. "It really does appear to flicker with light. I'm growing over 70 different dahlias this year from several specialty sources, but OHG's 'Old Gold', 'Prince Noir', and 'Jane Cowl' are truly exceptional."
Order them now and you may soon find yourself raving about them, too! (April 2017)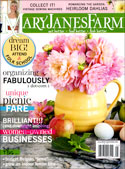 The pink, over-stuffed blossoms of our 'Rosemary Webb' dahlia fill an old yellow pitcher on the cover of the April-May 2017 issue of MaryJanesFarm under a heading that reads "Romancing the Garden: Heirloom Dahlias."
Inside, MaryJane writes, "I bought my tubers from Old House Gardens. A new generation of sustainable farmers, they cultivate heirloom bulbs on five 'micro farms' on vacant lots and other scraps of land within a few blocks of downtown Ann Arbor. Mine were, if I must say so myself, stunning!"
Idaho farmer MaryJane Butters launched her "organic-focused lifestyle magazine" is 2001. With a circulation of 135,000, it's sold today at stores all across the country including Whole Foods, Barnes & Noble, and Walmart.
MaryJane showcases our daffodils on page 5 of the May-June issue, too, with photos from our catalog of eleven heirlooms she planted at her farm last fall. Stay tuned for a follow-up article on them sometime later this year – and subscribe or learn more at www.maryjanesfarm.org/. (April 2017)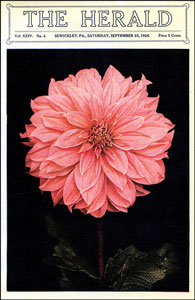 (Here's a fascinating story by our good customer Letitia Savage. Thank you, Letty, for sharing it with us!)
By the 1920s, Pittsburgh's industrial millionaires had flocked to Sewickley, Pennsylvania, to summer in country houses along the bluffs of the Ohio River. While the estates had ranks of professional gardeners, the owners were often actively involved, particularly when it came to competitive gardening.
Mrs. B. F. Jones, Jr. was typical of these serious amateur gardeners. The wife of a steel industry magnate, she lived at Fairacres, a 100-room Louis XVI mansion surrounded by acres of gardens. (You can see a few photos of Fairacres at our blog.) There, with the help of her head gardener R. M. Fletcher, she grew thousands of dahlias.
In Sewickley the gardening year culminated in September with the annual Dahlia Show. As the Sewickley Herald reported in 1926, "There is hardly another flower which makes such a glorious showing when exhibited in mass.... Those who have never seen a dahlia show have indeed a thrill yet to live for."
The three-day event included almost 50 competitive classes for dahlias – including several for vases of 12 to 25 blooms of one variety. Photos of the show in the society pages of the Pittsburgh press are breathtaking. Dahlias in vases tower over the heads of the small girls admiring them, and some arrangements are even taller than their mothers.
In 1926, the star of the show was 'Jersey's Beauty'. The Herald featured it in a full color photo on the front page of its September 25 edition and noted, "If you are familiar with dahlias, you will be interested in 'Jersey Beauty,' in some ways the finest dahlia developed in recent years." Introduced just three years earlier, it originally sold for $25 a tuber – a trifle for Mrs. Jones but the equivalent, according to the ADS's Martin Kral, of "fifty gallons of milk, or a man's new suit, or one of those modern home appliances, a vacuum cleaner."
Although it's not 100% clear whether it was Mrs. Jones's 'Jersey's Beauty' that stole the show in 1926, local reports say the Herald's cover-girl dahlia was raised at Fairacres, and an oil painting of that flower once hung in splendor there, perhaps alongside her Gilbert Stuart portrait of George Washington.
Twenty years after her death in 1941, Mrs. Jones' opulent summer home was razed. Her painting of 'Jersey's Beauty' survives, though, preserved by the Sewickley Valley Historical Society, along with a stack of small cards tied with a faded blue ribbon. Although they don't include dates or variety names, each card documents one of the many flower-show awards that Mrs. Jones won, poignant souvenirs of her prize-winning roses, chrysanthemums, and, above all, her glorious dahlias.
('Jersey's Beauty' went on to become one of the most popular dahlias of the 20th century. Although it's almost sold out, if you order it now you can enjoy it just as Mrs. Jones once did – and it won't cost you anywhere near as much as a vacuum cleaner!) (March 2017)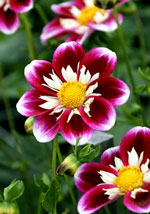 Old can be new, as our friends at Garden Gate understand, which is why they've named our 'Fashion Monger' dahlia one of their "Must Haves for 2017."
"'Fashion Monger' may not be brand-new," writes associate editor Sherri Ribbey, "but it's been away so long it seems like it is. Originally introduced in 1955, this collarette dahlia was gradually replaced by newer cultivars. Fortunately, it was preserved and heirloom-bulb grower Old House Gardens is offering it for sale again."
"'Fashion Monger' is a favorite of bees," Sherri adds, "and it makes a great cut flower, too."
Our supply this first year is limited, so if you want this old-but-new beauty, order soon! (Jan. 2017)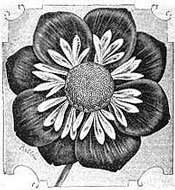 While researching our 'Fashion Monger' dahlia – a Garden Gate "must have" for 2017 – we discovered this tidbit in the Oct. 2, 1902, Journal of Horticulture, Cottage Gardener, and Home Farmer:
"A new type of dahlia has come into existence. It has been named the collaret form and first was brought to notice by Messrs. H. Cannell and Sons [of] Swanley, Kent. . . .
"This new class possesses . . . a series of stalked appendices of a collaret form producing a great ornamental effect. The engraving gives a good idea of its nature. The colors are somewhat limited at present but in the course of another season or so the variation of tints will be very much increased . . . .
"The original plants have already been awarded Gold Medals and Certificates at various important exhibitions. 'President Viger' [pictured] is the best-known. . . . As there may be a future for this race, it is probable that many growers will obtain plants to form a beginning with them."
There was indeed "a future for this race," and scores of collarets– or collarettes, as they're usually spelled in the US – are available today. 'President Viger' is extinct, alas, but we offer two of the oldest – 'Fashion Monger' (from 1955) and 'Clair de Lune' (1946) – and you can order them now for April delivery! (Feb. 2017)
It's been a hot, dry summer in much of the US. In fact, it's been so bad in Maine that we had to drop a whole page of rare glads from our catalog because our grower there is worried he won't have any corms to share with us!
But how will it affect your bulbs? First some good news: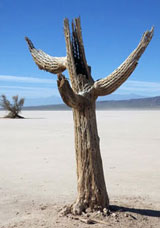 Bulbs are one of Nature's clever survival strategies. They're essentially underground bunkers where the plant can stay cool and store moisture. And once the weather improves, bulbs often bounce back better than most plants.
Some bulbs even prefer dry summers. Tulips and hyacinths, for example, evolved in parts of the world with little to no summer rainfall. That means yours may bloom better next spring than they usually do – at least if you're in the eastern half of the country where normal summers are rainier.
And some bulbs like it hot. As long as you've kept them well watered, your tuberoses, rain lilies, crinums, and cannas are probably thriving this summer, and we hope you're enjoying them!
On the other hand, dahlias often struggle or fail in hot summers. That's because they're native to the highlands of Mexico where days can be hot but nights are much cooler. When nights in your garden stay warm, growth will slow or stop and they may even die. If you water them too much when growth has stalled, they may rot underground.
Don't despair, though! If you can just keep your dahlias limping along until temperatures cool, they'll kick back into gear and bloom gloriously until frost. And for dahlias that can handle warm nights better, look for "heat-tolerant" in our descriptions – although even these have their limits.
Glads in hot summers can be attacked by tiny, almost invisible sucking insects called thrips. Thrips proliferate when it's hot and can leave glad leaves and blossoms mottled, or even prevent buds from opening. For tips on control, see oldhousegardens.com/Thrips.
Glads may also develop kinked stems in hot weather, as they sag a bit during the day and then grow upright at night when evaporation slows. To minimize the kinks, keep your glads well-watered and avoid damaging their shallow, wide-spreading roots.
High heat also affects flower colors. Deep-colored lilies such as 'African Queen' may be paler, bicolor dahlias such as 'Deuil du Roi Albert' may bloom temporarily as solids, and the rosy tones of 'Kaiser Wilhelm' and others won't develop fully until the weather cools.
This fall is expected to be warmer and drier than usual, too. Since most spring-blooming bulbs start growing new roots in late summer or early fall, keep their soil reasonably moist then, and be sure to keep the bulbs you plant this fall especially well-watered.
And try not to worry. Bulbs have been dealing with challenging weather for millennia. And there's always next year – which, as every gardener knows, is one of the great things about gardening. (Aug. 2016)
Like most people, I had no idea that flowers ever grew at The Rock – until 2009 when an order for some of our dahlias and glads arrived here from that infamous island in San Francisco Bay.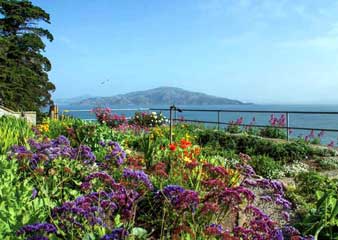 Alcatraz, I soon learned, has a long, complex history, and gardens have been a part of most of it. Some were public plantings tended by prisoners while others were the home gardens of the warden and guards who lived there with their families.
Last month I spent an afternoon walking Alcatraz with Dick Miner, a long-time volunteer who's been helping to bring its gardens back to life after 40 years of abandonment. Dick talked about the herculean effort to clear decades of weeds and overgrowth and the excitement of rediscovering paths, retaining walls, and a surprising array of garden plants that survived amid the ruins.
"Bulbs were a favorite garden plant of the island's residents," Alcatraz's director of gardens Shelagh Fritz wrote recently in Horticulture magazine. "Many bulbs originate from other Mediterranean regions and therefore find great success here – a happy coincidence since soldiers and guards simply brought their favorite garden plants with them to Alcatraz" including daffodils, freesia, Spanish bluebell, snowflake, and grape hyacinth. "When we cleared the overgrowth from the gardens, these bulbs came back to life after lying dormant for decades."
Dahlias and glads appear in historic photos of Alcatraz, and Shelagh has ordered many of ours to replant there including 'Clair de Lune', 'Old Gold', and 'Thomas Edison' dahlias and Abyssinian, 'Bibi', 'Dauntless', 'Fidelio', 'Spic and Span', and 'Starface' glads.
For a look at these fascinating gardens, see Shelagh's article, "A Hardened Garden." To learn even more, go to AlcatrazGardens.org. And if you're one of the 1.5 million people who will visit Alcatraz this year, don't miss the docent-led tours of the gardens! (April 2016)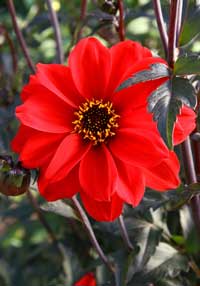 Although the West Coast drought has eased a bit, we thought you'd be interested in this success story from our good customer Pat of zone-9bWC San Jose. We can't guarantee it will work for you, but . . . .
"I grew some of your 'Bishop of Llandaff' dahlias last year and found them great for our arid climate. I planted them very deep, maybe a foot down, which is low enough for our clay soil to remain moist with almost no watering, if you can believe it. Maybe once a week.
"I followed the directions at your website and put the tubers at the bottom of the hole and then filled in soil little by little as the leaves emerged, which they did very quickly.
"My tiny garden on the west side of our garage gets a good five to six hours of blazing, direct sun and then light shade later in the afternoon. Since we're in a valley and not near the ocean, nights are generally cool and dry. [OHG: This is exactly what dahlias love!] The plants wilted on the hottest days but they perked up afterward, as you'd see with tomatoes or potatoes.
"Thank you for letting me ramble on. No one in my family is interested. My neighbors like all the free flowers, though! I give quite a few away." (April 2016)
Meadowburn Farm in northwest New Jersey was once the home of popular garden writer Helena Rutherfurd Ely. When published in 1903, Ely's A Woman's Hardy Garden was one of the first American garden books to reject Victorian pattern bedding in favor of a more informal style of gardening with shrubs, old-fashioned annuals, and perennials.
Meadowburn Farm has changed remarkably little since Ely's death in 1920. It's been owned by one family since 1930, and since 1883 its gardens have been tended by Ely's original gardener and his descendants. Today, with the help of the Garden Conservancy, the gardens are being restored to their former glory.
Ely wrote that dahlias, glads, cannas, and red salvia were the only pattern-bedding plants she grew at Meadowburn. Dahlias are "decorative and desirable for cutting," she explained, and "all the varieties are lovely."
Today seven dahlia varieties survive at Meadowburn, possibly from as far back as Ely's time. Unfortunately by the time Quill Teal-Sullivan was hired four years ago to guide the restoration of the gardens, the names of all had been lost. Quill turned to us for help, but since literally tens of thousands of dahlias have been introduced since Ely's time, I knew that identifying Meadowburn's relics would be a long shot at best.
After looking at photos, all I could tell her was that one might be 'Jane Cowl' and another 'Deuil du Roi Albert'. We sent her tubers of both so she could grow them side by side to compare foliage, height, bloom-time, and other details – which is the only way to be certain about an identification – and we put her in touch with nearby dahlia experts who could visit Meadowburn and offer their insights.
Quill finally decided that one of the dahlias is indeed 'Jane Cowl', and she's given new names to the others. Perhaps oldest of all – to judge by its 19th-century form and the way its flowers nod – is the one that's now called 'Meadowburn Byba Vincenza'.
All seven are for sale at the Meadowburn website, with proceeds helping to fund the restoration of the gardens, including "the 150-foot dahlia allée – filled with heirloom varieties – [which] erupts with color in late summer, as it has done for more than a century." Learn more about Meadowburn's gardens and its dahlias – and then maybe order one of its relics to grow in your own garden this summer! (Feb. 2016)
How the Fabulous 'Jane Cowl' Dahlia Got Its Name
Before it sells out early this year (as it always does), here's a bit of history about big, beautiful 'Jane Cowl'. Sent to us by our good customer Jim O'Donnell of Philadelphia, it's from the November 1927 edition of Garden and Home Builder:
"In the large class at the American Dahlia Society's show for seedlings" — which are dahlias that are not yet named or for sale — "not one of the more than thirty varieties exhibited could be casually passed by. Judging this rich amount of material occupied the gathered experts for some considerable time, and it was by no means an easy walkover for the winner; and yet, when Miss Jane Cowl [one of the most famous actresses of that era], who honored the exhibition with her presence on the first day, was invited to select out of the seedlings the one that should be named for her, she unhesitatingly and almost instantaneously decided on the same bloom that the judges had already selected for the big award.
"It would not be wise, however, to argue from this that the expert judges might be done away with. Miss Cowl, of course, selected the bloom that pleased her most without any regard to its comparative distinctiveness and other qualifications and standards by which the experts must measure any newcomer. There is, however, much satisfaction to be had in the fact that the popular favor and expert judgment in this instance, at all events, did coincide."
See what Miss Cowl and the experts liked so much here, and if you decide you have to have it, be sure to order soon! (Jan. 2016)
Dahlia Accolades: 5 RHS Award Winners, 3 Tough Survivors in Maine
Of the more than 75,000 plants available to gardeners today, less than 10% have been honored by the Royal Horticultural Society with its prestigious Award of Garden Merit. These exceptional plants have proven their worth as "the best for all-around garden value."
Another impressive accolade comes from our good customer Judith Mitchell of Waldoboro, Maine. "I got my first dahlias from you while it was still pretty chilly here in zone 5b," she writes, "so I very carefully put my tubers aside to wait for warmer weather. Well, you can probably guess what happened – that's right, I couldn't find them. In fact, it was well into July when I almost literally stumbled upon them out in the shed.
"Ay-yi-yi, I thought. I immediately planted them with many apologies to the little guys, thinking, of course, that all was lost, I'd get nothing, and it was my own damned fault.
Celebrate 100 Years of the ADS with "Cream of the Crop" Dahlias
Congratulations to the American Dahlia Society on its 100th anniversary!
Introduced from Mexico in 1798, dahlias became one of the most popular plants of the 19th and early 20th centuries. The UK's National Dahlia Society was founded in 1881, the German Dahlia Society in 1897, and — after a failed attempt in 1895 — the ADS was established in 1915. The new society held its first national show that fall in New York's Museum of Natural History. The blooms were displayed in milk bottles, winners took home $100 worth of ribbons and medals as well as $325 in cash, and the show drew some 35,000 enthusiastic viewers.
Dahlias are on the rise again today, and of all the bulbs we ship in the spring, they're the most popular with our customers. They're easy to grow, great for bouquets, and spectacularly diverse. To celebrate the ADS centennial, here are four easy ways to add at least one of these incredible flowers to your garden this spring:
Rediscovering Papaw's Hardy Lavender Dahlia
"I am hoping that 'Mrs. I. De ver Warner' is the dahlia that my papaw and mamaw grew for many years," Roger Flatford wrote us when he ordered last spring. I hoped so, too, but I knew that was a very long shot. Tens of thousands of dahlias have been introduced, many look a lot alike, and very few have been preserved. But in late summer we got a happy surprise:
"I can't say thank you enough for 'Mrs. I. De ver Warner' dahlia!" Roger wrote. "This dahlia grew at my mamaw and papaw's house in [zone-7a] Heiskell, Tennessee, coming back for them for 30 or 40 years, even through some hard winters. I'm 52 and I can't remember a time when it wasn't there. Every summer it would reward us with the most beautiful lavender blooms. We never knew its name but we always loved to see it bloom.
"My papaw kept a beautiful yard, and I inherited the flower gene from him. After he died in 1980 I tried to keep his flowers growing for my mamaw. Over the years, though, most all were lost except for the lavender dahlia and two old peonies and a little iris that just kept multiplying. Then one year the dahlia didn't come back. I was really sad to see it gone.
"A few years later my mamaw passed away at 93. That summer I spent a lot of time at the little white house on the hill, remembering how much fun we had visiting there when I was a kid. Then I started looking everywhere I could think of, hoping to find the lavender dahlia. I bought several that looked right, but when they bloomed they were never the one.
"This past spring I saw two dahlias at your website that I thought maybe, just maybe were it, so I purchased them both. A couple of weeks ago I went out to the garden and there it was, Papaw's Lavender Dahlia. What a reward! I know Mamaw and Papaw are smiling down from heaven.
You're welcome, Roger! Interestingly enough, that unusually hardy dahlia came to us from Joyce Dowell who got it from her grandmother in Scottsville, Kentucky – which, as the crow flies, is just 100 miles away from where your grandparents lived. (Feb. 2015)
The Bishop in Winter: Resurrection of a Lost Tuber
Is it a miracle? Maybe not, but we think you'll find this recent testimonial from Tulsa garden writer Russell Studebaker inspiring.
"He grew and is now about a foot tall. Before our first frost in November I moved him inside in front of two large south windows where he's been residing happily ever since. Although I don't expect him to flower this winter, I'm giving him some time to build up his strength before I give him a rest. Then I'll look forward to his grand, proper, and belated appearance in the garden next summer.
"You've got good stock – and perhaps the Bishop has good connections with the heavenly father." (Jan. 2015)
In the highlands of Mexico where dahlias originated, the nights are always cool, and most varieties today still need those cool night temperatures to grow and bloom well. Some are more heat-tolerant, though, and we recommend these through zone 8 in the South and Southwest – as noted in our dahlia chart.
To expand our list of heat-tolerant dahlias, we'd like to hear from you if you garden in zone 8 or warmer in the South or Southwest. Which of our dahlias have thrived for you, and which haven't?
Here's one recent success story from zone-8b Mobile. (Read more at our Dahlias for Hot Nights page.) Our good customer Glenda Snodgrass emailed us last November to say her mother-in-law, Barbara Adair, bought a 'Thomas Edison' dahlia with a gift certificate Glenda had given her. "I told her dahlias couldn't be grown in Mobile, but she said her mother always had dahlias here, and I've had to eat some crow because it bloomed last week and it's beautiful!"
Barbara grew her dahlia in a large clay pot on her deck. (Pots can be tough for dahlias, but see our Bulbs in Pots page for tips.) "North side, full sun in morning, some shade during the day, until late afternoon full sun," she explained. By mid-October the plant was six feet tall and the first flower opened. "It's a darker purple than it looks in your catalog," Barbara wrote, "a real beauty!"
Please help us guide other gardeners by telling us how our dahlias have done for you in the heat of the Deep South and Southwest. Thanks! (Oct. 2014)
Wacky Dahlias: Why Did My 'Nonette' Bloom Red?
Dahlias are incredibly diverse, and most of the time that's a good thing — but not always. Unlike most living things which have two sets of chromosomes, dahlias are octoploids which means they have eight. This wider range of genetic possibilities is the source of their astonishing diversity, but it also creates more opportunities for things to go awry.
Growing conditions can make a difference, too. Flower colors often change as the weather cools and sunlight diminishes in the fall, and stressful conditions — too much heat or not enough water, sunlight, or nutrients — can sometimes make double flowers bloom with fewer petals.
Most of these changes are only temporary (and often entertaining), but if you have a dahlia that bloomed all wrong this year, please let us know so we can send you a refund, credit, or replacement. And if you have a photo of one of our dahlias gone wacky in your garden, we'd love to see it! (Sept. 2014)
See Our Dahlias in Martha Stewart Living!
Thomas Edison, Gardener (and Dahlia)
Kristen Says "I Do" with Dahlias (and Andy Does Too)
Whenever someone tells us they want to use our flowers in their wedding, we get nervous. Sure, our flowers are gorgeous, and — since they're also traditional and enduring — they're perfect for the "something old" that every wedding needs. But garden conditions vary widely, the weather is always unpredictable, and plants aren't very good at sticking to schedules, so to have everything in bloom for that one special day — well, wouldn't that make you nervous?
Kristen was smart to choose dahlias. They hold up well in bouquets, one plant produces lots of flowers, and they continue blooming for weeks and weeks in late summer and fall, making it more likely that you'll have something to pick on the appointed day. Kristin says hers "grew and flowered like crazy," but since she'd never actually grown dahlias before, she "bulk-ordered roses, alstroemeria, and other flowers to include in the arrangements, so that even if the dahlias didn't grow well, we'd still have flowers." Happily, she says, "it all worked out and we had more flowers than we knew what to do with."
Bulbs in Pots: Our New Page of Tips for Tuberoses, Rain Lilies, and More
Every summer we decorate our front porch with pots of fragrant tuberoses and little pink rain lilies, while out in the back yard we tuck pots of glads in among the perennials to provide exclamation points of color.
Blog of the Month: Margaret Roach Talks Heirlooms with Scott
Millions of Dahlias Decorate Mammoth Floats for Dutch Parade
Here's a visual treat for all of us who are hungering for summer: the Corso Zundert, an annual Dutch parade featuring 20 spectacular floats, each covered with up to a half a million dahlias. It's like the Rose Bowl parade on steroids, or LSD. Started in the 1930s, it's an all-volunteer effort by the people of the small town of Zundert — Van Gogh's birthplace — and a local art school. Each float can be up to 60 feet long and three stories tall, and they're all decorated almost entirely with dahlias picked from 600,000 plants that are grown locally just for the parade.
Meet Our New Dahlia Farmers: Craig and Megan of Sun Moon Farm CSA
Ever since 1996 when we offered our first three dahlias, we've had the good fortune to have Nick Gitts and his family at Swan Island Dahlias growing most of our tubers for us. But a couple of years ago Nick called with some bad news. In order to devote more of their limited acreage to growing cut-flowers for the Portland farmers market where sales were booming, the Gitts would no longer be growing tubers for anyone else, including us. Needless to say, we were stunned. Happily, after talking it over Nick agreed to continue growing about a third of our treasures, and after a long search we found two other growers to entrust with the rest of them: Peter Komen in the Netherlands and Sun Moon Farm in New Hampshire.
Sun Moon Farm is a small CSA (community supported agriculture) farm run by husband and wife Craig and Megan Jensen. Although it's only a couple of years old, the land it's on has been continuously farmed since the late 1700s, and until recently it was home to The Meeting School, a small Quaker boarding school that made farming a cornerstone of its experiential learning. When the school closed in 2011, five young faculty members — including Craig and Megan — stayed on and eventually bought the property, closing on it just last month.
We met Craig and Megan through her mother Ann Lyzenga, a former OHG crew member who's an avid gardener and dahlia-lover. Dahlia-growing runs in Craig's family, too, Ann told us, and the couple were already growing a field full of dahlias to include in their weekly CSA shares. We talked, they came to visit, we hit it off, and most importantly we were convinced that they knew what they were doing and our dahlias would be in good hands at Sun Moon Farm.
Of course even the best laid plans sometimes go awry, and farming is never easy, but the first harvest of our tubers this fall was a pretty good one, and with record cold sweeping much of the country this winter we were glad to hear that Craig and Megan had added extra insulation and a milk-house heater to the tuber-storage room in the basement of their magnificent old barn.
Easy Underground Storage for Dahlias, Glads, Etc.
"It's easy to dig a hole about 24" deep and as wide as needed. . . . Then we put [the bulbs] in the hole and cover them with something like burlap that can let some air and water pass but that slows our shovel so we don't slice right through our prize when we reclaim it in early spring. Then we backfill the hole and put something like a bag of leaves on top to mark the spot and for extra insulation. We've been told we should be burying things 42 inches deep to be down where the soil stays at 40-50 F year round — below the potential frost line. Yet frost rarely gets that deep into the soil in our area. Even though the temperature may drop to -20° F, it doesn't hold there long enough to drive the ice that far into the ground."
Every garden is different, though, so if you decide to try Janet's technique we recommend starting with just a few bulbs to see how well it works in your soil and zone. And please let us know your results! We love learning from our customers. (late Oct. 2013)
It's Dahlia Season! And They're "Well and Truly in Vogue"
"Hurray! It's DAHLIA season here. No other plant can lift the spirits so effectively at this time of year. The vibrant colors and jazzy shapes are quite simply incredible. . . . Every garden, modern or traditional, should be home to a dahlia or two. And to think that a few years ago, they were out of fashion! Thankfully now they are well and truly in vogue." To which we can only add, amen! (Aug. 2013)
Dark-Leaved 'Bishop' Leads Oklahoma Blogger to Our Dahlias
In her popular blog, Red Dirt Ramblings, Oklahoma gardener Dee Nash recently wrote about the pleasures of spring-planted bulbs, especially dahlias:
"Dahlias Are a Bit Like . . . John Travolta"
"Dahlias are a bit like Winston Churchill or John Travolta. They too have had wilderness years when nobody really understood them and they floundered about, failing to fulfill their full potential. . . . The exact reason for their cultural exile is a little unclear. They were included in a general clear-out of what was considered naff, alongside pampas grasses, patterned linoleum, drip-dry shirts and hybrid tea roses. . . . This was a mistake. Admittedly, some of the varieties are too over-the-top for a normal garden . . . but there are so many others that to exclude them from our gardens was a crying shame.
"The late Christopher Lloyd was one of the first publicly to trumpet their advantages. For him it was mostly a matter of rebellion against the tasteful and refined world of the pastel-colored border: 'Faint-hearted gardeners cannot abide the way they flaunt their brilliant clean colors,' he said. Rather than growing them separately in cutting gardens or at the back of greenhouses, Lloyd advocated assimilating them into the herbaceous border and using their myriad shapes and colors in association with other plants. . . .
"Use them widely," Alexander-Sinclair concludes, "and use them well, especially in autumn borders. Nothing brings as much joy to a fading summer as the dahlia: they give pep to asters, succor to late salvias, vim to verbenas, and re-assurance to grasses. Most importantly, it is almost impossible to look upon a dahlia without smiling." (March 2013)
Hardier Than Expected: Last-Chance 'Yellow Gem' Survives Wisconsin Winter
"In the spirit of scientific inquiry, I left my 'Yellow Gem' in the ground this fall, too. If it survives our current winter with temperatures dropping to 0 degrees with no snow cover at all, I'll definitely let you know. I was really excited to see it return last summer, so I'm sad to see it disappear from your catalog. Thanks for selling it to me!"(March 2013)
Last Chance Dahlias: Order Now Before We Drop Them Forever
We're constantly searching for great old bulbs to preserve and share. But since our ark isn't as big as Noah's (and we don't have an all-mighty patron), in order to make room to add varieties we sometimes have to drop other ones. Unfortunately that means this spring is the very last time we'll be offering these seven wonderful dahlias:
Deciding to abandon any of our heirlooms is always a painful process. Our mission, after all, is to "Save the Bulbs!" But our shipping barn can only hold so many, and just like any other business we have to stay financially afloat. Some of our bulbs are so exceptional — so historically important, unusual, beautiful, fragrant, or whatever — that we'll keep offering them no matter what. But we can't do that for all of them, and when a variety doesn't sell well, despite our best efforts to showcase its awesomeness, we sometimes have to let it go.
Can You Guess Which Dahlia was "The Cynosure of All Eyes" in 1927?
Although its name is a mouthful, and it came so close to extinction that only one gardener was still growing it, this dahlia was once hugely popular. As the 1927 Scheepers catalog reported breathlessly:
"For its beautifully charming color, for the very large blooms, and for its very long, strong, wiry stems, this variety was the cynosure of all eyes of the dahlia critics at the exhibitions; a refined, lovely, sweet color, deep mauve pink. . . . Extremely strong grower, very free bloomer, splendid for exhibition and for the garden, it is of the greatest merit."
Book of the Month: Clair de Lune, Dahlia and Werewolf
Hot Summer = Dahlia Hell
The blistering weather that ravaged Texas and Oklahoma last summer was just the tip of the (melting) iceberg, it seems, as this year more than half of the country is suffering from record-breaking heat and drought. Farmers, of course, have the most on the line and our hearts go out to them, but it hasn't been much fun for gardeners this summer either.
The good news is (a) you're not depending on dahlias to feed your family through the winter, (b) as fall approaches and temperatures start to cool, the ones that are still alive should kick back into gear and bloom until killing frost, and (c) there's always next year — which, as every gardener knows, is one of the great things about gardening. (August 2012)
"As Blowzy as Half-Dressed Renoir Girls"
"Looking at my dahlias one summer day, a friend whose taste runs to the small and impeccable said sadly, 'You do like big, conspicuous flowers, don't you?' She meant vulgar, and I am used to that. It hasn't escaped me that mine is the only WASP garden in town to contain dahlias, and not the discreet little singles either. Some are as blowzy as half-dressed Renoir girls; others are like spiky sea-creatures, water-lilies, or the spirals in a crystal paperweight; and they do shoot up to prodigious heights. But to me they are sumptuous, not vulgar, and I love their colors, their willingness to bloom until the frost kills them and, yes, their assertiveness. I do like big flowers when they are also beautiful." (2011-12 catalog)
Our Old Dahlias Win at Country's Oldest Fair
It was only fitting. At the country's oldest agricultural fair last summer, our old dahlias came out on top — thanks to the green thumb and competitive spirit of our good customer Ed Perlmutter.
Founded in 1818, Massachusetts's Topsfield Fair is the granddaddy of thousands of county, state, and other agricultural fairs established by farmers in the 19th century to showcase their crops and animals, to learn from one another, and to have fun.
Dahlias (and More) for Mrs. Roosevelt
Although you'd never expect to see furniture from Ikea in the parlor of a historic house museum, the gardens of historic sites are often full of modern plants. This is gradually changing, though, as the best sites work to make their gardens more authentic and engaging. This spring, for example, Anna De Cordova ordered a dozen of our heirloom dahlias, explaining:
NYBG's "Monet's Garden" to Feature Our Dahlias . . .
A blockbuster exhibition this summer at the New York Botanical Garden will showcase Monet's garden at Giverny — and our heirloom dahlias! The multi-faceted event runs from May 19 through October 21 and will include paintings, photographs, films, concerts, lectures, poetry readings, a special app, and spectacular plantings.
"We are recreating Monet's garden at Giverny," the NYBG's Marc Hachadourian emailed us, "and the exhibition director thought that it would be great to have a large heirloom dahlia element as a part of the show's continual display this summer. Naturally I am turning to you to see if you could help supply us with the dahlias from your extensive and wonderful list of plant material." We were thrilled to help, and five tubers each of 25 of our oldest dahlias will soon be on their way to the NYBG.
. . . And So Will Belgium's Bokrijk Museum!
Love Letters to Our Dahlias
Every spring, more and more of our customers try our dahlias — and many get so excited when they bloom that they send us happy emails like these:
Renoir and the "Magnificent Red Dahlias"
Staff Pick of the Month: Botanic Superpowers and Kelly's Favorite Dahlias
Kelly, our Micro-Farms and Shipping Manager writes:
"The older I get, the more I am awed by nature's ingenious strategies for dealing with extremes. For Christmas my nephews gave me a moss terrarium with dry, dormant moss ready to start growing again as soon as I provided water. It's a superpower, this ability to go dormant for a few months till it gets wet or warm again. I covet that ability, especially in winter. Oh, the burden of being a mammal.
"On the up side of mammal-hood, I had some time off over the holidays. Along with eating lots of cookies, I took a moment to check on my stored dahlias. And speaking of superpowers, how miraculous is a tuber? That a spectacular plant stores its energy and DNA in this compact unit that can sit dormant till spring — wow. Mine were holding steady, not too dry, not too moist, just waiting patiently.
How to Make Your Dahlia Bouquets Last Even Longer
Berkeley Botanical Garden Adds Heirloom Dahlias
Monet the Dahlia Lover
Link of the Month: Studying Dahlias at Stanford
Heirloom Bulbs for the White House Garden
Gardeners of all political stripes can agree on at least one important issue: the White House vegetable garden is a good thing. This spring, to thank First Lady Obama for inspiring so many gardeners and would-be gardeners, we sent her three of our favorite heirlooms to plant in her garden. "Although they're not vegetables," we wrote, "all three have traditionally been grown in vegetable gardens across America. They attract pollinators, they make great cut-flowers, and, as [Scott's] grandmother used to say, they just look pretty out there."
We'll probably never know whether our bulbs make it into the First Garden, but that's okay. As with any gift, it's the thought that counts, and one of gardening's greatest pleasures is imagining what could be. (May 2011)
Best-Selling Author Sends Us "Dahlia Love"
Bright Spot of the Month: Dahlias for Veterans
Dahlias in Hollywood
Steve: "Does your love of gardening extend to the ornamental side of things?"
Megan: "Not usually. But recently, I was on my way to an audition for a really big movie. Out of the corner of my eye, I saw a garden center with this sign: 'Clearance — Everything 75% Off.' So I hit the brakes, pulled over my little Toyota Prius, went in, and saw the most beautiful dahlias, in every color of the rainbow. I bought as many as I could, jammed them into my car, and went to the audition. I parked in this insanely expensive Beverly Hills parking lot just because it was shaded. So I had all my windows down and my dahlias in there. And the whole time waiting for my audition, I kept saying, 'Can we hurry it up?' And they said, 'Oh, do you have another meeting?' And I said, 'No. I have dahlias in my car!'"
Steve: "Did you get the part?"
Megan: "I did not get the part. I think maybe my focus was elsewhere. But I still have the dahlias." (March 2011)
Cool Calendars for Dahlia Lovers
The No Longer Secret History of 'Sellwood Glory'
High Heat Stresses Your Bulbs, Too
Of course some bulbs love the heat. In many gardens this summer, cannas, tuberoses, and rain lilies have been especially happy — and we hope you've been enjoying them. (August 2010)
Tiger Lilies and Dahlias in The Gardens of Frank Lloyd Wright
Blog of the Month: Each Little World Says "Go Big Red!"
More Love Letters to Our Dahlias
Bees, state fair judges, and at least one happy bride think you ought to give our dahlias a try.
"You Can't Grow Dahlias Here," the Neighbors Said . . .
First-time dahlia grower Marie Ivey decided to persevere, even after the neighbor ladies pooh-poohed her plans. She writes from Ruidoso, New Mexico, 6900 feet up in the Rockies:
"Well, the growing, blooming, beautiful season is over, and I must tell you about my 'Dahlia Saga'. When I first started digging and planting, I had several neighbor ladies tell me how they won't grow up here in the mountains, I had just wasted a lot of my time, sore knees, and money. When my dahlias started growing, though, they shot up to over six feet tall. I couldn't believe it! Then, the blooms came, and oh my goodness, were they ever beautiful!!!
"A woman who lives a few blocks over told me she thought they were fake, so she waited till my husband and I were gone one day, and came up in our yard to feel of them. And the ladies that swore dahlias wouldn't grow up here, well, let me just say inside I was crowing. My husband swears that I can sell these beautiful blooms. I gave away so many bouquets this summer. Next spring, I'm expanding my flower beds, and planting more. Thank you for giving me such a beautiful garden this summer!"
How About a Nice Dahlia Salad?
Echoes from the Great Depression: High Praise for 'Jane Cowl'
Park offered "tubers at 25 cts. each, or five for $1.00," and though we can't match those prices today we do agree with him that smart gardeners will "Order promptly." (April 2009)
Wisconsin's Favorite Dahlia: The Secret Life of "Catherine Becker"
Century-Old 'Little Beeswings' Stars at National Dahlia Show . . .
. . . And Earns Rave Reviews in South Carolina
1820s Philadelphia: Dahlias in the Cellar, Cannas in the Hall
Dahlias: All in the Family
Dahlias you grow yourself can be better than any you buy, as 0ur good customer Theodora Alves of Nevada City, California, discovered this fall:
Dahlias in Florida (and Another Sniff of Abyssinian Glads)
How to Make Your Dahlia Bouquets Last Even Longer
'Kaiser Wilhelm': Now Even Older
Read Scott's "Savoring Dahlias" Article in Old-House Journal
When Perennials Aren't Enough: A Husband's New Love
Can the right flower strengthen your marriage? Maybe! Our good customer Audrey Kilgore of Akron, Ohio, writes: "My husband is new to the 'Dahlia Affair' — for what else can you call loving dahlias? He said none of our perennials lasted long enough and he wanted something tall that bloomed all summer into fall, so I thought about it. The only plant I knew that was easy to grow and filled this need was dahlias. I planted two tall ones this past summer. They were beautiful, and he counted the many butterflies and bees that visited them. He is hooked!" (March 2008)
'Bloodstone': Friend of Gladiators
So there you go – more good reasons to plant 'Bloodstone' this spring! (Feb. 2008)
Link of the Month: Elegant Vases, Our Dahlias, and Martha Stewart
Thanks, Frances! We want one of everything you make! (Jan. 2008)
Tips for Storing Dahlias (But Only If You Want To!)
Praise of the Month: 'Thomas Edison' Dahlia
Our good customer Kathy Winkelman of Sacramento, California, writes:
Combo of the Month: 'Andries Orange' and Sizzling Partners
Our good customer Becca Brown of Worcester, Massachusetts, writes:
Garden Expert Says "Let Them Freeze!"
What's Eating My Dahlias?
Buried Pots Make Dahlia Growing and Storage Extra Easy
Steve adds: "Dahlias grow well in large pots, and I have not seen a significant difference between plastic and clay. I will plant a dahlia . . . in a two-gallon plastic pot and let it get well-established before digging a hole and placing it in the garden. I bury the pot about one inch below the soil line. At the end of the season this pot can be dug easily out of the garden without damaging the roots of the dahlia or surrounding plants." (March & April 2007)
Mmmm, What a Delicious Dahlia!
'Little Beeswings' — Cute Dahlia, Great Song
Most gardens are rich with significance that may elude the uninitiated. Here's an unusual example from our good customer Debra Knapke of Columbus, Ohio:
"His voice is very distinct," Deb says, "and the song is a haunting ode about a free spirit and a doomed relationship. Heavy!" (Aug. 2006)
When Bi-Color Dahlias Aren't: Blame the Heat
High temperatures often cause dahlias to slow their growth, too, but don't worry. They'll kick back into gear as temperatures cool and reward you with arm-loads of blooms in the fall. (July 2006)
Find a Spring Dahlia Sale Near You
More Success with Dahlias in the South
And Judy Blackwell of zone-7 Benton, Arkansas wrote to say, "Dahlias thrive in my yard, so much so that when I inadvertently threw some away when cleaning out pots in the fall and they ended up in a nearby drainage ditch, they grew the following spring. No fertilizer, no mulch, no nothing. They bloomed all season." (Editor's note: Naturally we don't recommend this technique!) (March 2006)
Can the Queen of Autumn Take Southern Heat?
Dahlias for the Hungry
Phyllis Valle of Milford, Michigan, has been buying bulbs from us since 2000. Here's one good reason why:
"My friend Andrew Berry is an avid gardener, and he especially loves dahlias. I give him your bulbs for his birthday every year. In the summer he takes bouquets to his church every Sunday and they auction them off to the congregation. His wife Jayne says he averages $60 a week, all of which goes to the church's mission for the hungry." (March 2006)
Dahlia Survivor is King of the Compost Pile
Our good customer Robin Schachat of zone 6/7 Brooklandville, Maryland, emailed us after reading about hardy dahlias in our December newsletter:
"I had a lot of dahlias come back this year, too. My last season's compost heap was crowned by a HUGE dahlia plant, probably four feet wide by three feet tall, blooming orange-red, visible at 100 yards. The effect was glorious, especially when it was surrounded by writhing vines with glowing orange gourds (another of last year's volunteers). I wonder what I'll get growing from this year's heap?" (Jan. 2006)
Busy Mom Discovers Dahlias Hardy in Zone 6
We aren't making any promises, but our long-time customer Janet Atkinson of zone-6 Sleepy Hollow, NY, writes:
"Your dahlias are TOO HARDY!!! 90% of the ones I got from you last year came back, which on top of this year's collection, created quite a dahlia jungle. I'm not really complaining, but I think I may need to curb this bad dahlia-ordering habit I'm developing. I always want all of them!
"I left all of them in the ground. Lots of good intentions, but once the kids' soccer season starts, there's never as much time for gardening as I would like. The ones planted against the house have come back for two years now, but last year the ones in a more exposed bed came back, too, hidden by hollyhocks so that I didn't realize until they had swamped my oregano and mint. They look pretty fabulous though! Thanks." (Dec. 2005)
OHG Helps National Collection of Dahlias
Over the years, Sarah Thomas of the British National Collection of Dahlias has helped us add many great old dahlias to our catalog, and happily we've been able to help her, too. This spring she asked us for five dahlias she couldn't find over there: 'Bitsa', 'Gold Crown', 'Nita', 'Oreti Kirsty', and 'Tinker's Tim'. We tracked them down at three different growers and sent them to the Collection in May. Yes, Sarah was delighted! (June 2005)
Matthew's Favorite Dahlia Bouquet
Our awesome [former] trial-garden manager Matthew Scott writes:
"Dahlias are my favorite plant by far. They bloom for months, and in the fall when many gardens are full of yellow flowers, dahlias offer a wide array of other colors. They also make great cut flowers. For brightening up your dining room table or taking to a friend's house, nothing is better than a big bouquet of dahlias you grew yourself.
See Our Dahlias in Traditional Home
'Jersey's Beauty' Decorates Altar Again — 67 Years Later
Our good customer John Dennis of Amityville, NY, writes:
"But it's as a son, not a gardener, that I really write. I had been searching for 'Jersey's Beauty' ever since discovering — in the yellowed newspaper write-up of my parents' wedding in August of 1937 — that both the church and their at-home reception had been liberally decorated with that flower. Combing all known U.S. sources, as I did for several years, turned up nothing. I was resigned to never seeing the bloom my parents, both recently departed, had specifically chosen for their happiest of days.
"But thanks to you, the treasure is now once again blooming in Mom and Dad's home town. Most exciting of all to me is that this year their anniversary falls on a Sunday, and the altar of the little country church in which they were married 67 years ago will once again be decorated with the self-same blooms as it was on that day, this time from my garden. My gift to them.
"Thank you so very much for helping me close a wonderfully sentimental circle in my family's history. I will treasure my 'Jersey's Beauty' dahlias year after year, and share them as widely as possible. And be assured that I will be back for more varieties next year. New no longer has the flashy appeal it once did. How much more grateful we ought to be for Old." (Oct. 2004)
Green Scene Spotlights Our Dahlias
Style Alert from Garden Design: Glads and Dahlias Are Cool Again!
So, be cool! Order some great old glads and dahlias for spring planting! (March 2004)
Fine Gardening Spotlights Our "Antique Beauties"
Who Is Bishop of Llandaff and Why Is He Living in My Garden?
Our Customers Write: Hooray for Dahlias and Glads!
Last month, we asked you to tell us why you do or don't plant spring-planted bulbs. To all of you who responded, thank you! Here are bits of what you shared with us.
"I always plant dahlias, which take the exact same amount of care as tomatoes, which of course are worth it in every garden everywhere," says Leslie Swartz from Hollister, California. "I always plant a few glads, too, because they are foolproof — no feeding, no extra watering, planted in unamended adobe clay soil."
"We lived in a condo, and I found that dahlias and glads did very well in containers," writes Kae McDonald of Glenwood Springs, Colorado. "Dahlias occasionally have a short blooming season depending on the first frost, but I have been known to cover them at night for a month to keep them blooming . . . . Starting them inside helps, too." (Jan. 2003)
Liz's Favorite Dahlia
Our beloved [former] office manager Liz Rother writes:
High Heat & Dahlias
Though your dahlias may have stalled and looked stressed this summer, chances are they will revive in the fall — which is their glory season. They're native to the highlands of Mexico and like it cool. For best bloom, give them plenty of water and don't forget to fertilize. (Sept. 2002)
Red-Hot 'Bishop' Inspires Denver
Hippopotamus Dahlias
"It may be true that men like bigger flowers than women do. Whenever I have seen a dahlia a foot or more in diameter, I have been lost in admiration. It makes no difference that such flowers are not 'useful' in a vase of blooms. Such a flower is like an elephant, a walrus, or a hippopotamus — marvelous in itself, apart from its usefulness as a watchdog or a pet." (1999-2000 catalog)
Wave Hill "Jump Starts" the Fall Garden with Dahlias
"By August . . . here at Wave Hill . . . we are in the final acts of a great opera, but the dahlias, for one, are unaware of the coming frost. They are large, leafy, and colorful . . . . They may need staking, but there isn't a better way to jump start a tired garden in late summer, provided there is plenty of sun. While other late-blooming perennials begin to fail, the dahlias keep the party going, their colors complementing the changing foliage." (1998-99 catalog)
---
For articles on other topics, see our main Newsletter Archives page.