Here's a wealth of information about BULBS FOR THE SOUTH and other warm places from our email Gazette and past catalogs, starting with the most recently published. For other topics, please see our main Newsletter Archives page.
To subscribe to our FREE email newsletter, click here.
---
For more expert growing advice, see our
For a quick list of bulbs for any warm-climate garden, use the "Hardiness Zone" option at our awesome Advanced Bulb Search.
---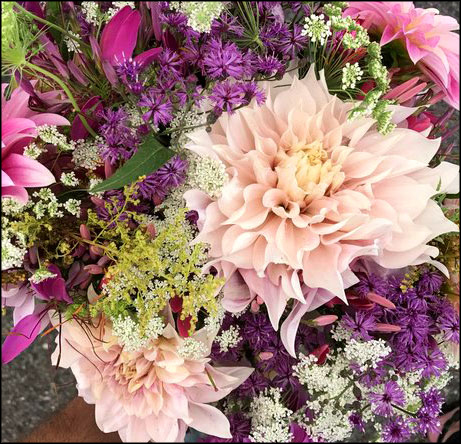 When we opened the September issue of Southern Living recently, we were surprised to find a big, beautiful dahlia staring at us from the first page of the lead article.
Dahlias like cool nights, so growing them in the South can be a challenge. But just outside zone-8a Birmingham, Deborah Stone grows them commercially for cut-flowers at her Stone Hollow Farmstead. In the article, Stone offers tips for success with dahlias in the South such as waiting until several weeks after the last frost date to plant them and giving them some protection from the hottest, midday sun.
A handful of heat-tolerant dahlias are mentioned in the article, including jewel-toned 'Juanita' and dark-leaved 'Bishop of Llandaff', and a dozen of "Deborah's Favorite Dahlias" are pictured, including dreamy 'Café au Lait' (pictured here), frilly 'Tsuki Yori no Shisha', and deep purple, always dependable 'Thomas Edison'.
To learn more about how you can grow dahlias in the South, see our tips from experts and customers at oldhousegardens.com/DahliasForHotNights . (Sept. 2018)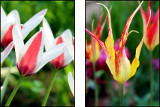 Two of the most unusual tulips we offer are the peppermint-striped T. clusiana, and stiletto-petalled T. acuminata – both of which have been grown and loved by a couple of unusually creative Southern gardeners.
In his 1993 classic The Well-Placed Weed, the celebrated Atlanta-area garden designer Ryan Gainey featured a masterfully harmonious planting combination: T. acuminata alongside American columbine (Aquilegia canadensis) in an informal cottage garden display where the red-and-yellow colors and wispy shapes of the two flowers echo one another perfectly.
A half-century earlier, the great American author Eudora Welty wrote to a friend from her home in Jackson, Mississippi (as quoted in One Writer's Garden), "Species tulips are hard to get now, but I love them best. You know, the little wild tulips that still have lightness and grace and perfume and the clear delicate colors that I guess all original flowers had. One is clusiana, that you know, the white and red striped tulip with violet blotch. . . . They are all small and sort of bow in the wind and flare up." (June 2018)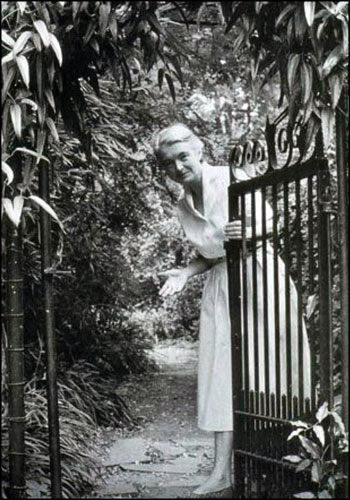 "I belong to that great fraternity whose members garden for love," the eminent Southern garden writer Elizabeth Lawrence wrote in 1981. "They are called Brothers of the Spade" – a term first used in the 1700s by the great British plant collector Peter Collinson.
"Some own estates, some are directors of botanic gardens, and some have only small back yards," Lawrence continued, but all are "amateurs in the true sense of the word – they garden for love." (The Latin root of amateur is amare, to love.)
Together these garden lovers "keep in cultivation many a valuable plant that would otherwise be lost. Among them they preserve a reservoir of plants that could never be collected in any one place, even an institution, for the preservation of plants depends upon individual efforts, and it is only in private gardens, in lonely farm yards, and around deserted houses that certain plants no longer in the trade are found."
Are you gardening for love? Are you nurturing plants in your garden that have all but disappeared everywhere else? If so, you're one of us, and we're proud to be gardening alongside you in the immortal Fellowship of the Spade! (May 2018)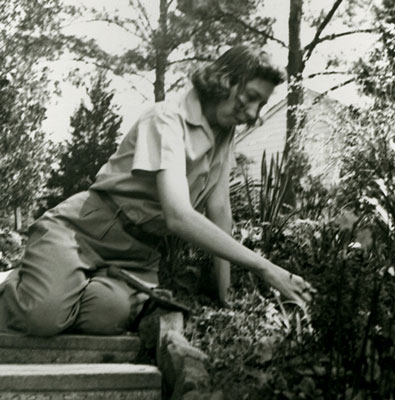 That's not just any woman weeding her garden in this 1940s photograph – that's the iconic Southern writer Eudora Welty.
Welty was a lifelong gardener, and in a conversation shortly before her death in 2001, she talked about gardening, her work as a writer, and finding wonder:
"I think that people have lost the working garden. We used to get down on our hands and knees. The absolute contact between hand and the earth, the intimacy of it, that is the instinct of a gardener. People like to classify, categorize, and that takes away from creativity. I think the artist – in every sense of the word – learns from what's individual; that's where the wonder expresses itself." (Feb. 2018)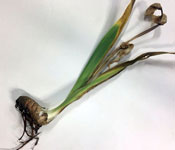 Warmer than usual winters can cause all sorts of problems for plants, including bearded iris. In a recent post at the AIS blog, World of Irises, Bonnie Nichols of zone-8a Dallas explains:
"In December [last year] when the Christmas Day temperature was 82 degrees . . . , we knew the iris bloom season was in jeopardy. And, it didn't get better when on January 31 the high was 79 degrees.
"When I saw various bearded irises blooming in December and January, I asked friends if they thought it was rebloom or what would have been our spring bloom. We all had no idea. In April, we knew [it] was the 'spring' bloom because we . . . had no additional bloom. Maybe 20% of tall bearded irises bloomed. . . .
"We saw more than normal increases on some of the plants because they did not use their energy to bloom. On other plants we noticed something that we had not had much experience with – 'lightbulb' rhizomes. Lightbulbs are rhizomes with no increases and the roots wither away. . . . The rhizome increases in size and twists slightly as if it is pushed out of the ground. [If it blooms] the stalk comes up in the middle of the fan and dies back quickly. The rhizome eventually dries up and dies also. . . ."
Commenting on Bonnie's post, Phil Williams offered an alternative explanation: "Strong root growth is what produces good spring bloom here. Makes me wonder if the prolonged heat [in summer and fall] might have created a false dormancy . . . , and the plants did not root deeply."
Either way, warmer temperatures are the culprit. Is that global warming? Bonnie says she's not sure but "I'm beginning to believe it is." (Dec. 2017)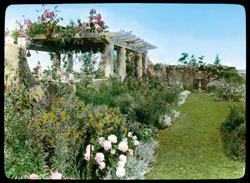 "Gardening in a Golden Age" is the theme of this year's Conference on Restoring Southern Landscapes and Gardens scheduled for Sept. 21-23 at garden-rich and always fascinating Old Salem.
Focusing on the early 20th century, the conference kicks off with the hand-colored magic lantern slides of photographer Frances Benjamin Johnston in "Picturing the American Garden, 1900-1930." Other lectures and tours will explore Ellen Biddle Shipman's work in Winston-Salem, African-American landscape architect David Williston, garden writing and art in the early 1900s, and more.
The conference will be rich in the camaraderie of kindred spirits, too – and I'm speaking from experience. To learn more or register, visit oldsalem.org/events/event/landscapeconference/. (July 2017)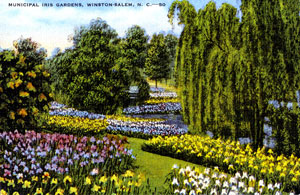 Does your city have a municipal iris garden?
That seems very unlikely, which is why I was so surprised when this postcard arrived in the mail recently.
It's a modern reproduction of a 1949 postcard showing the "Municipal Iris Gardens, Winston-Salem, NC." On the back it reads: "The Municipal Iris Garden contains 20,000 plants, of 525 varieties. The blossoms range from pure white to deep purple, gold, and dark red, and are at their best during May. Weeping willows and rustic bridges add to the beauty of the rolling parkway."
20,000 plants – of 525 varieties! I had to know more, so I contacted the folks who sent the card – which announces the 2017 Conference on Restoring Southern Landscapes and Gardens– and here's what I learned.
"The development of the gardens to their present state of beauty is a typical Cinderella story," the Twin City Sentinel reported in 1938, "with many local iris growers acting as fairy godmothers."
It all started in the early 1920s when a new neighborhood was laid out which included a four-acre "gully-way" that was left untouched "since there seemed no other purpose it could serve."
Although today we'd probably consider it a valuable natural area, times were different then and in 1931 a doctor who lived nearby urged the city to beautify it with iris donated from his own extensive gardens. Iris were enormously popular at that time, and before long other neighbors joined the campaign and the Municipal Iris Garden was born.
The city parks department cleared the land, planted weeping willow trees, built stone and rustic-work bridges over the stream, and laid out gracefully curving beds. By 1938 the Twin City Sentinel reported that "Winston-Salem's iris attract visitors from all parts of the state. From an unattractive gully the city parks department has transformed Runnymede Parkway into one of the most popular parks in the city."
But that was then. By the early 1950s the iris had been replaced with lower-maintenance azaleas, and today even those are gone. The stone bridges still stand, though, bearing silent witness to the park's glory days – and who knows what the next chapter might be for this Cinderella gully-way?
For additional images, visit digitalforsyth.org/photos/browse/places-gardens-runnymede-iris-gardens.
For your own little iris paradise, see the 17 heirloom iris we're shipping this spring.
And many thanks to Camilla Wilcox, Kay Bergey, and Martha Hartley for sharing this remarkable story with me! (Feb. 2017)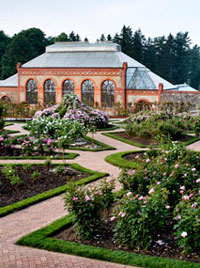 You don't have to be a Southerner to appreciate the Southern Garden History Society, and a recent makeover has made its website better than ever.
The site is now filled with photos and antique images, and it's user-friendly on all devices. Back issues of its excellent journal Magnolia are now searchable, and there's an events calendar, dozens of book reviews, and links to historic sites and organizations.
Maybe best of all is the "Plant Lists" section, a fully searchable PDF of 50 Southern plant lists spanning two centuries, from a 1734 list of plants in the correspondence of John Custis of Williamsburg to a 1922-41 list of plants Beatrix Farrand specified for Dumbarton Oaks (including winter aconite, trillium, and lemon lily).
One of my favorite lists is a 1786 newspaper advertisement for Philadelphia's "Peter Crouwells and Co., Gardeners and Florists" announcing that "they have for sale here" – in Alexandria, Virginia – "an extensive variety of the most rare bulbous flowers, roots and seed," including 600 hyacinths, 400 tulips, 40 double narcissus, and 26 jonquils. "Those ladies and gentlemen who want any of the above articles," the ad continues, "will please to apply immediately at his lodgings at Mr. John Gretter's, King Street, as he intends to set off for Baltimore in a few days."
Even if you can't make it to King Street in time, there's still a lot to enjoy at southerngardenhistory.org. (Oct. 2016)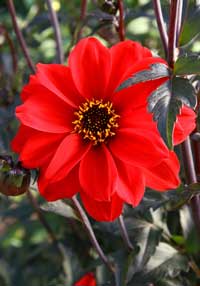 Although the West Coast drought has eased a bit, we thought you'd be interested in this success story from our good customer Pat of zone-9bWC San Jose. We can't guarantee it will work for you, but . . . .
"I grew some of your 'Bishop of Llandaff' dahlias last year and found them great for our arid climate. I planted them very deep, maybe a foot down, which is low enough for our clay soil to remain moist with almost no watering, if you can believe it. Maybe once a week.
"I followed the directions at your website and put the tubers at the bottom of the hole and then filled in soil little by little as the leaves emerged, which they did very quickly.
"My tiny garden on the west side of our garage gets a good five to six hours of blazing, direct sun and then light shade later in the afternoon. Since we're in a valley and not near the ocean, nights are generally cool and dry. [OHG: This is exactly what dahlias love!] The plants wilted on the hottest days but they perked up afterward, as you'd see with tomatoes or potatoes.
"Thank you for letting me ramble on. No one in my family is interested. My neighbors like all the free flowers, though! I give quite a few away." (April 2016)
Congratulations to our friends at Southern Living who are celebrating the iconic magazine's 50th anniversary this month! February's special double issue includes 21 of the magazine's vintage front covers, 50 years of Southern recipes such as hummingbird cake (1978), and even a blooper section of "not-so-golden moments that we just couldn't keep to ourselves."
Gardening has always been an important part of Southern Living, and this issue is no exception. In "The Seed Saver" you'll meet our friend Ira Wallace of Southern Exposure Seed Exchange. "The Camellia Man" spotlights Tom Johnson, curator of the nation's largest collection of historic camellias. And then there's Southern Living's long-time garden editor Steve Bender– who's also a long-time supporter of Old House Gardens – with "50 Golden Rules of Gardening."
Steve calls himself the Grumpy Gardener, and though his rules may be the funniest garden tips you've ever read, they're full of sage advice. Don't miss his introduction, too, where he says that gardening is like cooking, and the best way to learn it – and to discover how much fun it is – is by doing it. When people tell him "Gardening is too hard. There is so much to learn. I just know if I plant something, I'll kill it," he replies, "Of course you will! Everyone who has ever gardened since Adam and Eve has killed a plant. That's how we figure out what works and what doesn't."
And gardening, Steve says, is "the most gratifying of all human endeavors" – even "better than an accordion concert" or "fine aged possum." (Feb. 2016)
We love it when our customers use the "Special Requests and Feedback" section of our online order form. That's where Gaye Ingram of Ruston, Louisiana, made this plea:
Being soft-hearted souls, we said yes, and when she replied, Gaye told us this story:
"Thank you! I've pursued that particular bulb (or what I believe is that bulb) since 1968. Not even 25 years old but with degrees almost in hand, my husband and I arrived in Ruston that year to teach literature (me) and history at Louisiana Tech. We found a sweet little 1930s house on a shady street that had belonged to the mother of the chair of the Interior Design department. We felt like grown-ups!
"In spring, tiny little cream-colored daffodils with nodding heads sprang up on the lawn. I'd grown up in Central Louisiana among people whose yards and gardens were filled with passalong plants and bulbs, but I'd never seen such a demure spring bulb. I marked them and vowed to dig one or two in the fall.
"Then we moved to another place, and built a new house. I searched ever after for those quiet creamy bulbs. Went back to the place where we'd lived, but the owners had seen no bulbs. Without care and probably having their leaves mowed in late spring, they'd given up the ghost.
But we're hopeful that Gaye now has the sweet little daffodil she fell in love with almost 50 years ago – and if you happen to be growing the beloved Southern heirloom known as goose-neck, swan's neck, or silver bells, we'd love to hear from you! (Nov. 2015)
Learning from California: Gardening with 28% Less Water
Congratulations to our friends in California who, faced with what's been called the drought of a lifetime, have cut their water use by 28% in the first three months of state-mandated reductions.
In September, my wife and I saw the drought first-hand while visiting our son and daughter-in-law in San Francisco. Plants drooped, dead leaves littered the sidewalks, and lawns in the city's parks sported signs proclaiming "Brown is the New Green."
It's no wonder our orders from California are down 25% this fall! But bulbs, ironically, are built for drought. Many have evolved in areas where summers are so dry that to survive they have to hide out underground. Tulips, hyacinths, alliums, Byzantine glads, freesia, and oxblood lilies, among others, actually do better with dry summers — although they need some water in fall through winter to develop roots and more in spring to grow leaves and bloom.
In August the Pacific Horticulture Society newsletter offered some excellent tips for xeric gardening, by editor (and OHG customer) Lorene Edwards Forkner:
"Recently I read some great, if somewhat blithe, advice from garden writer Amy Stewart on tending a low/no water garden:
"1. Plant drought tolerant plants.
"2. Wait and see what dies.
"3. Plant more of what didn't die.
"You can read the entire piece at The No-Water California Garden.
Lorene also recommended "Adventures in Growing" about an American woman "creating a fertile landscape in Saudi Arabia and winning the hearts and minds of its caretakers," this advice from "the great minds at Flora Grubb Gardens," and Jeff Moore on the "Generosity of Succulents."
"Then hit those fall sales," she concluded, "for a dose of colorful, graphic, and resilient plants that take dry weather in stride" — including our fall-planted bulbs! (Oct. 2015)
In the highlands of Mexico where dahlias originated, the nights are always cool, and most varieties today still need those cool night temperatures to grow and bloom well. Some are more heat-tolerant, though, and we recommend these through zone 8 in the South and Southwest – as noted in our dahlia chart.
To expand our list of heat-tolerant dahlias, we'd like to hear from you if you garden in zone 8 or warmer in the South or Southwest. Which of our dahlias have thrived for you, and which haven't?
Here's one recent success story from zone-8b Mobile. (Read more at our Dahlias for Hot Nights page.) Our good customer Glenda Snodgrass emailed us last November to say her mother-in-law, Barbara Adair, bought a 'Thomas Edison' dahlia with a gift certificate Glenda had given her. "I told her dahlias couldn't be grown in Mobile, but she said her mother always had dahlias here, and I've had to eat some crow because it bloomed last week and it's beautiful!"
Barbara grew her dahlia in a large clay pot on her deck. (Pots can be tough for dahlias, but see our Bulbs in Pots page for tips.) "North side, full sun in morning, some shade during the day, until late afternoon full sun," she explained. By mid-October the plant was six feet tall and the first flower opened. "It's a darker purple than it looks in your catalog," Barbara wrote, "a real beauty!"
Please help us guide other gardeners by telling us how our dahlias have done for you in the heat of the Deep South and Southwest. Thanks! (Oct. 2014)
Teach Us, Please: Where (and How) Do Pink Surprise Lilies Grow Best?
1. If you garden in zone 6a or colder: Is pink surprise lily winter-hardy for you, and do you have any tips — sunlight, soil, planting depth, watering, winter protection, etc. — for getting it to multiply and bloom happily?
2. If you garden in zone 8a and warmer : Is pink surprise lily thriving for you, and do you have any tips — sunlight, soil, planting depth, watering, winter protection, etc. — for getting it to multiply and bloom happily?
Grow Your Own Ryan Gainey Bouquet: Tiger Lilies and Crocosmia
Elizabeth Lawrence (and Friends) on the Old White Trumpets
Eternal Spring in Alabama
A hand-written letter arrived here earlier this spring from our good customer Carolyn Brown of Creola, Alabama, and it was so joyful and inspiring, we wanted to share it with you:
"How I wish you could see your beauties in my colonial garden," Carolyn writes. "My breath catches as I gaze upon the beauty. Why so few people here in the South have bulbs, I'll never understand. As the daffies sway in the wind I'm reminded of Wordsworth's poem "Daffodils." How excellent a description it is.
"In your eighties, each day is more joyful than the day before, and the daffodils are prettier each day. I do hope God has daffies in heaven and I can plant acres and acres of them.
"My husband, Bob, has always said vintage roses are his favorite flower. He has around 150 this year. However he said my bulbs are getting to be his favorite, and they are far less work. In fact, he urged me to make this order [for the coming fall]. I try your smallest amount first and see how they do here and then I go for a larger amount. I'm going to start on hyacinths next.
"Give the little dog a pat and a rub for me. Keep up your good work and save as many bulbs as you can. And thank you all for giving an 80+ gal a wonderful life and joy with the beautiful — as my husband calls them — 'daffy-down-dillies.'
"Your Garden Pal, Carolyn B." (May 2014)
French Jonquils: Did "Early Louisiana" Get its Start in New Orleans?
Crinum's "Sticky Candy Aroma" Brings Back Memories of Grasshopper Sticks
Bulbs for Partial Shade, South and North
"Spring-flowering bulbs grow and bloom from energy stored within the bulb the previous year," Marian explains. "For repeat bloom, gardeners must maintain nutrient-rich and moist soil conditions to nurture the bulb until foliage dies back and the bulb becomes dormant. Of course, this is also the most important time for bulb foliage to receive the maximum amount of sunlight. For success, shade gardeners should select bulbs that flower early, so foliage has time to restore energy to the bulb before trees produce a new crop of leaves."
Peonies Thrive for Betty in Dallas, Despite Our Warning
When you ship flower bulbs to all 50 states, you learn a lot from your customers. For example, when we warned Betty Brownlee of Dallas that we didn't recommend the peonies she was ordering for her zone-8a garden, she replied: "Please leave my order as is. I have a spot on the north side of my house that peonies love. I had 70 blooms last year. Thank you."
"Chilly Lilies" Announce the Coming of Fall
'Challenger' Daylily Proves Its Worth to Arty in Atlanta
"It was tall, however, rising to five feet or more, and extended my daylily season by beginning to bloom weeks after my other daylilies. I decided to keep it around a while longer instead of immediately casting it out of my little Eden.
"I am glad I did; 'Challenger' has proven its worth. It wasn't exactly what I expected, but now I am quite fond of it. . . . Have you done this with plants as well, dismissing them without taking the time to learn their virtues? Unfortunately, I've also treated people that way. I'm trying to do a better job giving plants and people a fair chance."
Silver Bells, Presbyterian Sisters, and Eudora Welty
The small white daffodil known as Silver Bells, Swan's Neck, or Goose Neck has been a cherished favorite in Southern gardens for a very long time. Author Eudora Welty and her mother grew it in their Mississippi garden, and she wrote about it in her Pulitzer Prize-winning novel, The Optimist's Daughter, as Susan Haltom and Jane Roy Brown explain in their excellent One Writer's Garden:
"Welty loved 'Silver Bells' daffodils, 'the nodding, gray-white kind with the square cup' that a family friend brings to the funeral in Laurel's father's house in The Optimist's Daughter. 'You know who gave me mine — hers are blooming outside,' the friend says to Laurel, alluding to Becky [Laurel's mother] having shared the daffodil bulbs in typical pass-along fashion. Years after her death, Becky's gesture has circled back to comfort her daughter. Daffodils blooming in fields or woods throughout the South often mark the sites of bygone houses, where they traditionally lined the front walk. These flowers also may have reminded Welty of Elizabeth Lawrence, who also preferred white daffodils."
Another favorite in the Welty garden was the fragrant, cluster-flowered narcissus 'Avalanche' which Eudora called Presbyterian Sisters "because they hang together." Welty's home has recently been restored and opened to the public as a museum, and we're proud to have supplied the daffodils, Roman hyacinths, oxblood lilies, tuberoses, dahlias, glads, and other bulbs that once again grow in her garden. (Oct. 2012)
Mary Rediscovers Her Great-Aunt's Spider Lilies
How Do Red Spider Lilies Know It's Fall?
"We both can imagine what drives the daffodils and azaleas to bloom in the spring — the lengthening days, the rapid warming of the ground under our feet. But what is the signal for lycoris in September, when the ground still blisters your bare feet as it did in July, and the reservoir of summer warmth only makes the longer nights hotter longer? The lycoris sense something in the change of season that I don't have the sense to quantify, a change I'm never willing to believe, until I see the naked flower stems shoot up, reminding me that all my plans for fall are weeks behind." (August 2012)
Here's a book to put at the top of your gift list — for you and anyone who loves gardening, history, American literature, independent women, or the South. Eudora Welty is one of the most revered American writers of the 20th century, and her home in Jackson, Mississippi is now a historical museum visited by pilgrims from all over the world. But when Welty first gave the property to the state in the 1980s, the garden which she had helped her mother plant and tend since the 1920s, and which offered her comfort and literary inspiration for decades, had all but disappeared from neglect.
This book is the story of the rediscovery and restoration of that garden, guided by author Susan Haltom and based mostly on family photographs, old letters, and Welty's memory. What makes the book truly outstanding, though, is the way Haltom and co-author Jane Roy Brown integrate the story of the Welty garden into the broader social history of gardening and America — street-car suburbs, garden clubs, civic beautification, Progressivism, the conservation movement, and so on — and illuminate the many connections between Welty's gardening and her writing. It's also an especially attractive book, with big, full-color shots of the restored garden interspersed with a wide array of old photographs and historic images from books, magazines, and seed catalogs. We're proud that many of our historic bulbs grow today in the Welty garden (Susan even thanks us in her acknowledgements), but even if they didn't I'd be telling you this is a book you don't want to miss! (Nov. 2011)
Got Drought? Bulbs Are Built for It
Our condolences to you if you're one of the millions of gardeners suffering through the drought that's afflicted huge swaths of the country this summer. (And our hearts go out to the farmers who are already facing billions of dollars in losses.) It may be small consolation, but bulbs are one of Nature's clever ways for hanging on to a back-up supply of moisture, safe underground, and surviving when there's no rain for days and days on end. They have their limits, of course, but when the drought finally breaks, you'll probably find that your bulbs recover better than most plants. Here's hoping that's soon. (Aug. 2011)
The book is list-priced at $29.95, but Amazon is offering it for just $19.77 — less than I paid last weekend for two flats of annuals that will be dead by Thanksgiving. No matter how you do the math, this extraordinary book belongs on your bookshelf. (May 2011)
Garden Artist Embraces Heirloom Glads
Book of the Month: Laughing and Learning with Greg Grant
Southern Living's "10 Best Plants for Fall Planting"
A Tulip for Houston: T. clusiana "Officially a Success!"
Our good customer Dawn Anderson of zone-8/9 Missouri City, Texas, emailed us recently:
Four Favorites for Hilton Head and Points South
A Glimpse from 1810: Bulbs in South Carolina
(Sept. 2009)
Ryan Gainey's Tips for Canna indica
"Martagons Won't Do Well in Your Zone," We Said, But . . . .
"I visited England last year and fell in love with martagon lilies. I rushed home and ordered both the pink and white ones from you. You warned me that they might not grow in my South Carolina garden. But persist I did, and planted, watered, and waited. They came up and bloomed! I planted them in my shade garden because our shade is like the rest of the country's sun. My soil is red clay but I amended it with 1/3 compost or peat moss and 1/3 sand which I've found works well in South Carolina.
"Now we wait to see if they come back next year. But in the meantime, I am so happy I was able to grow them in my own little English garden in South Carolina." (July 2009)
'Little Beeswings' Earns Rave Reviews in South Carolina
Dahlias in Florida (and Another Sniff of Abyssinian Glads)
Black Beauty Lilies Thrive in Zone-8 Florida
Our good customer Judy Little of Cantonment, Florida, writes:
Another Southern Voter for 'Gravetye Giant' Snowflakes
Our long-time customer Peter Schaar of Dallas writes:
Tulipa clusiana Returns Happily for Mississippi Gardener
Our good friend Felder Rushing shared this email with us from one of his Mississippi Public Radio show listeners, Karen Lee:
Spring Starts with Stinky Narcissus
Campernelles and Heaven
"When I saw the Campernelles you offer, I knew I had rediscovered my first childhood love! We had a whole row of those in our yard. I believe that if I can smell them as I die, I'll go straight to heaven." (Aug 2007)
Rain Lilies for Elizabeth Lawrence's Grave
"Mardi Gras Lilies" Lead Spring's Parade
Cannas in Colonial Williamsburg
"The seed you Call Indian frill Wee call Cana Indica or Wild Plaintain or Bonana from some Resemblance in the Leafe. With us it is perannuall by secureing the Roots from the Frost & Comes up Ev'ry Spring." (March 2007)
Virginia Customer Awed by our TRUE Byzantine Glads
Our fall-planted Bulb of the Year is NOT your ordinary glad. For a start, it's perennial through zone 6, and we have true stock! Our good customer Tamara Bastone of Chesapeake, Virginia, writes:
Gulf Coast Expert Surprised: Heirloom Tulip Thrives in Mobile
Mobile's Favorite Gardener Lauds Our Freesia and More
When Bi-Color Dahlias Aren't: Blame the Heat
High temperatures often cause dahlias to slow their growth, too, but don't worry. They'll kick back into gear as temperatures cool and reward you with arm-loads of blooms in the fall. (July 2006)
Mississippi Expert Says: For Tough Southern Daffs, Start with St. Keverne
Schoolhouse Lilies and Surviving Katrina
Our good customer Nancye Renihan of Fairhope, AL, writes:
More Success with Dahlias in the South
And Judy Blackwell of zone-7 Benton, Arkansas, wrote to say: "Dahlias thrive in my yard, so much so that when I inadvertently threw some away when cleaning out pots in the fall and they ended up in a nearby drainage ditch, they grew the following spring. No fertilizer, no mulch, no nothing. They bloomed all season." (Editor's note: Naturally we don't recommend this technique!) (March 2006)
Farewell to Flora Ann Bynum
Tips for Growing Dahlias Where It's HOT
Dahlias, we've always said, like it cool. They bloom best in the fall, they come originally from high mountain plateaus in Mexico, and they're great favorites in northern states like Minnesota. So for years we warned gardeners in the Deep South and other hot areas to avoid them.
Garden Design's "Way Hot 100" Includes Three of Our Bulbs
Newsletter Special: Parrot Gladiolus, Rare African Wildflower
Don't delay! It's been years since we've had enough of this rare glad to offer it, and we expect the handful of corms we have will sell out in a flash.
The parrot gladiolus was the first African glad to reach American gardens way back in the early 1800s, and though it has long disappeared from commerce it can still be found in old Southern cottage gardens. Small-flowered and bright, this rare wildflower will add an exotic touch to any garden, and it's hardy through zone 7 at least. (Feb. 2006)
Felder Reports: Hurricane Lilies Light Up Katrina-Browned Mississippi
Hurricane-Ravaged Historic Sites Need Our Help, Too
Hot and Dry? Try These Daffodils!
Daffodils for Florida, Arizona, and Other Hot Places
"Stunning" and "Profuse" in Mae's California Garden
Our long-time customer Mae Hoag of Orinda, California, writes of a new favorite and two old friends that just keep going and going:
Watch for Our Tuberoses at Mount Vernon and the National Arboretum
'Vuurbaak' Hyacinths Wow Them in Fort Worth
Our good customer Steve Leahy of Fort Worth wrote recently:
Erna Says, "Plant Some Tuberoses This Spring!"
Our good customer Erna Hassebrock of Hot Springs, Arkansas, writes:
Pink Roman Hyacinths Smell Like Cinnamon Candy
Daffodils in Florida? You betcha! Self-published by our friends Linda and Sara Van Beck, this exciting new book is, as Scott says on the back cover of it, "a friendly, knowing guide" for gardeners in the Deep South, especially zones 8b-9a, who have been "disappointed by daffodil duds while longing for — and wondering about — the hosts of nameless daffodils thriving without care in old gardens and abandoned places." The Van Becks are passionate amateurs whose advice and lists of recommended varieties are based on years of research in Florida gardens. This is no slick coffee-table book but a labor of love for everyone who "loves daffodils and the tough, gorgeous, traditional flowers of the South." (Jan. 2005)
Did You Know Fragrant Tuberoses Make Great Cut Flowers?
Our good customer Judy Sanders of Montgomery, Texas, writes:
Big bunches of freshly-cut tuberoses are sold today in Mexican street markets, as they probably were in Aztec street markets long ago. Plant your own this spring and you can enjoy a fragrance prized by gardeners for a thousand years. (Jan. 2005)
Eudora Welty's Garden Restored with Our Heirlooms
Protecting Your Plants from Armadillos
Our creative customer Sharon Black of Paris, Texas, writes:
"I finally found a solution for armadillos. In the spring, I place what we Southerners call hog wire on top of the prepared soil in my beds. This wire is constructed with 4 x 4 inch square openings and can be cut to fit with wire cutters. I place decorative flat stones over the edges of the wire. Most annuals do OK when one is planted in each square. For larger plants, I just skip a square. Once the plants grow a little, the wire can't be seen or it can be covered with mulch right after planting. The 'dillos can't break the wire that is between the plants and soon get frustrated and give up." (April 2004)
No Joke: Kind Words from Felder Rushing
We love you, too, Felder! (March 2004)
Excellent New Book: Bulbs for Warm Climates
Mobile's Bill Finch Lauds OHG and Daffodils for Zone 8/9
Good News — Louisiana's Old Dickory is Saved!
Byzantine Glads Take Jim Back to Texas in the Fifties
Our good customer Jim Massey of Moncure, NC, writes:
Kind Words from Williamsburg
Our good customer Wesley Greene of Colonial Williamsburg, VA, writes:
"We are thrilled to be able to include your heirloom bulbs in the demonstration beds at the Colonial Garden. They were a great fascination to our visitors last year, and we frequently recommend your website to interested visitors. Your company is a wonderful resource." (2003-04 catalog)
OHG Customer Protects 800-Year-Old Live Oak
Garden-Bubba Felder Rushing Visits, Writes About Us
First Blooms of Spring: Our Southern Customers Write
Many thanks to everyone who shared stories of their first spring bloomers! Here are two from a couple of our favorite Southern gardeners.
Tips for Success: Too Hot?
Though your dahlias may have stalled and looked stressed this summer, chances are they will revive in the fall — which is their glory season. They're native to the highlands of Mexico and like it cool. For best bloom, give them plenty of water and don't forget to fertilize.
Glads may grow with kinked stems in extra-hot weather as they sag a bit during the heat of the day — unable to keep their cells full of water — and then grow upright at night. Thrips (tiny sucking insects) may attack your glads when it's extra hot, too. Insecticidal soap is one mild control.
In John Van Beck's Memory, Plant Florida-Loving Daffodils
I wish we had a book like this for every region in the country. Lively, serious, and beautifully illustrated, it starts with eight chapters, each by a different expert, on how various cultures — Native American, Spanish, French, African-American, and so on — have shaped Southern gardens. The second half is an encyclopedia of Southern heirloom plants, including many bulbs. It's rich with historical facts, growing advice, and Bill and Greg's entertaining reminiscences. (1996 catalog)
For articles on other topics, see our main Newsletter Archives page.